Somehow, this was a matchup of teams with identical records. But the Seahawks' 20-3 win over the 49ers felt like so many of the blowouts in the recent one-sided stretch of the Seattle-San Francisco rivalry. The only things that set this one apart were the Niners' especially unproductive offense, the fact that it was a Thursday game so it didn't feel like it should count, and, oh, Colin Kaepernick just nailing a 49ers trainer in the head.
It's a really good throw! Like the dude had a homing beacon in his skull. Aaron Rodgers dreams of this kind of accuracy.
G/O Media may get a commission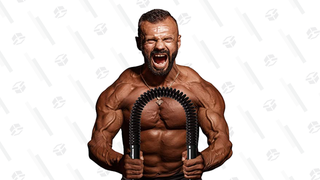 10% off
Zenooze Boa Power Twister
It was that kind of night for Kaepernick, who is 1-6 all-time against Seattle. Kaepernick was 13-of-24 for 124 yards, and for the first time in his career, did not rush once.
Those are rough numbers, but it was a true team effort. The 49ers were outgained, 388 yards to 142, and outpossessed, 38:05 to 21:55. They managed only eight first downs all night. They allowed six sacks for 43 yards, and that's as telling as anything: Kaepernick rarely had time to do anything more than take three steps back before getting hit or, say, flinging the ball at the sideline.
That's the problem with this game, and the others this year where the 49ers have been so outclassed: it's been tough to tell who sucks, because it appears to be everyone. That'll make it tricky when it's time to decide whether to keep Colin Kaepernick, who's creatively concocted (and slightly deceptively marketed) contract makes him essentially a year-to-year employee.
According to ESPN, the 49ers would save $14 million in cash and $9.4 million against the salary cap if they waive or trade Kaepernick by April 1. That would represent a lot of cash and flexibility for a team with so many holes to fill. Of course, no hole is harder to fill than that at quarterback. So the question for the 49ers' front office becomes: how much of Kaepernick's recent decline can be blamed on the general decline of the team around him? It's not a simple answer, but it's one Kaepernick's immediate future is riding upon.