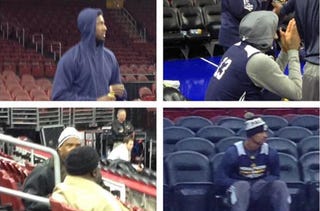 The Pacers are in Philadelphia to play the 76ers tonight, and they practiced in a frigid arena, because the heat wasn't on, for some reason. Ask Sam Hinkie if he shipped it for an unprotected first-round pick in 2018.
Looks fun!
Update (3:39 p.m.): Comcast-Spectacor vice president of public relations Ike Richman wants to make it clear that the heat at Wells Fargo Center was working.
I'm seeing reports on Deadspin claiming the heater may be broken at the Wells Fargo Center. I can tell you, as publicist for arena owner Comcast-Spectacor, there are no issues with the heat. It is rather cold outside today, in fact near record temperatures. The doors to the arena opened to allow the team bus to arrive allowing cold air inside the arena. Once the doors were closed, temperatures were resolved. No issues here. Game time is at 7 p.m. I hope you will correct the erroneous reports.