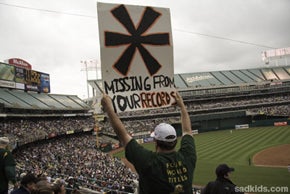 With all that's happening these days in the the world of sports, it has become clear: We need the asterisk now more than ever. And on Wednesday, the Hagerstown Suns — a Class-A South Atlantic League baseball team — will pay tribute to that tiny, brave footnote indicator with its Tribute to the Asterisk Night. It's about time.
The first 756 fans to enter Municipal Stadium will receive official Asterisk Fan Club cards, plus there will be an asterisk symbol face painting booth* and asterisk-related prizes galore. Also there's this:
For one night only an asterisk-shaped cake made of hot dogs will be available for purchase. All regular hot dog pricing will be inflated to $7.56 (reduced to $3 to anyone who asks). "For some reason a lot of people are talking about asterisks this year," said Suns Assistant General Manager C.J. Johnson. "Hopefully having this celebration will encourage use of asterisks and lead to a new appreciation for this important literary tool."
Plenty of tickets still available for the game, against the Augusta Greenjackets. Arriving early for asterisk-related tailgating is encouraged. No ampersands.
* Paint may resemble a marker.
Hagerstown Suns To Celebrate Asterisk Night [Hagerstown Suns]