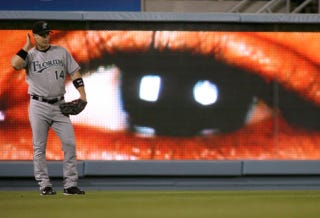 The curtailing of the About Last Night... feature eliminates some of my opportunity for monkeyshines (that is, gratuitous monkey references shoehorned into otherwise putatively sports-related posts). But this Sauron-esque picture from last night's Marlins-Dodgers games caught my, uh, notice. Best use of the video outfield wall in a photo since this one. Anyhowler, on with the recappings.
Tell Your Crew To Be Easley - The Nigh Mets have put a decent little string of wins together, using Damion Easley's 8th inning homer to propel them to a seventh victory in a row, this one over the Rockies at Shea 2-1. Easley is hitting his age (.422) over the last 13 games since relieving an injured Luis Castillo.

A-Rod Took A Halladay. Took Some Time To Celebrate - Well, I guess it could not be so nice. The Jays' Roy Halladay went all complete-game-two-hit-shutout on the Yankees, striking out eight to win his third straight start. He might even start the All-Star Game, if that sort of thing is important to you. (Hey, I remember as a kidlet joining the uproar when current Jays skipper Cito Gaston didn't pitch Mike Mussina in the All-Star Game in Bawlmer. Now it's Mussina who I wish would swallow a marlin spike. How things change.)
A Werth's Worth - The Diamondbacks pitched around Jimmy Rollins to get to Jayson Werth in the 12th and the guy with the hot mom picked up his third hit of the night to drive in So Taguchi for the winning run as the Phils win 6-5. Ryan Howard pushed his hit streak to 14 games with his league-leading 28th homer.

If Only He Were Still Doping - Brian Roberts got the single, double and triple of the cycle down last night, but failed to do that thing where you thing where you hit the ball rull far and it goes over the fence and you cross your heart and thank mommy, daddy, Veronica Lake and the president of the United States. Whatever that's called. Anyway, the Orioles had a 4-3 lead over the Red Sox in the 8th until 37 lb. slugger Brandon Fahey broke it open with one of his five hits, a two-out, two-run single to lead the Oo-ree-oos to a 7-3 win.