Back in 2013, the American Cup marked the senior debut of Simone Biles. Though she didn't win the meet—the title went to Katelyn Ohashi, who had been a junior superstar—it was evident that Biles was about to become a force in U.S. women's gymnastics. Even if no one watching could've predicted just how successful Biles would end up becoming (I certainly didn't) we all knew that we were seeing something special.

Four years later, at the post-Rio American Cup, nothing like that happened. We didn't glimpse into the future of women's gymnastics and see a new star rise; we didn't get to see old favorites compete; and, though there were some flashes of brilliance here and there, nearly every single female competitor fell at least once during the meet, including the winner, Ragan Smith, who was one of the 2016 Olympic team alternates.
Smith, who is coached by 1991 world champion and two-time American Cup winner Kim Zmeskal-Burdette, is one of the few holdovers from last quad's seniors. Her fellow Olympic alternate, MyKayla Skinner, spent the weekend competing as an NCAA gymnast for the University of Utah in front of more than 15,000 fans and coming up with this creative beam save. The other replacement athlete, Ashton Locklear, just resumed training, but she's primarily an uneven bars specialist and so she wouldn't have been an option for the American Cup even if she was in shape.
As for the rest of the 2016 seniors? 2015 world team gold medalist Maggie Nichols is busy slaying in the NCAA as the top ranked all-around gymnast; Madison Kocian, 2016 Olympic gold and silver medalist, is leading the UCLA Bruins; and the remainder of of the Olympic team—Biles, Aly Raisman, Gabby Douglas, and Laurie Hernandez—have been winning Dancing with the Stars, posing for the Sports Illustrated swimsuit issue, signing endorsements, and generally making the most of their post-Rio opportunities. Though Biles, Raisman, and Hernandez have indicated that they plan to return to gymnastics, they're all questionable for the future.
Compare the situation to 2013. Reigning Olympic gold medalists Kyla Ross and McKayla Maroney competed the 2013 world championships with Biles; Olympic alternate Elizabeth Price hung around and competed in the senior ranks, winning the World Cup series title in 2014, before matriculating to Stanford; and Brenna Dowell, another holdover from the 2012 generation, continued to compete, traveling to 2013 Worlds. Those who turned senior after the 2012 Olympics had to fight pretty hard for a spot on team and international assignments. And with the exception of Biles, none of the new seniors in 2013 competed at the world championships that year. (Kocian had a shot, but was injured at 2013 national championships.) The fight for team spots got even fiercer when Douglas and Raisman returned to competition. What this underscores is just how talented and dominant that 2009-12 generation was. They were able to hang in for two Olympic cycles. While I do expect the U.S. women to continue to excel and win, I do wonder if we will continue to see them dominate to the same degree as they have for the past six years.
G/O Media may get a commission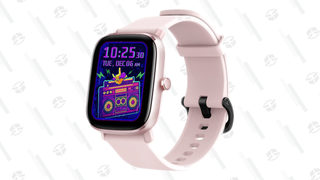 20% Off
Amazfit GTS 2 Mini Smart Watch
Get fit
Has built-in Alexa so you can ask questions and carry your smart assistant around with you; it has a battery that can last up to 14 days, has over 70 different sport modes, is 5ATM waterproof, and tracks stats like your heart rate, calories burned, sleep, and more.
The other U.S. entrant in the competition was Riley McCusker, a 15-year-old first-year senior from New Jersey. Last year, she was the runner up at the 2016 Junior National Championships and earned her spot to the American Cup based on her performance at the national team training camps.
McCusker, who was competing in front of a hometown crowd, had a disastrous senior debut. After a weak vault, she fell from bars and made another big mistake there, dragging her feet on the ground of a bar transition. On beam, she nearly came to grief on a turn. Then things got worse. She missed her foot on back handspring during her dismount series and landed her double back dismount on her neck.
Fortunately, she didn't seem to be injured by that terrifying fall, and pulled herself together to hit her floor routine. It's too soon to know what McCusker's senior debut means for her and the U.S. women's program. She only qualified to the elite level last year at 15, and to judge her career prospects on her first outing as a senior—and only her third as an elite—would be unfair. What's clear is that she has a lot of excellent qualities as a gymnast. She has beautiful form and extension and is very flexible, and isn't near her potential: Over the past year, McCusker has added a lot of difficulty to her routines, and she is clearly still figuring out how to manage the new skills in high-pressure situations. Her coach, Maggie Haney (who also coached Laurie Hernandez) asked everyone to give them a little time, and she deserves it.
---
If the women's side of the competition felt like it was in search of a story, the narrative was clear on the men's side: It was about the ascent of Yul Moldauer, a 20-year-old at the University of Oklahoma. Moldauer won the all-around at the recent Winter Cup, which is the midyear reranking of the male gymnasts in the United States, and was one of the only male gymnasts to hit all six of his routines en route to winning the American Cup.

Unlike in the women's competition, the men's field was stacked with some of the best gymnasts in the world. Olympic all-around silver medalist (and parallel bars winner) Ukraine's Oleg Verniaiev was present, as was Ryhoei Kato, a member of Japan's gold medal team from Rio. However, neither Verniaiev, who placed second, or Kato, who finished sixth, had great meets—both recorded several major breaks over the course of six rotations.
The reason there were so many falls among the competitors is due to the timing of the American Cup, which comes early in the elite competitive season. Most gymnasts are just starting to get into full routine shape at this point and don't have the repetitions under their belt to hit consistently. The timing of the Cup is an issue every year, but there's not much to be done about it. Later in the season isn't feasible, as it's too close to regional continental championships like the Europeans, but it would also be too close to major American domestic meets like the Classic or the National Championships. So it stays early in the season in March and remains largely irrelevant.
The reason that Moldauer and Akash Modi, who placed third, looked as strong as they did at this juncture in the season is because for them, it's not early in the season. Both gymnasts currently compete in the NCAA—Moldauer for the defending national champion Oklahoma Sooners and Modi for the Stanford Cardinal. They're in peak form because they've been competing regularly for two months.
The fact that two of the best male gymnasts in the U.S. currently are currently competing in the NCAA underscores just how important the collegiate system is to the development of champion-level male gymnasts in the country. This makes it all the more unfortunate that so few scholarships and teams remain. (There are only 16 Division I teams left, and they are constantly under threat due to budget cuts.)
Men's collegiate gymnastics, unlike its much more popular female counterpart, uses the international rules for its meets. Women's NCAA gymnastics uses a modified version of the Level 10 rules, which are less demanding than the ones used by international elites. For most women, college gymnastics is the end of the road, but for the men, it often marks the beginning of their high-level careers.
Beyond Moldauer and Modi, most of the internationally successful U.S. male gymnasts of the last decade have come out of the NCAA. (The major exception has been Danell Leyva.) Current national champion Sam Mikulak competed at the University of Michigan. Alex Naddour, the Olympic bronze medalist on the pommel horse, was a Sooner, as was two-time Olympian and multiple world medalist Jake Dalton. This goes back awhile—the famed 1984 men's Olympic team, which won the gold in Los Angeles, was primarily a Bruin family affair.
Despite the mistakes of the other competitors, Moldauer's performance should not be dismissed as a fluke. While it's highly unlikely that he would've defeated a fit Verniaiev, he competed on Saturday like he might be the American men's next great star, which is something the program desperately needs. For years, the program bet on the super-talented Mikulak to deliver on his promise only to repeatedly fall short. (Currently, he's out with a torn Achilles injury.) Moldauer's difficulty across all six events might not be quite where it needs to be to really contend for a major medal or title, but he's young and will be slowly adding skills over the next few years leading to Tokyo. And the kid has charisma. After he stuck his high bar dismount, he turned to the crowd, pumping his fist, encouraging them to cheer more. I was sitting right in front of the high bar and found it difficult to resist the urge to clap.
In all then, the story might be this: The U.S. women's program is a bit adrift at the moment, in search of new stars and stories (beyond the sexual-abuse scandal that has been dogging them since Rio). It might be time to start paying attention to the men.
Correction: This story has been updated with reference to Sam Mikulak's injury and Ryhoei Kato's performance, as well as to mention that Ragan Smith was a 20116 Olympic alternate.