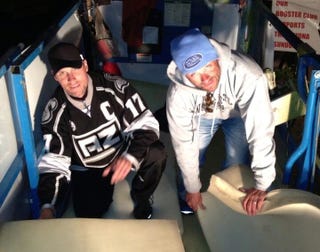 Yesterday we brought you the story of a minor league hockey ticket promotion that has turned into a test of endurance. The sun has risen, we've hit hour 115, and the prisoners remain aloft until the Sundogs can hit their season ticket quota. But they're oh-so-close.
On Sunday, four representatives of the CHL's Arizona Sundogs—the owner, the GM, the marketing director, and former NHL journeyman Jason Morgan—went up in a scissor lift. They wouldn't come down, they vowed, until the team sold 300 season tickets. (The cheapest plan is $389.) It took maybe a little longer than expected. The boys went to bed last night just 17 away from freedom.
Very much related: It's 38 degrees in Prescott Valley, Ariz., right now. It's expected to get as high as 81 today. Rain is in the forecast.
Photo by Satish Athelli