Dan Shanoff writes a weekly college football column for Deadspin. Email him to let him know what you think.
With Saturday's losses its two top-ranked teams, college football reached an unprecedented place it had been teetering on for weeks:
Even with a half-dozen unbeaten teams remaining, this season has officially become the biggest clusterf—k in the sport's history.
It started with the mayhem in the Top 10 two weeks ago. Last week, USC lost at home to Stanford. This week, Cal lost that shocker at home to Oregon State, just hours after it was all but assured of ascending to No. 1, because LSU went from Gator-slaying imperviousness to being on the wrong end of "Bluegrass Miracle 2: Electric Boogaloo."
Ohio State might be No. 1 today, both in the polls and Sunday's initial BCS results, but who can't see coming a Buckeyes season-ending loss at Michigan, in the perfect bookend to the Wolverines' sorry start to this season (and equally pathetic end to 2006). It's a karmic lock.
G/O Media may get a commission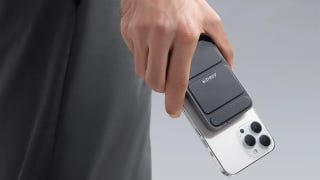 15% off
15% off Anker Top Ten Products
Take charge
Treat yourself to a portable power bank, a magnetic wireless battery for iPhones, or even a solar generator. There is a reason these are in the top ten. For instance, the Anker 747 Power Bank is a 4-in-1 charger utilizing USB-A and USB-C to be capable of charging up to four devices at once. Great to take with you when traveling and in need of keeping your phone, laptop, and even Nintendo Switch powered on.
The team with the most legit claim to No. 1 — South Florida — is the top team according to the BCS' computer polls, but gets less respect from human pollsters, because the program didn't exist 10 years ago. (And, yet, USF could be as good as evicted in 72 hours, when they play at Rutgers, a team that knows something about being a Cinderella.)
BCS No. 3 Boston College is in the ACC, and simply for that, they should be discounted from this year's BCS equation. (It's moot, anyway: They'll lose in 10 days at Virginia Tech.)
Meanwhile, Arizona State is suddenly the unbeaten team to beat in the Pac-10. They won't be for long, based on their previous soft schedule and what's next: Cal, at Oregon, at UCLA, USC. (And who's that crack-smoking AP voter who gave Arizona State its lone vote for No. 1?)
Kansas may be the last unbeaten team in the underrated Big 12, but I doubt I'm offending anyone to say that I won't buy KU until I see "13-0," following a Big 12 Championship Game win over Oklahoma. Yeah, sure.
Please don't suggest unbeaten Hawaii. Just don't. (Even the initial BCS rankings have them at No. 18, a distant six spots from a guaranteed BCS bowl spot.)
That covers the six unbeatens. For the real clusterfuckitude, just try to make sense of how to sort through the 1-loss teams: Start by dismissing any who lost to unranked teams at home (USC, Cal)...
Then, teams that lost at home to ranked teams (Oregon)...
Then discount the ones who lost to unranked teams on the road (Oklahoma)...
Least offensive are the 1-loss teams that lost on the road at highly ranked opponents (West Virginia, Virginia Tech, Missouri).
For a real challenge, try to untangle the SEC's Big Three: Kentucky beat LSU. LSU beat South Carolina. South Carolina beat Kentucky. (And Kentucky and South Carolina still have to survive the SEC East, then beat a pissed-off LSU in the SEC Championship Game.)
Here's the point: With the dwindling number of unbeatens, their sketchy prospects to stay that way and a logjam of worthy 1-loss teams, the BCS Apocalypse is finally upon us.
Remember in my first Bandwagoneer post of the season, how I laid out that "Four Unbeaten Teams Will Tilt The BCS" scenario?
Yeah, um, about that: It is infinitely more complicated — more clusterfuckish — when there are NO unbeaten teams, replaced by not just three 1-loss teams, but four... or five... or six... or seven... or eight... or nine... or even 10. For once, I'm not using hyperbole.
The good news is that even just four 1-loss teams — hardly a stretch — and the process will be so tilted that if there was ever an event to trigger the reform of a playoff, it would be this.
(Hey, based on the relentlessly punishing way it has worked over the past seven weeks, maybe the regular season's de facto playoff system will continue to do what it is supposed to: Dwindle today's many contenders to an obvious pair, with the usual runner-up griping on the side. But, based on the way this season has unfolded so far, I doubt it.)
I say: Keep those shocking upsets coming. At the top of the rankings, it has been a thrill ride like no other season that fans can remember. And, with yesterday's big reveal, the BCS stands for something worthy of years of fan frustration, on the tantalizing verge of completely imploding:
Bowl Clusterfuck System.
This Week's Bandwagon: The BCS Computer Polls. I have no problems admitting that I favor the BCS' computer polls to their human counterparts. And I'm not just saying that because they rank South Florida at No. 1, which was absolutely the right place to put them.
It's also because the computers value the SEC's Big Three of LSU, South Carolina and Kentucky — each with one loss apiece — ahead of Ohio State, Arizona State and BC, who have zero losses between them. The computers didn't even need to see the six teams play "with their own eyes" — a typical human-poll "advantage" — to know the SEC trio is better.
And, if nothing else, because the PCs rank USC somewhere outside the Top 20, while the "human" pollsters of the Harris and Coaches Polls both inexplicably have USC at No. 9. (For the record, USC made a huge leap in my BlogPoll Top 25, from No. 25 all the way to No. 24.)
The computer polls have become anthropomorphic; fans and critics treat them like people, rather than recognize that the computers merely take the on-field results and make off-field sense of them. Griping about the computers is like yelling at your Google results.
But tracking how the computers will calculate their weekly rankings sure beats the truly mystifying process of understanding the decisions made in the far sketchier Harris and Coaches Polls.
My BlogPoll Ballot Top 10:
1. South Florida
Only team playing like they're not scared to lose.
2. Ohio State
Try not to preen until AFTER Michigan.
3 (tie). LSU
3 (tie). South Carolina
3 (tie). Kentucky
Ohio State would go .500 in the SEC.
6. Oklahoma
Need teams ahead to lose, and more.
7. Boston College
The Arizona State of the East.
8. Oregon
At least they lost to a ranked team.
9. West Virginia
Bye week the only safe route these days.
10. Virginia Tech
Remember my preseason BCS title pick? Hmm...
Here's a link to the entire Top 25 ballot</>.
Looking Ahead to Next Week's Schedule:
South Florida has to go to Rutgers on short rest. Ohio State has to defend a No. 1 mantle no one can maintain against unpredictable Michigan State. Teams with 1-loss have to start jockeying for BCS position. And everyone else wants their turn to play the spoiler...
South Florida at Rutgers (Thursday): I love the USF story this season enough to rank them No. 1 this week. But Rutgers knows a little something about being a national Cinderella.
Pick: Rutgers.
Auburn at LSU: LSU and Oklahoma are battling to be the top-ranked 1-loss team. Here's where the SEC schedule helps LSU: Beating Auburn is a hell of a lot more impressive than OU beating Iowa State.
Pick: LSU
Michigan State at Ohio State: I can't help but wonder if newly anointed No. 1 Ohio State can get caught looking ahead five weeks to the Michigan game?
Pick: Ohio State
Florida at Kentucky: Florida lost to LSU. One week later, LSU lost to Kentucky. In the cannibalized world of the SEC, one week later, Kentucky will surely lose to Florida.
Pick: Florida
As always, send any questions or comments to danshanoff-[at]-gmail-[dot]-com.