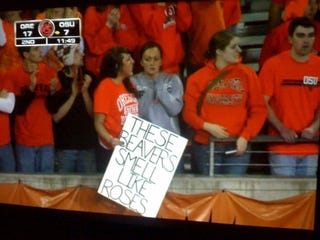 The fine, upstanding Deadspin reader that provided this photo also added a caption: "I will have to call BS though... these women live in OREGON." How could he forget the Portland Rose Garden? Why, Oregon might well be synonymous with roses! That is, if UCLA can now beat USC because Oregon State could only muster 38 points against Oregon. We all know that's not remotely enough to sniff victory, leading to a 65-38 loss and a need for Rick Neuheisel to save the day. We know what that smells like.
• Only 41 points, Oklahoma State? Seriously? You had to know you couldn't even start the second half with that against Oklahoma. Bedlam apparently doesn't require defense, either, as OK thumped OK St. 61-41 and won both the Bedlam trophy and the "Belong in the Discussion" award craved by all college football players. Enjoy, kids!
• Okay, does anyone in the BCS conferences still play defense of any type that doesn't involve screaming "Not in the face!" and running squealing in the other direction? Both Georgia-based franchises torched the Sanford hedges with 87 points in a thrilling repudiation of Georgia's domination of Tech-based individuals, with their book-learnin' and their slide-rulin'. Georgia Tech 45, Georgia 42.
• Kansas want to bang on the Missouri drum all day in a 40-37 upset.
• In the Getting It Done division of the Winston Cup series (or whatever they're calling it now in an effort to squirt rosewater on a skunk): Alabama 36, Auburn 0; Florida 45, Florida State 15; USC 38, Notre Dame 3. We don't claim any defense occurred here, either; instead, we suspect a rash of offensive playbook thefts.