Every morning, the fine folks at Sports Radio Interviews sift through the a.m. drive-time chatter to bring you the best interviews with coaches, players, and personalities across the sports landscape. Today: Joey Votto is fine with everyone else's batting numbers being down.
Joey Votto joined The Dan Patrick Show to discuss the amount of media attention he receives as a star player, leading the league in intentional walks, the amount of no-hitters occurring in baseball, baseball not having watered down home run numbers any longer and being tested for HGH/steroids.
Should you get more attention for what you are doing with the Reds?
"I'm perfectly happy with the attention that I am getting. I really enjoy not being distracted with a lot of the miscellaneous stuff. We played a Sunday Night Baseball game and as much as I enjoy playing them, they can be somewhat of a distraction. It's a little later of a start. There's extra media requests and behind the scenes stuff. It's very good for baseball and it's certainly good for the teams and the fans, but me personally it doesn't really mesh well with my personality and I think what makes me the player I am."
You are leading the league in intentional walks. How do you feel about that?
"I feel I don't really think about it. It's not something that crosses my mind, but I appreciate it."
What about all the no-hitters in baseball. Is it becoming a pitchers game?
"I think that's about probably where it should be. Everybody that grew up with baseball said good pitching beats good hitting and that's how it's always been. I think that is back to where it is."
G/O Media may get a commission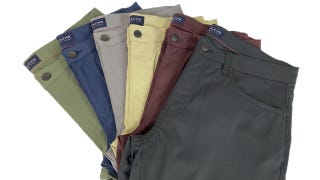 JACHS NY Fall Stretch Tech Pants
Is it good for baseball that we don't have these watered down home run numbers anymore?
"No question. I think it is. Yes."
How many times a year are you tested for steroids?
"Brandon Phillips and I are probably tested 5-7 times a year, HGH included. [Dan Patrick: How does the process work?] Blood test for the HGH and urine sample for everything else. Pants down. Microscope right next to your groin and they get to do that as often and randomly as they want."
This post, written by Steven Cuce, appears courtesy of Sports Radio Interviews. For the complete highlights of the interview, as well as audio, click here.
More from Sports Radio Interviews
• Austin Rivers says yeah, he's cocky.
• Tyreke Evans knows he's better with the ball in his hands.
• Jahvid Best doesn't even think about concussions.