Outside of the occasional planetary destruction of a Beast Mode run or five-inning save in Game 7, football and baseball don't really lend themselves to pinning a team's wins and losses on a single player. But basketball is a little different. Quarterbacks don't play defense and baseball actually isn't a team sport, but basketball players who are not James Harden are involved heavily on both ends of the floor. And given that there are so few players during the game, having one legitimate difference maker—surprise—makes a legitimate difference. That's more or less conventional wisdom at this point, but using it to prop up any kind of argument that goes beyond, He's the MVP because... still feels a little weak. So here's a try at seeing just how much you can learn about a player using the most basic stat in sports: the win.
This is a look at regular season wins. Taking just the regular season gets us out of the ringsssssss mentality. The NBA playoffs are the most meaningful of any sport's, but geting 66 wins out of Mo Williams, Boobie Gibson and Delonte West is a version of greatness that hasn't been explored as deeply as it probably should.
So let's draw a totally arbitrary line in the sand at 50 wins, and plot out not just who gets there, but when they get there, the idea being that in those first few years, we can isolate talented players on inferior teams. As it happens, the hunch mostly bears out: In today's NBA, good players win, great players win early.
Who Qualifies?
Here's who we're looking at:
Lottery picks only (It means your team sucked when they drafted you, so no Tony Parker-great-team-stays-great-types)
28 minutes per game or more in your rookie year (It means your sucky team sucked so bad they needed a rookie fresh out of school to immediately play for them. And also, that you were in the top 5 of minutes played in an NBA rotation from the very beginning. Basically, you were thrown in the fire, so no Paul George-successful-project-types)
Post-2000 NBA draft (Set to establish today's NBA landscape)
The players we're looking for are lottery picks that played a lot as rookies for teams that sucked. The idea is to set the filter so we can judge players who were in similar enough situations to each other so we can pan for gold. So what did we find?
G/O Media may get a commission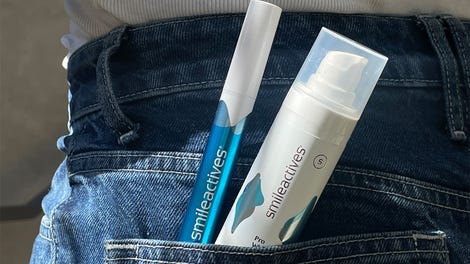 58% off
Whitening Powerhouse Pen & Gel Duo
Players who won more than 50 games by Year 3
Here's who made the cut:
Chris Paul
Blake Griffin (Chris Paul traded to Clippers)
Yao Ming
Pau Gasol
LeBron James
Brandon Roy
Dwyane Wade (Shaq traded to heat)
Damian Lillard
Amare Stoudemire (Steve Nash signed with the Suns)
Derrick Rose
Kevin Durant
Russell Westbrook
Al Horford
Shane Battier
Deron Williams
Jeff Green
Holy shit, this is actually working! Only two names stand out on this list as something other than franchise-type players: Shane Battier and Jeff Green. But they're easy to scrub off because they played with other players on the list. Battier was drafted the same year as Pau Gasol and Jeff Green camped out for tickets to the Kevin Durant and Russell Westbrook show. They're very clearly not the transformational players that their teammates were, they were solid NBA players along for the ride.
The rest of the names though? Those are the players on the court in the final minutes of an All-Star Game. Those are the guys we want to play for Team USA in the Olympics, along with the best international players of all time. They're the guys that, in their prime, pretty much guarantees a team a seed in the playoffs. And they're probably playing at home.
And actually, outside of injuries (love to Brandon Roy and Amare), youth (Lillard, who you could also argue gets scrubbed because of LaMarcus) and the aforementioned Battier and Green, most everybody is going to be a Hall of Famers. Deron Williams and Al Horford probably won't make it but it wasn't that long ago when CP3 vs. Deron was a reasonable discussion and not a sign of being in tow with the Russians. And Horford obviously isn't on the level of the other guys on the list but he's never missed the playoffs in his five healthy seasons and he's deadly consistent at winning boring NBA TV-only playoff series with the boring Hawks.
All these guys clearly made a difference because their impact on the team was nearly instantaneous. From Marcy to Madison Square in three years, if you will (with the help of a Shaq trade or a Nash signing in some cases).
Players who failed to win more than 50 games by Year 3
And now for the lottery picks who averaged more than 28mpg their rookie year and didn't win 50 games by their third year in the league. There are, predictably, a lot more of them. Some of these guys are good! A few are really good! But they're not without their limitations. Notable exceptions are explained in parentheses.
Kyrie Irving
Tyreke Evans
Brook Lopez
Carmelo Anthony (Possible exception: He had already went to three straight playoffs by year 3 and had won 49 games in his 2nd season)
Dwight Howard (Possible exception: He won 52 games in season 4)
Charles Villanueva
Stephen Curry (Possible exception: Injured for most of his third year, which also doubled as the lockout. Won 47 games in year 4)
Emeka Okafor
John Wall
Nene
Andrew Bogut
Josh Childress
Chris Bosh (Possible exception: won 47 games year 4)
Caron Butler
Eric Gordon
DeMarcus Cousins
Ricky Rubio
Brandon Jennings
Raymond Felton
OJ Mayo
Jason Thompson
Jason Richardson
Andre Iguodala
Kenyon Martin
Mike Miller
Kirk Hinrcih
Jonny Flynn
Brandon Knight
Adam Morrison
It's a sad list of former college stars, overextended rookies and faux saviors on teams stuck in NBA purgatory. They're not all deadbeats and cancers though, solid NBA role players first cast as stars like Iguodala and Bogut are a part of this group too.
Melo, Dwight, Steph, and Bosh all came close enough to the 50-win mark by year 4 that they like fall within the margin of error. But if you're feeling ungenerous you might mention that it's pretty clear that their teams need to be built in a very specific way in order to be successful.
Who's next?
Chris Paul won 56 games his third year in a loaded Western Conference, after dealing with Hurricane Katrina for two years and playing with poor to decent NBA players. LeBron got Mike Brown hired twice and made him millions of dollars (and is LeBron). The Thunder were stupid young when KD and Russ got to 50 wins and only got an 8th seed in another stacked Western Conference. And as good as Thibbs's Bulls teams have been, they've yet to win 50 games without Rose. They won more than 60 with him.
So, who's in their third year right now that qualifies to be on this list next year? Three players: Anthony Davis, Dion Waiters and Bradley Beal (Lillard already made the cut). Waiters is going to get his 50 wins solely because of LeBron, which will very obviously fall under the Battier-Green corollary. Beal might get there, but in the context of having been fastened to the hull of the jet engine firing out of (lateish-blooming) John Wall's posterior. Which leaves...
Anthony Davis.
Coming into the year, there was a lot of talk about how this had to be the year for AD and the Pelicans. If the Brow is a great player—and he most definitely is—history says he's going to win 50 games this season, or come damn close to it. Or at the absolute latest, he will by his 4th year like Dwight. If he doesn't, he'll either be one of the few superstars in recent NBA history to fail to win 50 games this early, or less likely (and much more regrettably) drop a stratum in the hierarchy of what we expect from NBA stars. There are a hundred other complications we can add to this kind of argument—free agent spending on a nightmare backcourt like Gordon-Reke-Jrue is probably quantifiable—but at least by this metric, Davis's talent should be able to overwhelm the noise and move the needle on wins.