I am exhausted. Utterly, completely, wiped.I have been away from Philadelphia for what seems like years and living out of a suitcase. I am down one pair of underwear thanks to the damn figs and now on my last pair of reasonably clean clothes. (Ones that will only require two spritzes of Febreeze for me to go out in public without dogs chasing me.) I took the red eye this morning back into NYC after gallivanting around SoCal with Brooks at the USC-OSU game. I'll say it right now: that man is one of the coolest mo-fo's around. He didn't even make me take my top off in order to go with him! Yeah, the USC/OSU game didn't do much to live up to the game of the year hype. It was pretty obvious early on that Ohio State just wasn't going to be able to get out of its own way to even make it competitive. Still, it was an awesome experience and totally worth the jet-lagged delirium I'm suffering from right now. The highlight of the weekend? Well, I dropped my ticket on the way to the stadium and was convinced that it was gone forever. Poor Brooks would have to head into the game all by himself and with a broken hand after he throttled me in a fit of rage. But, somehow, someway, the damn ticket magically stuck to the sidewalk after falling out of my pocket and was not blown away by a gust of dirty LA smog wind or picked up by a homeless man who could have easily made $500 for it.
Also, our seats were pretty high up in the LA Coliseum, but it was a fantastic sight, especially for me, product of La Salle University whose football team didn't exist when I was there and has recently been shot in the back of the head again. Next time around the bend, I'll make sure to get into a school that has a half-way decent football team.
Also of note from the game? Our seats were better than Professional Celebrity Chodeface, Billy Bush, of "Access Hollywood" fame who, for some reason, was wearing sunglasses even though the sun had gone down. Guess he didn't want to be seen in such shitty seats.
G/O Media may get a commission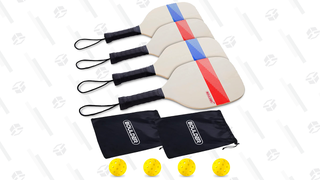 It's Pickleball
Pickleball Sets
Once he realized we were taking pictures of him, he took them off. Still...Billy, honestly, fella, you make Seacrest look like Marlon Brando. Give it up, fuckball. But NOW....we are just hours away from the REAL football game of the year. So, Deadspin Philadelphia brethren in the New York City area, let's drink. Let's be scumbags and scream our faces off. Let's sing the Eagles fight song every first down and do shots of Sambuca for every third down. Let's have a scrapple fight and woo mysterious women with tatoos and armpit hair. Let's make fun of my outfit and prank call Dave Spadaro(Yeah, fuck you, Spuds). Let's do Merrill Reese impersonations in Spanish and light stray dogs on fire. Somebody pick a place Lower East Side-y where we can all converge and make some glorious noise once the Philadelphia Eagles establish themselves as the NFC powerhouse we all know they should be. Seriously. Here's my number: 917-854-3630. Let's do this like angry, slovenly young men. I will only be standing for a short period of time and I plan to make the most of it. How about Lucky Jack's? That place is always fun. Anyway, help me, help you. Thank you for your continued support of E-A-G-L-E-S. (Oh, and Skeets.) Image: The Jim Cooke University