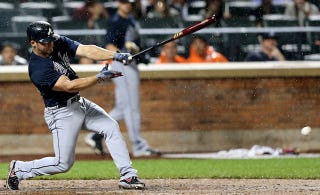 Braves second baseman Dan Uggla made $13 million this season, more money than any of his teammates did. That seems like a pretty OK deal for a second baseman that can hit 22 home runs in 448 at-bats. Except that Dan Uggla also sucks, and now he sucks bad enough to be left off the Braves' roster for the upcoming NLDS.
Word that Uggla—who hit .179 this year and struck out 171 times—might become a playoff-roster casualty first got out yesterday, when the Atlanta Journal Constitution reported that the Braves were seriously considering leaving their second baseman at home. Today, it became official.
Now, this doesn't mean that Uggla will be sitting at home for the entirety of the playoffs—the Braves could bring him back for their NLCS roster if they advance past the first round—but it's hard to imagine the team bringing back a guy who was 10-for-101 with one extra base hit in his last 36 games.
The good news for Uggla is that he still has two years left on his $62 million deal. Sorry about that, Braves fans.
[AJC]