Don't look now, but the Senators have won three straight since we all made fun of that tweet. Smart-asses that we are, maybe we shouldn't have decided to forget, for the sake of trolling, that possession stats tend to show up on the scoreboard eventually.

Game 3 nemesis Bobby Ryan scored the only goal of the game (the only goal that counted, I should say), a pissed-off Craig Anderson made 22 saves, and the Sens are heading back to Ottawa with a 3-1 series lead and three chances to close this thing out.
And if they do, here's a quote that's going to get a lot of play. Ryan called Erik Karlsson "arguably the best player in the world." I'm remarkably excited for that debate.
Boston fans definitely don't want to hear it. After ending up on the wrong end of some bad calls in Game 3, the Bruins saw a second-period Noel Acciari goal wiped out by a video review that determined the B's were offside. The craw-sticking part here is that the zone entry had occurred 20 full seconds before the non-score.
Goals being waved off after coaches' challenges for a team being offside became especially controversial this year, and I really am not sure where I stand (except when things go against my team). On one hand, it's offside. Play's supposed to stop. If the officials miss it, and they have the technology and the operational procedures in place to go back over it and get it right, you should. On the other hand, so much time elapsed between Acciari coming in early and his goal that one obviously had nothing to do with another. Calls are missed all the time, and they aren't reviewed unless they're involved in goalscoring plays, but it's a stretch to say that this offside was in any way "involved" with this goal. But, to go back to the first hand, if you're going to try to separate the offside from the goal, where do you draw the line? A hard-and-fast rule like the one in place is the only one that could work—if you're going to have a rule at all.
"I mean I was excited, it was an exciting time of the game. I just scored the first one of the game and got the team going," said Acciari. "I was definitely excited, but things happen and I was offsides, so nothing I could do."

"The offsides challenge - that really has no bearing on the play - calls that back," said David Backes. "I think that for some reason made us pause rather than realize that we broke the mold there and had the recipe for success and to keep doing that.
G/O Media may get a commission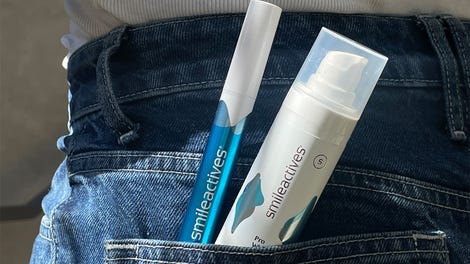 58% off
Whitening Powerhouse Pen & Gel Duo
This has been a good, close series, with all four games decided by a single goal, and the last two might've gone a different way with different officiating. Cold comfort when you're down 3-1.