The Cardinals we're already up, so it's not like this is why they won, necessarily. They probably would have won anyway. But boy, this must have felt like shit for the Eagles: Down 17-0, they'd marched the ball all the way down to the Arizona one. On third and goal with six seconds left in the half, Michael Vick dropped back and the Eagles pretty much lost the game: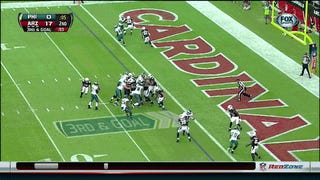 Bonus points in that one for the Cardinal that trips as he throws his hands in the air to celebrate. Another angle, because even from the back, you can sort of see Vick thinking, "Oh, fuck":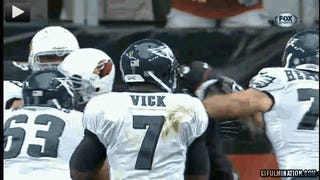 FOX spent most of the second half cutting in and out (at least around these parts) and showing b-roll of Larry Fitzgerald conducting the Phoenix Symphony Orchestra. Kerry Rhodes gets the game ball, for the hit that prematurely sealed the game, and Kevin Kolb gets a suggestive wink for his 127 passer rating. (3-0) Cardinals 27, (2-1) Eagles 6.