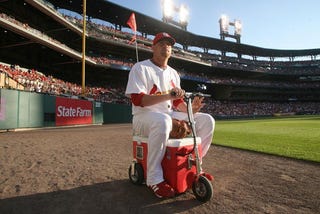 Dilemma: How to lug a cooler full of refreshing beverages to the bullpen each day without injuring certain medial collateral ligaments? Solution: The motorized cooler. Credit Cardinals' reliever Jason Isringhausen — who had to keep busy somehow while on the 15-day DL — with this upgrade of a regular cooler, which is driven from the Busch Stadium clubhouse to the bullpen before each game.
The job of driving the cooler actually falls to a rookie — usually Kyle McClellan — and according to the photo below, there is nothing more potent inside than Gatorade. And of course it is not allowed to leave the ballpark, as bad things can happen to a man on a motorized cooler out on the mean streets, as we learned just recently.
But the more I examine it, this looks suspiciously like a factory-made Cruzin Cooler to me. Yet Isringhausen supposedly said he made it himself. Sen. Arlen Specter, the ball's in your court.
(In case you think that the La Russa DUI angle has been neglected here, don't worry; Sports By Brooks has you covered).
The Law Finally Catches Up With the Cruzin Cooler [Deadspin]
Cooler On Wheels [St. Louis Post Dispatch]
Cardinals Better Keep An Eye On La Russa Around It [SportsbyBrooks]