So if this is what being emotionally invested in a pennant race is like, I'm not sure I'm going to make it to Labor Day.
The Pirates, the losingest losers for the last 20 years, are in first place in the National League Central. On Tuesday night, they began a big three-game road series with the second-place Cardinals—a team that's made the playoffs 10 times since the Buccos last did. The game took 14 innings to complete. It finally ended around 1:10 this morning on the East Coast, with Adron Chambers singling in Jon Jay, who barely slid around Russell Martin's tag at the plate, and with me slumping back into my couch cushions. Cardinals 4, Pirates 3. Exhale.
It was the Cardinals' first win in 41 games this season when trailing after eight innings. The Pirates' lead in the division now stands at two games.
G/O Media may get a commission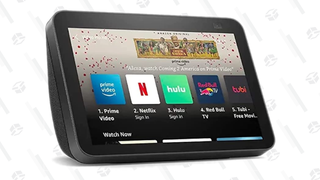 How'd we wind up here, in the whiskey hours of Wednesday morning?
Well, where to begin? With the second baseman who caught a line drive in right field? With the opposing manager who neutered his most clutch hitter with a double-switch? With that same manager running out of position players, forcing him to bat a middle reliever twice with runners in scoring position? With the speedy runner who never left third base on a 13th-inning ground ball? With the right-fielder who turned an inning-ending double play on a ground ball that never left the infield?
Nah. Because as heart-pounding and ultimately infuriating as all of that was, none of it came close to being the weirdest part of this game.
You'll forgive my breathlessness, nearly a full day later, but this is new territory for Pirates fans like me. I can't speak for all of us, but for the most of the last 20 years, my interest level in the Buccos by mid-August ran between passive curiosity and outright indifference. Oh, look, they've lost four in a row. That sucks. Say, did any Steelers tear an ACL at camp today? But these Pirates have had just about the best record in baseball for much of the summer. They're 12 wins away from ending that godforsaken string of losing seasons. Baseball Prospectus puts their playoff odds at 98.6 percent. This is different. This is real. Every Pirates game feels important, and more tellingly, so does every Cardinals game and Reds game. It's exhilarating to know that feeling again, to spend every evening cheering and moaning and scoreboard-watching because the baseball team you just can't quit actually matters after August.
But on nights like last night, it also totally sucks.
Things first went taut in the eighth, with the Pirates leading 3-2. With a runner on first, David Freese hit a deep line drive down the right-field line, but Garrett Jones happened to be playing deep and near the line, so he was able to make the catch. The Cardinals would have runners at the corners with two outs when Matt Adams lashed a liner into right field. Off the bat, it looked like the game was over. But somehow, the ball was caught by Neil Walker, a second baseman who had lined up 10 feet onto the outfield grass. It was the sort of unorthodox defensive shift the Pirates have often deployed to their advantage, and it couldn't have come at a better time, as this video demonstrates.
Pirates broadcaster John Wehner apparently saw the adjustment being called just before it happened:
In the bottom of the ninth, this one appeared to be in the bag. The Pirates had Mark Melancon, their interim closer and an all-star, in the game. There was one out and no one on. Daniel Descalso hit a fly ball to left field for what easily should have been out No. 2. Except this happened.
There's a Yinzer consensus forming that Starling Marte should have used two hands to make that catch. C'mon. He played that ball the way he's likely played routine fly balls thousands of times. Any number of big-league outfielders would have played it the same way, made the catch, and no one would have thought about it again. This was an ill-timed fluke, nothing more. It happens.
I had been texting my cousin Pat back in Pittsburgh, a die-hard I've mentioned before. He's watched this team pretty much every night for as long as I've been alive. He's also a die-hard Pitt football and basketball fan. The last 20 years have steadily robbed him of his optimism. After Marte's drop, I wrote him to say, "Oh no." His reply was succinct: "Here we go."
The Cardinals would tie it. Melancon would issue a two-out walk to Carlos Beltran, right before Allen Craig—who always seems to get a hit with runners in scoring position—singled in Descalso. We were off to extras, and the weirdness was only just beginning.
Clint Hurdle took the bat out of Marte's hands by having him bunt with no outs and Gaby Sanchez on first in the top of the 10th. Sanchez would wind up stranded at third. In the bottom of the 10th, Mike Matheny used Joe Kelly to run for Matt Holliday before having Adron Chambers bat for the pitcher, only to get intentionally walked. Chambers stayed in the game in left, replacing Holliday, and was put into the cleanup spot. That would prove to be a problem for the Cardinals later, after Vin Mazzaro worked out of a bases-loaded, one-out jam that ended when Descalso flew out to Andrew McCutchen, who rather emphatically called off Marte in left-center:
Another text from Pat: "Still no way we win this game or series. im sick."
The Pirates got two men on with two outs in the 11th before the Cardinals brought in Seth Maness, who struck out Jody Mercer to end the inning. Bottom 11, Matt Carpenter singled. A wild pitch and a groundout later, Carpenter was standing on third with one out. Craig was up. No chance the Pirates would pitch to him, especially with Maness due up next and the Cardinals out of position players. The Pirates shifted again, this time by bringing right fielder Josh Harrison, who entered the game in the ninth, in to serve as a fifth infielder. Maness grounded to short, and Harrison—despite a slight bobble—was able to turn the routine 6-9-3 double-play.
The game was officially ridiculous.
Pat, again: "Its window dressing tho. we will refuse to win this no matter what"
After both teams went down in order in the 12th, the Pirates led off the 13th with back-to-back singles from McCutchen and Pedro Alvarez. Martin hit a sharp grounder between Pete Kozma and Descalso at short and third. Kozma had to dive to stop it. But McCutchen never moved. He just stayed there on third. Hurdle would later say the decision not to run on contact was his own, not the player's. Kozma easily threw out Martin at first.
Right on cue, another text from Pat: "we refuse! y was he not going there? now here comes dp."
The Cardinals intentionally walked Clint Barmes (yes, that really happened) to load the bases. Harrison, exactly as Pat predicted, bounced into a 5-3 double-play.
At that moment, I got my last text from Pat: "W that i bid u good nite"
In the bottom of the 13th, Matt Carpenter doubled with two outs. Hurdle reacted by intentionally walking both Carlos Beltran and Allen Craig—the second time Craig was rendered useless with runners on base because Maness was batting behind him without a capable pinch-hitter to spell him. Jeanmar Gomez struck Maness out. On to the 14th. How long could this madness continue?
Not much longer, it would turn out. Jay reached on a single that blistered past Barmes at short with one out. He stole second with Chambers batting. You've already seen the rest. I'm sorry to bury you in the tick-tock of an almost day-old game, but when you're not used to pennant races, all the details hum and vibrate with profound significance. It's one game out of 162, but it's one game that'll stick with Pirates fans for a while, nagging at the corners of their thoughts whenever they look at the division standings. The Bucs and Cardinals meet again tonight at 8:15. Both teams have 44 games remaining. After all these years, here we go. So this is what it's like.