Time for your weekly edition of the Deadspin Funbag. Got something on your mind? Email the Funbag. Today, we're covering poop, sandwiches, rich people, Mitch, and more.
Your letters…
Ryan:
What are your thoughts on flushing urinals after each use? Some people think you MUST flush every single time. I find that unnecessary and don't flush, usually chalking it up to perceived environmental friendliness ("IF IT'S YELLOW LET IT MELLOW"). In actuality I'm probably just lazy and don't want to lift my hand to shoulder height to touch a handle that is usually covered with condensation (i.e., piss).
I do it if I feel like it. There's no rhyme or reason to it. These days, the urinal usually makes the decision for you via auto-flushing, or because the urinal is a newfangled environmentally safe one that requires NO flushing of any kind. Those treehugger urinals are becoming more common, even if I don't trust them entirely. What if someone takes an upper-decker in that urinal? What then? I'm so used to needing 50 gallons of water to flush a one-pint piss down the drain that other methods frighten me.
Anyway, I would go by feel. If the urinal reeks of piss and looks like it could use a good rinse, pull the trigger. Or, if it looks like the urinal is about to overflow with piss because no one flushed, you better send your piss on its merry way. But if you're got a clear piss and the thing still looks relatively spotless, then maybe give Mother Nature a break. In 10 years, no urinals will have flushing mechanisms anyway.
G/O Media may get a commission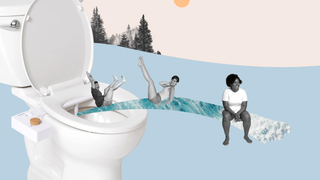 17% off
Tushy 3.0 Warm Water Spa Bidet Attachment
Karl:
So Germany is trying to pass a law that legalizes incest among siblings. At what point do we step in and try to stop their efforts to create the master race? Realistically it's only a matter of time before they try to invade Poland again.
He's right! They are trying to legalize it! What the fuck, Germany? That's so gross. Say what you will about Congress, but at least they aren't going around trying to legalize incest for Donny and Marie.
At this point, Germany needs to undergo a full re-branding effort. As it stands now, the country is a terrifying mix of polka dancers, sex criminals, sisterfuckers, suppressed Neo-Nazis who REALLY want to bring Nazism back (I bet they all drive pickup trucks with 'ERMANY on the back), Berlin techno DJs, pretzel bakers, Bavarian separatists, and Nazi apologists. They should rename the whole country CASTLELAND and see if things change for the better.
Andrew:
What would happen if the entire country suddenly lost all HD-television capability? It affects everyone, and there is no immediate solution. You can still watch TV, but only in horrible, scaled-up-to-72-inch standard definition. How long would it be until President Obama was forced to address this national crisis? Maybe 24 hours?
Given how limp Obama has been lately, he probably wouldn't even notice until February, when you were camped outside the White House with four million other protesters. Then he would turn it over to the FCC, and we would then find out that the FCC has been in cahoots with BIG PICTURE QUALITY all along, to standardize all definition and add a special "HD Lane" to your cable bill (cable joints already charge extra for HD, so this would be a double-super-awesome HD lane) that increases it by 972 percent. Then you would pay it, because everyone pays in the end, no matter how much they complain.
I'm probably overexaggerating here. Because, in general, America excels at solving its least important problems FIRST. We can't figure out racial equality. We can't fix our crumbling infrastructure. But if our HD goes out or our iPhones start bending, we are fucking ON IT. You will have your less bendy iPhone in no time, just as some school nearby is blowing up. When the aliens come find our bones, they'll learn that we failed to save ourselves because we were too busy arguing about how to fix Homeland.
By the way, there are still plenty of cable channels out there that are not in high definition. I saw some movie listed on CHILLER the other day, so I flipped to it, and that shit was boxed in like an Amazon package. That's not very chill of you, CHILLER. Totally worthless channel. I would rather watch lawn darts in HD than the Second Coming in SD.
AJZ:
How much leeway do you give people working at a deli with regards to weighing/dispensing meats? Today I ordered a pound of ham and I got 1.1 pounds without the employee ever asking me "Is a little bit over OK?" I feel like being within maybe .03 pounds is acceptable? (Not that I will ever ask them to put back extra deli meat.)
It's awfully difficult to hit .03 pounds. When they stack the meats, I'm always trying to guess if they'll hit the measurement on the button, and they always start off low, which is good, because that means more meat is forthcoming. That should be a carnival game. You guess the weight, and you win the meat.
Anyway, the people at my deli usually ask if it's okay when they go a bit under or a bit over at the end (if it's under, I always demand more). But if they go .1 or .2 pounds over, and they don't ask for my explicit approval, I am quietly concerned ("They didn't ask me!"), but I don't question them, because I'm a good little boy who doesn't want to cause trouble, and those poor bastards have to deal with shitheel old ladies bossing them around all day long. I'm surprised they don't all pull a Mickey Rourke.
Anyway, I say if they go over an extra .1 pounds (particularly if you ordered a small amount), you can politely correct them if you feel like it. My grocery store has a deli kiosk. You put in your order on a touchscreen, go shopping, and the shit is ready by the time you've come back. They could be off by eight pounds and I wouldn't care, because I got to avoid all the suckers waiting in line. I can't tell you how good it fells to amble up, grab your meat, and leave those fuckers in the dust. The kiosk only works 10 percent of the time, but when it does: GLORY.
Dan:
Mitt Romney is worth $250 million and has five children. How many generations of Romney could go on without really having to work before the family is back to middle class? Does it ever happen? Assume Mormon-style procreation and ignore non-direct lineage. Can Mitt's great-great-great-great grandson, Bain IV, comfortably dedicate his life to community theater and philanthropy, or will he have to sell car insurance to make ends meet?
In order to figure this out, I went to this lifestyle calculator to sort out how much a swanky lifestyle costs in aggregate. I put in for big houses, vacation homes, travel, fine dining, private school … all the mondo rich shit, the shit we all want and most of us will never be able to get. Total cost for the American Dream life? $18 million.
That will accommodate roughly 14 full lives, which isn't much when you factor in Mormon breeding-through-a-cloth-hole techniques. HOWEVER, that doesn't factor in the rate of return on investing that $250 million. If you got an 8 percent return on that shit, it would double within just 10 years. By the time Mitt shelled out $90 million for his little fuckers, the nest egg could conceivably replenish itself, which is good, because he'll need $450 million for the next wave of grandkids, and $2.2 billion for the generation after THAT.
At some point, the expense would have to outpace the rate of return, right? I don't think that the current Romney family fortune would be sustainable all the way to Bain IV. The good news for that little fucker is that, since he was born into the Old Boy's Network, his antecedents will probably have amassed other various fortunes thanks to shady accounting, sweetheart tax breaks, and byzantine offshore-banking deals. They are in the club now. The club takes care of its own, brother. THE SYSTEM WORKS!
Lara:
I just finished eating a delicious sandwich, and in spite of my strategic bites and attempts to shift my sando ingredients around on the delicious Dutch crunch roll to ensure delectable bites down to the very last one, I ended up with two dry pieces of crusty toast and nothing tasty to put on them. No meat was left. No spicy mustard. Just lettuce and dry, crusty bread pieces. I still ate them anyway (because Dutch crunch), but is there anything more disappointing at the end of a sandwich than no juicy things to douse your crusty leftovers with?
That is due to poor sandwich construction. Someone crammed all the good shit into the middle of your sandwich and left the heels bare, which means you don't come out even at the end. Every sandwich should come with a small plastic container of meat scraps that you can then wrap around whatever bread is left at the end. I would wrap dog bacon around my sandwich ends if I had to. Or they can give you a big tub of Caesar dressing for dipping and/or chugging.
Steve:
So one summer in college, my buddy and I were working as janitors in a shitty high school in Queens. Our first day on the job, there was a "caning" (which I learned means one student beat another with a cane), and we often had to clean up human feces off the women's bathroom floor.

Anyway, one day we're cleaning up a science room and are in the back room where all the cool lab stuff is. Despite all the horrible things we saw that summer, we were most appalled by what we found back there: a human fetus in a jar. To this day, over 10 years later, we often ask each other the same questions: 1) WHY??? 2) Would it be a crime to put said fetus on someone's door step and run away?
Are you putting the fetus inside a paper bag and setting that bag on fire before you run away, so that the neighbor stomps on it and gets fetus all over his foot? Because that would be HILARIOUS LOL ROTFL LMAO DIAF. Seriously though, don't prank people with jarred fetuses. That fetus's right to not be used as a prank prop began at conception, dammit.
Anyway, people are jarring and pickling all kind of weird shit for the sake of science: small animals, body parts, genitals, human heads, etc. This is done supposedly in the name of higher learning, but I also think all scientists are creeps and weirdoes who sneak into the lab at night and rub their junk on the fetus jars. And then they try to reanimate the pickle baby with lightning. Fucking nerds.
Mike:
Which NFL head coach would be the worst in an eight-hour-car ride? Who's the best?
Wouldn't Belichick be the best, because he would never speak? He's just put his hood up and sleep the whole time. Sure, he might knife you at some point, but at least there wouldn't be any pressure to sustain a conversation. He'd probably be like Peter Stormare and suddenly demand to stop for pancakes after five hours of silence. I'm a middle-aged guy who now actively avoids talking to new people, so I'd be down with that. No one wants to spend an eight-hour car ride like it's a first date. Let's just get where we're going and then never see each other again, thank you. I love Rex Ryan, but we'd probably run out of dick jokes by mile 300. Also, Rex is sad now because his team is shitty. I would want winning, swaggery Rex in my car. No sad Rex.
The worst would be Andy Reid, because farting.
HALFTIME!
Drexl:
My roommate texts me to ask if I need anything from the store. I replied that I could use a box of frosted strawberry Pop Tarts, because who doesn't? This guy comes back home with the Great Value knockoff version. Given that this waste of life only saved all of $1.50 by choosing these, I'm fully within my rights to still be enraged, yes?
Oh yeah. That's such a dad move, right there. You could ask your dad for anything and he'd come back from the store with the private-label equivalent and be like, "This Magnavox Zune-B is as good as any iPhone you'd get! WHAT ARE YOU COMPLAINING ABOUT, YOU SPOILED BRAT?!" Tell your roommate to stop being a cheapass motherfucker and save his dad-shopping moves for his kids when he has them.
By the way, the equivalent mom move here would be to bring back the ORGANIC Pop Tarts from the store. You wanted Kellogg's Pop Tarts, and she brought back the Kashi Mangrove's Buckwheat Breakfast Pastries instead. MADE WITH REAL FLAXSEED AND LINGONBERRY. That kind of shit is polluting every grocery store now. It costs three bucks more and your mom will always tell you it tastes better than the corn-syrup version when it does NOT.
Matthew:
Standard 10-wing order. There's CLEARLY an alpha wing on the plate. (Obviously a drumstick. Noticeably bigger than all the others.) Where in the order do you eat it?
First. Always first. Wings are meant to be shared, so I don't want anyone else getting the big wing. Even if I'm the only one at the table, I don't want ME getting it. I want to piss on that wing and claim it as my property. I make sure to select the biggest, sauciest wing pieces first, plus any wings that have little fried clumps stuck to them. You know what I'm talking about: those little nub things that hang off the wings. Love those nubs. So chewy. I want a sport pack of little wing nubs. Those are the wings of the future.
NJ:
How much poop travels via USPS? It has to be more than you would think, even after taking medical stool samples into account.
Are people really shipping poop around for any reason other than medical reasons? Poop is technically a biohazard, which means sending it via USPS would be a criminal offense. My guess is that a couple of people try to send it every year as a prank (along with a jar of fetuses), and then they get raided by the Feds for being stupid. If I'm some pervert copropheliac who's into being pooped on, I'm not ordering that poop online. I'm going somewhere local to get that poop directly from the SOURCE. I assume those people need to be there for the entire pooping process. It's not strictly about the poop. It's about seeing the poop emerge, and it's about the fact that Mommy wasn't home enough when they were young.
Mitch:
For my entire life, I have gone by the name of "Mitch." No one has ever called me "Mitchell" except my most immediate family. I have had a girlfriend since about September, and she has been repeatedly referring to me as "Mitchell" in conversation with me and friends. She has even introduced me as "Mitchell" to family and coworkers. And now they call me "Mitchell." What should I do? Should I accept the Mitchell-ization if my life, or should I correct her every time she introduces me?
If you don't like being called Mitchell, you have to sit down with her and tell her that. Otherwise you'll just seethe with resentment that the girl changed your name without your expressed written consent. God knows what kind of Pop Tarts she'll bring home. If you wanna be Mitch, she should accept that. She should not feel compelled to fancy you up by calling you by your full name. That's wrong. That's like that one ex-girlfriend I had that referred to me as her "beau." Let her call you Mitchell, and suddenly she'll have you shopping at MacKenzie-Childs for glassware and applying for finance jobs and asking you why you don't summer in Nantucket more often.
Sorry. I'm projecting here. It was a really bad relationship, Mitcho.
Cameron:
What percentage of pizza crust gets eaten?
I say 30 percent at best. Kids never eat pizza crust, and they're the primary consumers of terrible American chain pizza. My kid will ask for a new slice when she gets within two inches of the beginning of the crust, when there's still perfectly viable cheese and sauce and toppings around. Anything past the halfway point is garbage to her. It's crazy business. I end up eating six half-slices of leftover pizza by the sink at the end of the night.
By the way, I only eat the crust if I think it happens to be awesome crust. I ain't throwing down extra carbs for boring crust. It's gotta have CHAR, man. When I went out for pizza with the Deadspin staff a few months ago, everyone gave me crap because I left the pizza crusts on my plate and went for new slices. I say that's fair game. Why should I have to finish the whole crust before laying claim to a new slice? That's crap. Get me a bowl of loose sausage scraps to pile on that shit. I stand by my methods.
JD:
I'm a 35-year-old father of two young girls, and I have this long-running fantasy about saving my girls from an attempted kidnapping. It plays out like this: I'm with my family in a mall, at a stadium, market, or some other public place, when all of a sudden someone tries to snatch-and-grab one of my girls. They grab her and take off, and I'm in hot pursuit. I catch up to the guy, and we immediately engage in a fight, Steven Seagal style. Naturally I'm capable of all kinds of martial arts in my fantasy (not even close in real life, I've never even been in a real fight). As I pummel the guy, people gather around and cheer, and my wife is overcome by passion from my heroics.

Other twists on the fantasy include me saving a stranger's kid in the same way (I'm single and the mother of said-saved child is smoking hot, of course, in this version), or a group of people try and kidnap my kid and I deal with them one after the other until the showdown with the ring leader. Am I nuts? Of course I never want this to actually happen given that I'd probably lose my kid, but it's fun to think about while I'm running or lifting and the adrenaline is coursing. Am I the only father to think like this?
No, of course not. Pretending you're Liam Neeson is one of the bonuses of fatherhood. You were just an ordinary man, before the terrorists came along and made you THIRSTY FOR VENGEANCE. Every parent has lost sight of their child at a playground or in a crowded market. And when it happens, even for a second, the first thought is OH FUCK SOMEONE TOOK THEM. You can construct an entire kidnapping narrative in your head within the span of half a second. It's not a great feeling, expect for the part where you club the ringleader to death with a metal pipe.
I took my son to a model train show a few weeks back, and it was insanely crowded, because every model train show is the laid out the same way: the old fogies who don't want you touching their shit stand get to in the center of the room behind their tables and hog all the space, and the tourists are forced to walk around and dry hump each other to get a look at the choochoos.
Anyway, I had both my sons with me, and they went in opposite directions, so I had to choose one to follow (happens daily), and the five-year-old got lost. For MINUTES. The longest I had ever lost him in public. I started off very casual and confident. Oh, he's lost! We'll go get him. Within two minutes, I was fucking frantic. I was asking people if they had seen my boy. I checked outside the building. I looked for windowless vans. I pictured the funeral. I was ready to ask the train-show band to make a formal announcement when the kid finally materialized. Scared shitless and crying his eyes out. And it was all my fault because I lost track of him. I wanted to fucking die. That revenge-fantasy shit is always more amusing in theory than in practice. We're never going to a train show again.
Zach:
What version of poker do you think people learn first? Now with the ESPN poker boom, it's got to be Texas Hold'em, right? I learned seven-card stud because my parents were degenerate gamblers.
I learned five-card draw first as a kid. Five-card draw poker and seven-card gin rummy. Then I would try to play gin with other people, and they would play a different version and look at me like I was a fucking dipshit for playing another way. There are too many card games out there. We should only have four. I am not a crackpot. Spanish Blackjack is not necessary. Why are there no 10s? Stop being weird, Spanish Blackjack.
Email of the week!
Bryan:
On the first day of school entering the seventh grade, everything was going fine until the start of the fourth class period. It was American history and was taught by the high school baseball coach. I didn't feel the need to make a trip to the bathroom between classes. Even if I had, there probably wouldn't have been enough time anyway. But once I got into the class, I got hit with a sudden urge that I knew had to be taken care of.

I approached the coach and told him I needed to go to the bathroom. Being the first day of school and not willing to deal with any nonsense on the first day, he told me no and said I should have gone between classes. I went back to my seat and it only got worse. I knew I had to go, but I also knew he wouldn't let me leave. I didn't have the courage to ask him again, and every time I think about this, I wish I had. This is the first of several stupid decisions on the part of 12-year-old me.

I thought my best option was to suffer through it and wait until lunch, which was right after that class. So, I'm squirming in my desk trying to keep this unstoppable force from finding its way out. The class was 50 minutes long and I probably made it through about 20 minutes before I could no longer hold it back.

I was sitting down on the desk when I lost control and the load dropped. It wasn't a massive load of diarrhea or anything, but it was a pretty good sized turd that had nowhere to go. It forced its way out of my ass and immediately spread in all directions. Now, I have an even bigger problem that will only be made infinitely worse if I claim the smell that just rocked this room full of seventh-graders. So I just sit on it. Class is over and I have managed to not let any more come out, even though the urge to shit is still there.

I go to lunch still carrying this load, which is now drying out. After eating, I am off to the bathroom to clean it up and hope no one but me knows what actually happened. No such luck. The only thing capable of cleaning me off at this point is a fire hose. No amount of toilet paper is handling this mess. I finish emptying my bowels and clean up as best I can but I'm still, literally, a walking sack of shit. Amazingly my jeans are stain-free on the outside, and I am desperate to keep them that way, so I leave my shit-filled underwear on as a buffer.

There are three more classes I have to get through, and I am walking through the halls and sitting in class with teachers opening windows, spraying air freshener, and blaming it on the air conditioning until school lets out. My mother picks me up, and her aunt happens to be visiting from out of town. Her aunt immediately picks up on the smell, but blames it on me having probably stepped in dog shit. I let them believe that and start forming a plan.

Once we are at home, I beeline for the bathroom to finally fix the problem. I'm in there so long, my mother comes to investigate, and I am finally forced to admit that I shit myself. But I say I did it on the way to the bathroom at home, not while at school. I don't think she bought it, but she never called me out on it. The mess is somehow taken care of with underwear, jeans, a couple of wash cloths, and a towel all sacrificed to the cause. I took a shower, and the crisis ended. My greatest fear is that everyone knows and I'll earn some awful nickname from it, but it's never brought up again, not by parents, teachers, or friends.

To this day, I don't know if anyone else knows, and I'm OK not knowing.
---
Drew Magary writes for Deadspin. He's also a correspondent for GQ. Follow him on Twitter @drewmagary and email him at drew@deadspin.com. You can also order Drew's book, Someone Could Get Hurt, through his homepage.
Image by Sam Woolley.