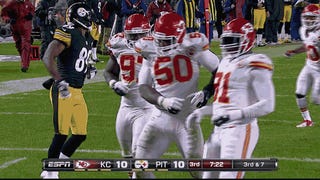 Pittsburgh 16, Kansas City 13: Mike Tirico could barely contain himself early on as the Chiefs took a 7-0 lead on the Steelers. Then Mike Wallace's thighs showed up.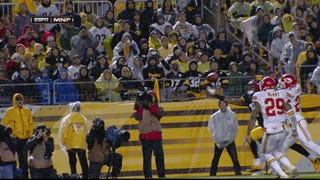 And then Ben Roethlisberger left the game with a right shoulder injury and was taken for further evaluation. He did not return to the game. Unfortunately, he missed the Chiefs celebrating a would-be go-ahead touchdown in the third quarter (top image). Fortunately, for Ben and the Steelers, it turned out to be an unsportsmanlike conduct penalty on a touchdown that was reversed because the referees initially ruled the play a fumble and replay clearly showed it was not.
So the refs screwed up, gave the Chiefs a touchdown they shouldn't have gotten, thus providing the opportunity to excessively celebrate and earn a 15-yard penalty, only to have review determine that it was not in fact a fumble and therefore not a touchdown. As a result of the incomplete pass, the Steelers were awarded a first down. Because of the unsportsmanlike conduct of excessively celebrating a touchdown that did not technically happen.
Ryan Succop, who had already missed a field goal from 33 yards earlier, hit a 46-yard field goal to send the game into overtime after a huge 27-yard hookup between Cassel and Dwayne Bowe. The Chiefs won the toss and Matt Cassel promptly threw an interception that was returned to the five yard line. Pittsburgh field goal, game over. That's pretty much the Kansas City football season right there.