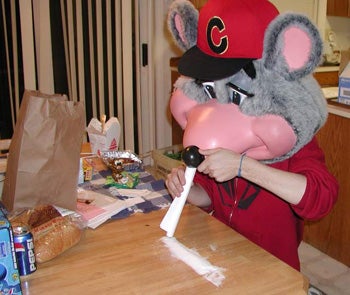 It's the Super Bowl, so it's time to bring back the immortal DEADCAST for a reboot. Join emeritus Will Leitch and I for a little audio party, won't you? (Listen here, iTunes here.)
Leitch is getting married in June. And he is perhaps the only man alive stupid enough to invite his own father to his bachelor party. What a fucking idiot. That'll end badly. Anyway, Leitch and I discuss all aspects of bachelor parties, including strippers and designated cocaine rooms.
We also talk about the Super Bowl, The Who, Paul Shirley, and God knows what else. We also take a handful of reader mail questions, something I'll make sure we do in every Deadcast from here on out. Many readers would like to know why Leitch is so reticent to talk about poop. He declines to explain. I think you all know what that means: LEITCH GETS FREAKY WITH POOP.
I also ask the following question: Which is the best of all basement table games? The options: Ping Pong, air hockey, pool, and foosball. Our agreed upon choice? Air hockey. God dammit, I want an air hockey table so badly. And a Pop-A-Shot machine. Ping pong table comes second, foosball third, pool fourth. Because we suck at pool.
Anyway, you get the idea. It's a solid hour of stammering retardation for your commute home. We hope you enjoy.
This week's Deadcast is available for your listening pleasure right here. You can also find the new Deadcast in the iTunes Music Store here. Got an email? Send it to me here. Special thanks to Liberated Syndication for hosting us. Now sit back, relax, and get ready for the Super Bowl next week.