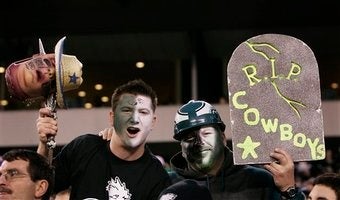 What? You thought that just because they were eliminated from the playoffs, that you wouldn't have to hear about the Dallas Cowboys for the rest of the season? You're not that naive are you?
No, I think people will never tire of the "what went wrong?" and "what next?" and "what the heck?" questions. We've gotten tips about players fighting with fans outside of practices that aren't even happening. We got a tip about a birthday party. We have people writing songs about them. We have people who want to hire them. We have people threatening their lives. We even have two different stories that are just about the plane ride home from Philadelphia. People couldn't even wait for them to get back to Texas to start talking about them again.
The best part, is that the first story talked about how the Cowboy players had so much fun on the plane, being jovial and whatnot, that everyone has to seriously question their commitment to professional football. The other one said that things were so angry and intense, two players had to be separated after fighting. Can't we at least get our obsessive stories straight?
Don't care about the Cowboys? Too bad. Resistance is futile.
Cowboys Laughing, Acting Like "Last Day of School" On Return Trip From Philadelphia [Dallas Sports Fans]
Deon Anderson and Flozell Adams get into a fight [Dallas Morning News]