The NFLPA is gathering information on the truly bizarre Lucky Whitehead situation, with an eye on a potential grievance against the Cowboys for cutting the wide receiver following a shoplifting arrest and failure to appear in court—both of which, it quickly turned out, were bullshit. Whitehead wasn't even there; whoever the cops arrested gave them Whitehead's identifying information. But Whitehead's still cut. It is a truly weird situation all around.

After the (erroneous) news of the warrant out on Whitehead broke, but before he was officially waived, head coach Jason Garrett had sure made it sound like this was it for Whitehead, saying that "depending on what the situation is, we're going to respond accordingly and do what's in the best interest of the Dallas Cowboys."
Jason Garrett sure is hung up on the best interest of the Cowboys. Here he is at Tuesday's press conference, and this is some remarkable video:
Here's just a part of the transcript:
On whether he regrets Whitehead's being cut and whether he will address the team about the move:
Garrett: Yesterday we made a decision that was deemed to be in the best interest of the Dallas Cowboys. We're standing by that decision. We're going to move on.

On whether the decision to cut Whitehead was based on the idea of the arrest:

Garrett: Yesterday we made a decision we felt was the best interest of the Dallas Cowboys. We're going to stand by that decision. We're going to move on.

On whether it is fair to Whitehead to say the same thing over and over:

Garrett: It's the truth. We made a decision we felt was in the best interest of the Dallas Cowboys.

On whether there are some people working for the Dallas Cowboys who are just too stupid to work for this team:

Garrett: I'll stand by the statement that I made. We made a decision yesterday that we felt was in the best interest of the Dallas Cowboys. We're going to stand by that decision. We're going to move forward.

On sending the wrong message by rushing to judgment:

Garrett: Yesterday we made a decision that we felt that was in the best interest of the Dallas Cowboys.
In all, a clearly defensive Garrett repeated the phrase "in the best interest of the Dallas Cowboys" 10 times in three minutes.
Owner Jerry Jones later added his own slightly odd version of the sentiment, in a brief interview that was described as "emotional":
"When we do make a decision around here that's in the best interest of the team to move on, there's one thing you can forget about and that is whether you're being fair or whether you've given it consideration of what it means to the individual," Jones said. "That doesn't happen around here."
G/O Media may get a commission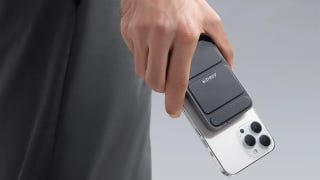 15% off
15% off Anker Top Ten Products
Take charge
Treat yourself to a portable power bank, a magnetic wireless battery for iPhones, or even a solar generator. There is a reason these are in the top ten. For instance, the Anker 747 Power Bank is a 4-in-1 charger utilizing USB-A and USB-C to be capable of charging up to four devices at once. Great to take with you when traveling and in need of keeping your phone, laptop, and even Nintendo Switch powered on.
There's a very specific reason teams robotically use this sort of language when talking about cuts. Players under contract can be and are terminated for all sorts of reasons, from poor play to injury to off-the-field behavior. (It's not currently clear which one was used to cut Whitehead.) But the statement—"in the best interest of the team"—neatly covers all of them, without coloring any future grievances those players may file.
Players can be terminated if they "have engaged in personal conduct which, in the reasonable judgment of the Club, adversely affects or reflects on the club." If that was the reason for Whitehead's termination, he might have a case. All he's done this offseason is have his dog kidnapped and his identity stolen by a shoplifter.
But here's another complication: Whitehead sucks. He caught as many balls last season (three) as he fumbled. If the Cowboys had waived Whitehead for not being a good football player, no one would have batted an eye. But they didn't. They kept him and his contract right up until the opening day of training camp, meaning they clearly wanted him around—if even as a warm camp body with no hope of making the 53-man roster—right up until Monday's false accusation. That's when they cut him.
(It's also worth noting the stooge reporters who have the Cowboys' backs on this, citing a Week 14 incident in which Whitehead showed up late for meetings. But again, they didn't cut him then and apparently weren't going to.)
Whitehead is understandably pissed about all this. In a phone interview with the Dallas Morning News, he blasted the team for not even giving him time to figure out what was going on before he was cut. Citing the slogans about accountability and responsibility that are posted all around the training facility, Whitehead said,
"As far as the stuff that was preached [by the Cowboys], I was left out to dry. You see the mantras that are all around The Star. I mean, by 12:45 I figured out that this is even going on. By 2:30 I was released. What's the real reason? Let me clear my name. I didn't have time to do that.

"I was pretty much called a liar."
Anyone with a brain knows what happened here: Whitehead was a fringe player who probably would have been cut later in camp, but was instead cut immediately at the first sign of trouble because the Cowboys love to appear tough (even as they are just as soft when it comes to legal or behavioral issues with players they actually want). This one came back to bite the Cowboys because that trouble proved a false alarm almost immediately. The question that does matter, and it may end up in the hands of an arbitrator, was whether the Cowboys explicitly used that fake trouble as a justification for cutting Whitehead. The Cowboys' defense is clear: Whatever they did, they were merely acting in their best interest.