Indoor American 800-meter record holder Ajee Wilson was stripped of that record for testing positive for zeranol, a prohibited substance that's listed under Anabolic Agents. But according to USADA, Wilson will not serve a suspension because it was determined the source of the zeranol was beef that had been raised with the growth-promoting hormone which she ate "without fault or negligence."

The positive test came after her record setting 1:58.27 run on Feb. 11, 2017 at the NYRR Millrose Games. The subsequent urine test, administered because she won the race, revealed a small amount of zeranol. A test given a week prior showed no banned substances. Normally, USADA places responsibility for everything ingested on the athlete, but after investigating her diet and food purchase receipts (yes, she kept them), and given the low concentration of zeranol, they concluded "it was highly unlikely that the presence of zeranol in Wilson's sample resulted from a source other than zeranol contaminated meat."
But there are a bunch of perplexing things about this incident—zeranol is very commonly used in beef production, so why haven't there been more positive drug tests? Isn't zeranol an estrogen, thus not a very useful PED? Why is zeranol even on WADA's banned list? It's amazing that doping controls that are often criticized for not being sensitive or sophisticated enough could pick up such a trace amount of zeranol. Looking for answers, I got hold of sport scientist Ross Tucker and USADA.
Tucker, like me, had never heard of a positive test triggered by zeranol, and had more questions than answers. He pointed me to a bunch of links on zeranol, but speculated Wilson could have gotten a hold of some beef produced using improper practices (resulting in more zeranol residue in the beef than normally), or that for some reason she was unable to metabolize the zeranol.

As to why zeranol, described as a synthetic estrogen for veterinary use, would be a banned substance, Tucker suggested, "The test for [exogenous] testosterone used to look at the testosterone-to-epitestosterone [correction: not estrogen. See more about the T:E test in comments below] ratio. So in theory, an athlete using T would have to use E as well, getting that ratio back to normal so that they wouldn't fall foul of the first round of T testing. Maybe that's why zeranol is on the list."
G/O Media may get a commission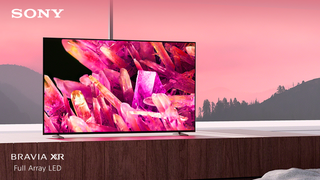 $400 off
Sony 55 Inch 4K Ultra HD TV X90K Series
According to Canadian Cattlemen, "Zeranol, which is the active ingredient in the name brand, Ralgro, isn't a steroid, but acts like a steroid by binding to the estrogen receptor. It is a synthetic form of the natural estrogen, zearalenone."
Most of the beef sold in the US is raised with growth-promoting hormones, and has been since the 1950s. Zeranol is a legal growth-promoting agent in North America, Australia, New Zealand, Japan, Chile, South Africa and 24 other countries. It's not used in European Union countries. If you're eating beef, there's a good chance you're eating zeranol-enhanced meat.

In pellet form, zeranol is implanted in the outer ear of beef cattle to make them gain weight faster, which is good for the producer who is paid by the pound. According to Canadian Cattlemen, over the 120 to 200 days between implant and the time the cow becomes a steak, "the implants and their growth-promoting effects are depleted" so there is almost no zeranol residue in the meat. "It's also why there's almost no measurable difference in hormone levels in beef from implanted and unimplanted cattle. There is more variation in hormone levels between male and female cattle than between treated and untreated animals."
Dr. Anthony Hackney, a professor of sports science at University of North Carolina at Chapel Hill and author of Endocrinology of Physical Activity and Sport, said this about zeranol: "WADA classifies it under the category of S1.2 which usually is as a SERM (selective estrogen receptor modulator). It has some direct action on androgen receptors (usually controlled by testosterone) to speed up structural protein development (muscle). But, it also blocks estrogen receptors, which allows testosterone to be more active (build more muscle), as usually the estrogen hormone attaching to estrogen receptors slows down the actions of testosterone."
So while Canadian Cattlemen describes it as a synthetic estrogen, zeranol apparently has the muscle-building effect of testosterone, at least in cattle.

Wilson's case prompted a flood of calls to USADA from media and from athletes, so they created a zeranol FAQ on their website. According to that fact sheet, zeranol is on the banned substance list because of its "presumed anabolic effect in humans."

USADA attempted to assuage concerns by demonstrating how very rare a positive test for zeranol is: "Across the millions of urine analyses conducted and reported by WADA since 2003, there have been just six positive tests globally. Over the last 15 years, USADA has also performed more than 100,000 tests, and there has been only one zeranol positive."

And at the same time, the fact sheet says, the FDA and USDA keep close track of hormone residues in meat, so it's unlikely Wilson got hold of doped-up beef: "...there was only one reported violation of residue for zeranol, which occurred in 2014 in a sow, not beef cattle." In further questioning, a spokesperson for USADA said, "Our investigation [of Wilson's case] included tracing the beef back to the supplier, and our understanding is that the meat contamination issue is not specific to a particular geographical region of the US."
There it is again—zeranol "contaminated" meat. That makes it sound as if Wilson got hold of a bad batch. In fact, the vast majority of beef eaters in the US are ingesting " zeranol contaminated" meat. While investigators were unable to determine the amount of zeranol residue in the beef Wilson ate, USADA confirmed that "contaminated" meant meat from cattle that had been implanted with zeranol, which is almost all beef, rather than a particular bad batch.

"We're referring to beef that comes from cattle that we were able to determine received zeranol implants," was USADA's written reply. "Because FDA minimum detection limits are fairly high, we couldn't rule out the possibility that the low level of zeranol in Ms. Wilson's sample came from beef containing zeranol residue just below the minimum detection level."
The thorough investigation, the FDA's meat monitoring, and USADA's assurances only emphasize the lightning-strike remoteness of Wilson's positive. If Ajee Wilson ate a perfectly normal burger or t-bone, as thousands of athletes over the last 15 years have done, why did it trigger a positive just once?