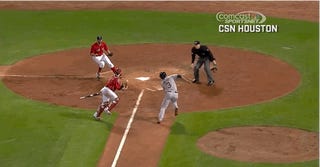 By now, you may be tangentially aware that a Ben Affleck Birthday curse exists for the Boston Red Sox. It goes like this: since Good Will Hunting debuted in 1997, the Red Sox have never won a game on August 15th, Ben Affleck's birthday. Why Good Will Hunting? Probably because no one saw Chasing Amy and at some point someone saw a string of losses on August 15 going back to 1997. Anyway, he did it again for the 15th time. This time in extras.
The night started off promising enough, Yoenis Cespedes hit his first home run at Fenway to give the Sox a 2-0 lead in the fourth. Things feel apart for the Sox with a 3-2 lead in the 8th, though. With men on first and second, Matt Dominguez hit to short, but loopily enough that Boston could not get the runner at second. Pedroia then saw Gregorio Petit make a turn at third trying to score, so he threw home to Christian Vasquez. Vasquez took a weird angle toward Petit, who was able to wind his way around the catcher and the pitcher Burke Badenhop to swipe home and tie the game. Petit scored from second on an infield single and a throwing error on Vasquez. It was a truly bizarre way to tie the game.
John Farrell reviewed both calls on the play—safe at second, safe at home—and both were upheld. The game remained tied until the 10th inning when Jake Marisnick won the game for Houston with a two-run double. Poor Boston. Poor Ben.
Red Sox Winning Streak Snapped in Chaotic Extra Innings Game [Boston.com]