Every morning, the fine folks at Sports Radio Interviews sift through the a.m. drive-time chatter to bring you the best interviews with coaches, players, and personalities across the sports landscape. Today: Jason Kidd goes cold.
Jokic? Embiid? The NBA MVP is obvious... right? | Keep it a Buck(et)
Jason Kidd joined ESPN Dallas with Ben and Skin to discuss the latest update on his calf injury, cryotherapy being the key to a healthy body during the Mavericks postseason run last year, having any doubts about using cryotherapy, cryotherapy being a 'secret weapon' for the Dallas Mavericks last season and Charles Barkley's comments on Dirk Nowitzki being too old now.
What is the latest on the calf injury? Will we see you against the Nuggets?
"I gotta go through a practice first, so we'll see what happens today. I'll talk with K.C. and the medical staff and see what I am cleared to do, but I'm feeling a lot better. Hopefully I'll be out there this week."
What can you tell us about being the first player on the Mavericks to use cryotherapy?
"Well I think cryotherapy is excellent for anybody and not just athletes. I did buy into it at the end of the season. It came April and K.C. [trainer] asked me to try it out and I felt great throughout the playoff run. I thought hey this could be something that could help me throughout my career. It's not as bad as getting in a cold tub. It takes you at least 3-4 minutes to get into the cold tub. This is a process that you step in the tub and you're in there for about 2-3 minutes and you're out and you feel great."
G/O Media may get a commission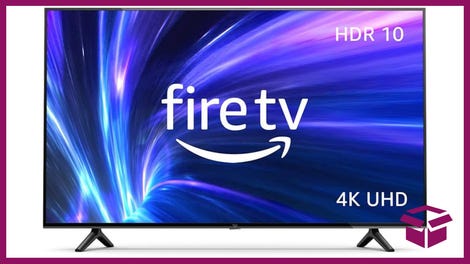 42% Off
Amazon Fire TV 50" 4K Smart TV
So when you first tried cryotherapy were you scared? Were you thinking what the hell do these guys have me doing?
"No I wasn't scared. It was something new just understanding that your first thought is maybe since you don't get wet how do you get cold? The nitrogen and air mix definitely lets you know it is going to get cold. I was maybe a little soft the first time. I just graduated from the 3-minute mark, so you gotta build your way up, but some guys like Jet [Jason Terry], Dirk Nowitzki, Shawn Marion – those guys are stronger than I am and they went past 3 minutes and it does get cold, but you do feel a lot better."
Did you guys think cryotherapy was a "secret weapon" last year that helped you get rejuvenated?
"We did. We thought it was our secret weapon because of what it did and how it made everyone feel. In Portland, NIKE had one on campus, so during the Portland series we got to use the one at NIKE. They also had one in L.A., but the drive was a little bit too far. We definitely used it in that series. The big thing is that it is going to be in every locker room and probably on every campus because of what it does to the body and how you feel and the success rate it's had so far."
What do you think when a guy like Charles Barkley says stuff like Dirk Nowitzki is getting too old? How do you react to that?
"Well everybody is different. I think Dirk [Nowitzki] is far from done. I think we all have gotten off to a slow start, but look we are right there at 6th place I think. We still haven't played anywhere close to good basketball. We have to go into the break being positive and feeling good about ourselves, but the biggest thing is we all understand with our health coming into the second half – we all want to be healthy and ready to play and again have the opportunity to defend our title."
This post, written by Steven Cuce, appears courtesy of Sports Radio Interviews. For the complete highlights of the interview, as well as audio, click here.
More from Sports Radio Interviews
• Kobe says playing with Shaq "wasn't natural."
• Chase Blackburn could have been a Ram this season.
• Chipper Jones says the Marlins are trying to buy their way to relevancy.