Two superstars, both caught with (much) younger women. This looks bad, but it's possible for Tiki Barber and Tiger Woods to minimize the damage. We offer some helpful dos and don'ts for everyone on how to conduct their Nabokovian affairs.
Jokic? Embiid? The NBA MVP is obvious... right? | Keep it a Buck(et)


•Do be aware of how your paramour's profession will play in the media. The public will at least entertain the notion that your dalliance was about more than sex (they're probably wrong). If the mistress comes across as professional and intelligent, you'll get the benefit of the doubt. Traci Lynn Johnson is an intern at NBC. It's not great, but it shows initiative. Meanwhile here's Raychel Coudriet, a student at Alabama, doing a keg stand.
Advantage: Tiki
•Don't emphasize the age difference. While you'll get some high fives from jealous 30-somethings, you're already coming across as a bit of a pervert. Both Barber and Woods fail the half-your-age-plus-seven rule, but Woods's long-term familiarity with Coudriet pushes it over the top. The Enquirer reports that he knew her since he was 14, but here's an Orlando Sentinel piece on Tiger moving into the neighborhood that quotes Coudriet's father. It's from 1997. She would have been nine years old. Yikes. Advantage: Tiki
•Do think of the children. There'll be sympathy for your wife, but it'll be superficial. We all know they're going to end up filthy rich if they go the divorce route. But we really do feel bad for the kids. How will they take it? Tiger's kids are 1 and 2 years old. They won't remember any of this. But Tiki's children are 6 and 7, old enough to understand that daddy left mommy for someone as close to their age as his own. Oh, and eight months pregnant with twins? Jesus, Tiki.
Advantage: Tiger
G/O Media may get a commission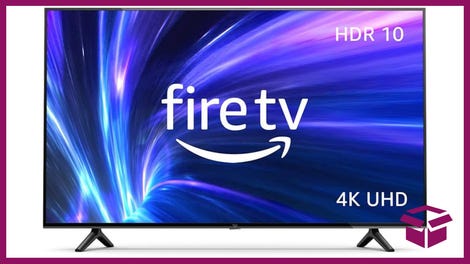 42% Off
Amazon Fire TV 50" 4K Smart TV
•Do make sure she's gorgeous. Tom Brady ditched a pregnant Bridget Moynahan, and he's a national hero. Why? He moved up to a Brazilian supermodel. Both Woods and Barber have gone for what are essentially thin, pretty blondes in their early 20s. (As Jason Whitlock so delicately points out, Ginny Barber's well on the wrong side of that decade.) When quality is equal, quantity becomes the tiebreaker.
Advantage: Tiger
•Don't let your dalliance come near your home life. Think of your affairs as a second business. Even a dog knows enough not to shit where it eats, and you shouldn't screw there either. Tiki reportedly took Johnson along on work trips to Vancouver and Senegal. Tiger, on the other hand, did the deed on a sofa in his office, near his baby's crib.
Advantage: Tiki
•Do make her feel special. When you're 21 or thereabouts, you're stupid. You think every relationship is going to last forever, especially if it's a rich and famous person promising you the world. Tiki actually followed through, leaving his wife of 11 years for Johnson. Coudriet reportedly said that Tiger made her feel "used and violated, like I meant nothing to him but a night of casual sex. I just wanted to dig a big hole, crawl in and die."
Advantage: Tiki
•Don't look like a hypocrite. When you're famous, everything you say is recorded. And when you fuck up, they're going to go back through everything you've said to try to hang you with your own words. So watch what you say.
In 2004, Barber said of his own philandering father: "I don't give a [bleep] that the relationship didn't work, it happens a lot. Not only did he abandon [my mother], I felt like he abandoned us for a lot of our lives. I have a hard time forgiving that."
Woods was reportedly devastated by his father's adulterous ways: "He would just call crying and say, 'My dad is with another woman,' and that would be all he could say," she says. "He would be so upset, so I just tried to be there for him and listen to him."
Advantage: Push
•Do use a condom. Self-explanatory.
Advantage: Tiki (as far as we know)
And there you have it. When all is said and done, your winner is...Us! The scandal loving public! Sorry Tiki and Tiger, but you both look like dirtbags who trashed happy families for the sake of dipping your wick. Hope it was good for you, because it's been great for us.