It was a year of mourning for the Red Wings. Their beloved owner, Mike Ilitch, died. So did Joe Louis Arena, the old barn on the Detroit River where the Wings dominated in the mid-to-late '90s and early aughts, winning four Stanley Cups, six Presidents' Trophies, and making the playoffs for 25 consecutive seasons. The Streak, as it was called in Detroit, was also buried this year. The pursuit of that Streak, at the expense of a long-term vision and with the results of sustained mediocrity, falls squarely on longtime general manager Ken Holland.

Making the playoffs for 25 years straight is objectively insane. I grew up in Michigan and I don't remember what it was like when the Wings weren't any good. The last time they missed the playoffs, in the spring of 1990, I was five years old. One of Detroit's most promising young players—metro Detroit native Dylan Larkin—was born in July 1996, two months after the Claude Lemieux hit on Kris Draper that set off an era-defining brawl. Holland will always have the dynasty, but the Wings haven't been truly relevant since 2009, when they lost their bid for a repeat in Game 7 of the Stanley Cup Finals to the Pittsburgh Penguins. That was also the last time they made it past the second round of the playoffs. They've been functional afterthoughts since then, despite making the postseason every season until this one, because Holland would never admit that it was long past time to reset.
Not only are the Wings mired in mediocrity going into their new arena, they're hamstrung for the next few years. The team's future payroll is a graveyard of old guys on laughably bad contracts. Captain Henrik Zetterberg is under contract through 2021 (by which time he won't be worth the $6,083,333 cap hit, but he's still a good hockey player). Defenseman Niklas Kronwall, plagued by knee problems, is on the books through 2019. Defenseman Jonathan Ericsson: through 2020. Justin Abdelkader, whose seven-year $30 million contract was universally panned when he signed it in 2015, is under contract until 2023. Darren Helm, who scored eight goals in 50 games this year, will make $3.85 million a year until 2021. Danny DeKeyser will make $5 million annually through 2022. And 33-year-old Frans Nielsen carries a $5.25 million annual cap hit through 2022. Most NHL teams have a few bad contracts—the Wings could ice two lines' worth.
Long-term deals are the price of doing business in the modern NHL, though. In a cap league, you can't re-sign your own stars—or land free agents—without giving out more years than you'd prefer. Because some other team will.
"In most cases there are going to be concerns for the teams at the end of the contract," Holland told Deadspin. If you don't go long, "then you're not in the game."
G/O Media may get a commission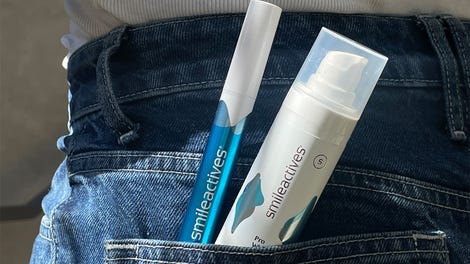 58% off
Whitening Powerhouse Pen & Gel Duo
Every GM knows they'll have to pay the piper at the end of deals, but Holland has largely failed to get his money's worth at the front end too. He's deprived himself of flexibility by handing out no-trade clauses, and by resigning third- and fourth-liners (Justin Abdelkader, Luke Glendening, Darren Helm) above market value, seemingly out of blind loyalty.
And as the Wings' star has faded, they've struggled at the trade deadline too. Always in the hopes of preserving The Streak. The best example came in 2014, when Detroit traded Patrick Eaves (31 goals this year, and acquired by Pacific champs Anaheim at the deadline), Calle Jarnkrok (15 goals this year), and a second-round pick to Nashville for 33-year-old David Legwand, who scored four goals in 26 games in Detroit. The Wings kept The Streak alive, no thanks to Legwand. Then, they got bounced in the first round by the Bruins in five games. They mortgaged the future so Brendan Smith could try to fight Zdeno Chara.
Teams hoping for deep playoff runs always sign on for rentals, but there's a difference between believing, say, Robert Lang is the difference between a banner and no banner, and downgrading your future for David Legwand. In this case, it's another example of Holland trying to recapture what worked for him a decade or two ago, and missing. Holland had an improbably great string of wildly successful trades—at the deadline and in the offseason—that pushed Cup-winning teams over the top: Brendan Shanahan in 1996, Larry Murphy in 1997, Chris Chelios in 1999, Dominik Hasek in 2001, and Brad Stuart in 2008. However, especially in the salary cap era, you can only keep kicking the can down the road for so long.
"You pay a price," Holland told me. "We were prepared to pay the price. We did pay the price. We've been a team that for years has been spending futures, spending draft picks to try to make our team a little bit better and try to go on a playoff run. Some years it worked. Some years we won the Cups and probably wouldn't have won the Cup without [those trades]."
Even now, Holland says he can rebuild and restock the Wings on the fly, and when asked, refused to rule out trading away one of the team's few young talents to land a more immediate contributor. Detroit hasn't had a top-10 draft pick since they took Martin Lapointe 10th overall in 1991, and while that will finally change this summer, Holland sounds anxious to make some immediate changes. Because the Wings were, mercifully, sellers at this season's deadline, they have 11 picks in this June's draft. But Holland even mused about using those extra players in trades, to walk a fine line between rebuilding and staying competitive.
"We've got more spins of the wheel," Holland told MLive.com. "We're trying to stay in the mix with teams in our division. At the same time, I'm hoping that with [the extra] picks, it's going to tee this franchise up for the next 6-8-10 years."
Some who have seen Holland work believe he simply doesn't have any other strategy besides win now.
"If Holland was competent enough to figure out that the rebuild is going to take more than a year, then maybe they could possibly trust him with all of his years of experience and all of his connections," said one person who used to work for the Ilitches and requested anonymity for fear of retribution. "Maybe he could do a good job of having a turnaround in three to five years. But he is absolutely against it. He wants, like, a one-year turnaround. Which means he's probably going to go and blow money on old veteran players and his usual crap. So I just, I think it's one of those things where they know he's not going to change and he hasn't really been forced to change in the past."
---
Missing the postseason has been a long time coming, but if Holland—who has been with the Wings since 1985 and the general manager since 1997—had not spent the greater part of the last decade with the realistic goal not of winning a Cup, but of keeping The Streak alive, the future might not be so dark.
It wasn't always like this. The Red Wings' dynasty was built on complementary philosophies: International scouting, drafting, and development, augmented by free-agent signings and shrewd trades. You don't build a dynasty without hitting on all cylinders, and you don't do it by following conventional wisdom. In the early '90s while other teams still favored big bruising forwards who galumphed around the ice, the Wings had scouting savant Håkan Andersson—still their director of European scouting—hanging out in shitty rinks from northern Sweden to the collapsed Soviet Union, scouring the continent for skilled players they could nab in the late rounds of the draft.
Stories of Andersson's coups are legend in hockey circles. Henrik Zetterberg was the 210th pick in 1999. Tomas Holmstrom, a linchpin of both modern-day Wings squads—he was a bridge from Yzerman and Fedorov to Datsyuk and Zetterberg, typically parked in front of the net driving opposing goalies mad—was the 257th pick in 1994. Gustav Nyquist, the undersized young Swedish forward, went 121st in 2008. Jonathan Ericsson, a serviceable defenseman for years who has fallen off a cliff since Holland rewarded him with a massive contract, was the final pick of the 2002 draft. But Andersson's masterstroke came in 1998: an obscure, crafty forward out of Yekaterinburg, Russia, named Pavel Datsyuk. Who, as Andersson told Sports Illustrated in 2015, might've only ended up in Detroit thanks to some bad weather.
Andersson did see him again and was en route a third time, only now he had company: a Flames scout was on the same plane. They boarded the scheduled 11 a.m. flight and then sat on the runway as a snowstorm blanketed Moscow. A few hours later Andersson was startled by a roar. Outside his window he could see flames dancing near the wings, blown by a fan through a massive circular device on the tarmac. The contraption looked like Paul Bunyan's hair dryer. "The snow started to melt," he says, "but those wings are right near the fuel." Eventually the de-icing was abandoned and the flight was canceled, leaving the two scouts stranded and Datsyuk mostly a mystery to the gentleman from Calgary. Andersson figures he might have gotten scooped if not for the snow. Instead, the Red Wings took the young Russian in the sixth round the following summer.
This is instructive. If you believe this tale, only a couple NHL teams were in on Pavel Datsyuk, one of the single most thrilling hockey players of the last 20 years—but the Wings scooping up undersized and obscure Swedes and Russians wasn't a Tom Brady style-fluke, it was an organizational pillar. For years, they had an advantage on NHL teams who still subscribed to the Don Cherry School Of Hockey that holds that Europeans are soft and they aren't made for the NHL. The Wings coveted prospects that weren't even on other team's radars, let alone their draft boards.
"The reality is, for the most part, it's about draft day," Holland said of building his dynasty. "I think that that's what we did in the late '80s and '90s when I was a part of the scouting team, and then when I became general manager in '97. I thought that we did a great job in late '90s and early 2000s in drafting a group of players that carried us for another decade."
Holland supplemented his homegrown stars—Steve Yzerman, Nick Lidstrom, and Sergei Fedorov all came up in Detroit—with big trades and splashy free agent signings. For years, it was almost a foregone conclusion that some star chasing a Cup—or an all-time goal scorer on the back nine of his career—would end up in what had by this point been trademarked as Hockeytown. Brendan Shanahan and Chris Chelios will likely go down remembered as Red Wings, key cogs and big personalities on historically dominant teams. But Luc Robitaille, Brett Hull, and Dominik Hasek? They were the kind of veterans Holland coveted—Hall of Famers in their own right, and willing to fit into the system.
It worked. During the 2002-03 season Hull skated alongside Pavel Datsyuk and rookie Henrik Zetterberg on the Two Kids And An Old Goat line, arguably the most exemplary model of the Wings' philosophy. The wealth of talent in Detroit—and, it bears mentioning here again, the team was rich with stars—allowed the Wings to develop players in the minors until they were overripe and ready for the show, rather than throw them into the fire.
The rest of the NHL has caught up. Players of Datsyuk's caliber simply don't go unnoticed anymore. "I just think that everything in this game is designed for parity," Holland told me. "Teams have more scouts than ever. It's more competitive than ever." The Red Wings ushered in the influx of Europeans in the NHL, by now other teams are beating them at their own game. Holland's difficulty managing the salary cap has only compounded the Wings' roster issues. In the '90s, he could just plug holes with Ilitch's generous payrolls. Now the team is up against the cap, and the only way around that is with cheap, young players, the sort of which they haven't been able to horde like in years past.
The Red Wings have been a study in continuity, from Yzerman, Fedorov, and Shanahan to Datsyuk and Zetterberg, with no downtime in between. Nick Lidstrom was always there. Holland liked to joke that he would retire right after Lidstrom did. More than a few Wings fans might be wishing he'd kept his word.
---
There is one man Wings fans think can fix Holland's mess: Steve Yzerman.
When you're as good for as long as the Wings were, you've obviously got talent throughout the front office, but Holland refused to make room for the braintrust that helped build the teams he oversaw. Jim Nill, Holland's assistant manager for 15 seasons, left for the Dallas Stars in 2013. Nill was the Wings' director of amateur scouting and oversaw every selection at the entry draft—he was an integral part of Detroit's success and Wings fans were livid when he left.
But nothing stung more than the departure of Yzerman, the Wings legend who was so big his picture was literally plastered on the Cadillac Tower in downtown Detroit. Yzerman retired in the summer of 2006 and immediately joined the front office as team vice president. He was, by all accounts, a natural (he also served as the executive director of the Canadian teams that won gold at the Vancouver and Sochi Olympics). In the spring of 2010 he left Detroit—where he'd been since he was drafted at 18 years old in 1983—for Tampa.
"Mr. and Mrs. I loved him like another son," the former Ilitch employee told me. "Apparently she cried and cried and cried. Apparently she couldn't even face Stevie when he said he was going to Tampa. She was so upset."
If you spent enough time drinking beers in Detroit since Stevie Y skipped town, you've heard the rumor that Ilitch wanted Holland to move upstairs so Yzerman could be GM. Last year, Gregg Krupa at the Detroit News finally confirmed it: Not only did Ilitch ask Holland to make room for Yzerman, but Holland refused.
"When people found out about Steve getting passed up because Holland wouldn't move up, that really turned the tide right there," the former employee said, "because nobody is bigger than Steve Yzerman in the Red Wings world."
Yzerman did not reply to texts and phone calls for comment.
Over the last five years or so, Yzerman has watched, like the rest of the hockey world, as Holland has refused to change his ways—chasing aging free agents, signing his own veterans to generous long-term deals, mismanaging the cap, and trading away promising prospects and draft picks for 30-something forwards with no discernible skills outside Being A Guy With Experience—just to repeatedly squeeze into the playoffs and get bounced early. Would Yzerman even want to take over this mess?
---
The Captain came back to say farewell to Joe Louis Arena last Sunday. Ted Lindsay was there. So was Darren McCarty, clearing the ice during timeouts in Snapchat Spectacles. Vladimir Konstantinov, who was paralyzed in a limousine accident while celebrating the 1997 Cup win, was wheeled out onto the ice. And Bob Probert's widow spread some of his ashes in the penalty box.
While Ken Holland was silently taking in the festivities upstairs—he told Deadspin that the celebration was about the players, not about him—fans at The Joe chanted "Come Home Stevie." It's the kind of reunion fans have longed for since the day he left for Tampa. It was comforting for Wings fans of a certain age to see Yzerman on the ice at The Joe one last time, wearing the winged wheel with the C on his chest, but fans shouldn't get their hopes up. Chris Ilitch, the late owner's son, is in charge now. And just this week he told reporters he had full confidence in Holland.
Besides, Detroit's no longer as appealing a place to work as it was in the glory days. Rumors swirled—as the elder Ilitch's health ebbed and Chris stepped into the day-to-day work—that the heir apparent wasn't as easy to work for as his father. "Chris is extremely tight with money and he's very hands-on," the former Ilitch employee says. "I think he's very impatient."
"Steve Yzerman will not come back," the former employee continued. "Chris has full control. The rest of the family is either too screwed up or just completely uninvolved, and are basically just collecting their checks. So Chris is it for the family and I don't think you can be in that position and not work directly with Chris because Chris is very hands-on. And Steve Yzerman won't work for Chris Ilitch."
It's Ken Holland or bust, for now. Or maybe it's both.