The NFL's new rule on helmet contact is going to force players on both sides of the ball to make some major adjustments this season, but how exactly referees will enforce the rule is a question that'll likely take at least a few weeks to answer. The rule, which applies to everyone from tacklers to linemen to ball carriers, prohibits any use of the helmet to "butt, spear, or ram an opponent," removing the harsher words "violently or unnecessarily" from last year's rule to make the prohibition more sweeping.
However, in part because there's helmet-to-helmet contact at the line of scrimmage on every play, the rule makes an exception for "incidental contact ... in the course of a conventional tackle or block on an opponent." As our Dom Cosentino pointed out, that wording turns the rule into one big gray area. How does an official distinguish between "incidental contact" and contact worthy of a penalty? We don't know, and neither do the players.
The Super Bowl Champion Philadelphia Eagles communicated these frustrations after a presentation by referees on the new rule at training camp last week. That presentation seemed to leave the team with more questions than answers. Via ESPN:
During the presentation, which lasted close to an hour according to Bradham, players were shown clips of what are now considered illegal hits — some of which appeared to them as routine tackles.

Seeking further clarification during the Q&A that followed, the players showed the presenters a video of safety Malcolm Jenkins' hit on wide receiver Brandin Cooks during Super Bowl LII that knocked Cooks out of the game. The refs were split on whether it would now be considered an illegal hit.
G/O Media may get a commission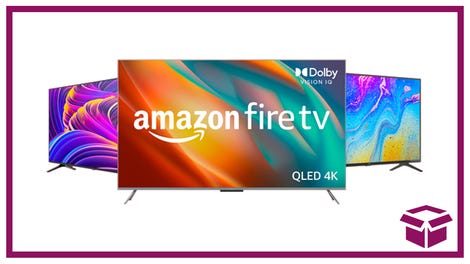 Ooh. stunning.
New Amazon Fire TVs
Said linebacker Nigel Bradham, "We were trying to ask questions to get a better understanding, and yet they couldn't really give us an answer. They couldn't give us what we were looking for."
"[The refs] were kind of like, 'Hey, we didn't make the rules.' Because I think guys were kind of frustrated," running back Wendell Smallwood added. "Most of the defense was like, 'Man, how are we supposed to tackle?' They were frustrated."
Aside from, you know, having the potential to massively impact close games based on judgement calls, the players have another good reason to be bothered by the new rule. According to a report from the Chicago Tribune, Bears rookie linebacker Roquan Smith is currently holding out in part because of language in his proposed contract that would cost him otherwise "guaranteed" money if he gets suspended because of this new rule that none of us quite understand yet. If the Bears succeed in getting that language in, there's no way in hell that other teams won't try to add similar clauses to their own players' contracts and give an ambiguous rule even more chaotic power.
Football players are already no strangers to dealing with rulebook shitshows of the NFL's own creation, and there's no doubt that some sort of penalty governing contact with the helmet is important to player safety. But once again, the NFL seems to have tripped over its own complications faster than it can get up from its previous stumble. And again, it's players and fans who'll be left to guess and debate the calls instead of just focusing on the games.