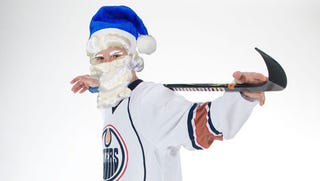 The following story pits millionaire athletes versus a publicity seeking, possible-price-gouging restaurateur. And you will be required to choose sides. This is one of them moral quandaries, like when you're attracted to pictures of your wife when she was fourteen.
After a hard fought New Year's Eve loss to the rival Calgary Flames, members of the Edmonton Oilers took to an upscale Calgary restaurant with a group of 45 of their closest wives and girlfriends for a shindig to ring in the New Year. But when it came time to pay the bill, their spirits became decidedly less festive.
The team's tab at Osteria De Medici totaled approximately $18,000, or $400 per person (they must have ordered extra appetizers), but the group (which included captain Ethan Moreau) felt that they had been overcharged. Specifically, they disputed the restaurant's decision to charge them for dozens of shooters individually, rather than by the bottle. What happened next depends on who is telling the story. Team officials say the bill came back too high, the staff recalculated it, the players paid the recalculated amount, and that was that. The restaurant's owner says that the team tried to renegotiate the bill, at one point threatening not to pay at all, and that when he threatened right back that he was going to call the cops, they eventually agreed to fork over a mere $12,000.
My favourite part of this whole thing is the mental image of Zack Stortini whipping out his reading glasses, opening the check, and furiously scanning it while shaking his head and muttering incredulously. But before we pile aboard the "the Oils are spoiled millionaire athletes" train, are there any server-type folks in the comments who can weigh in on the proper industry practice in this scenario? Should the players have been charged by the bottle? And does an owner typically call in the media on every patron who disputes a bill, or just the famous ones?
All I know is that this is a lot of kerfuffle over a bunch of Broken Down Golf Carts and Prairie Fires. "And this," says Grant Fuhr, "is why I stuck to cocaine."
Oilers blamed for partially unpaid New Year's Eve tab [CTV News]