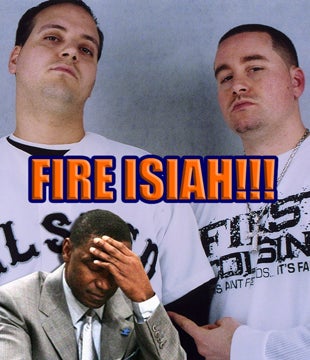 Merciless boos in his home arena, eight-foot pink slips calling for his job, sexual harassment claims; Isiah Thomas has heard, seen and squeezed it all. And yet still he stands tall; an unwavering pillar of grinning cocksureness. Until now.
Via Marc Berman's Knicks Blog: a duo of NYK die-hards — Genovese from Yonkers and Gustapo from Queens — and their new rap song, "Fire Isiah." If this doesn't break Zeke, nothing will!
A few of the lyrics:
I been reppin' the Knicks, lil' kid around the mid eighties,
Bernard King, Cartwright, shorts tight crazy,
Patrick came, Mark Jackson came,
Pat Riley, Van Gundy showed us the D game,
Starks grabbed his jersey always repped NY,
Oakman and Mase always played with pride,
Last of the true Knicks Camby and Kurt Thomas split,
Now here comes Isiah now we turned to spit,
Got the highest payroll but the worst chemistry fit,
I got "Fire Isiah" tattooed on my wrist.
Your rap-battle move, Isiah. If you need a ghostwriter, call me. I know many, many words that rhyme with "sunt." Like, off the top of my head: "cunt." (For example.)
"Fire Isiah" / First Cousins [MySpace]
Fire Isiah Rap Song [Knicks Blog]
Bob Knight, Isiah Thomas And "Sunt" [Deadspin]