It's something of a treat when a serious literary concern, such The New York Times Magazine, heads to the rink to cover the NHL. Like a highbrow SportsCenter, this corner of the media never pays puck much regard. So: how is Charles McGrath's new profile of Martin Brodeur? It starts like this:
The best hockey player in the New York area right now is also one of the greatest hockey players ever, and he's a Methuselah, a 40-year-old in a sport where pro careers typically last five or six years.
Patrik Elias is 40? He's averaging over a point per game. Or, wait, is John Tavares 40? He's third in the league in goals. Ryan McDonagh's great, but he hasn't found his game yet this year—and he's assuredly not 40. Rick Nash? Marian Gaborik? David Clarkson?
Oh, right, this is a profile of Martin Brodeur. Martin Brodeur is not the best hockey player in the New York area. He ranks No. 14 among qualified goaltenders in goals-against average, and No. 20 in save percentage. He is a barely above-average player at his position—there are a lot of fine goalies in the NHL at present—which makes him far from the best hockey player in the New York area right now. If one takes last season into account, Brodeur's assuredly not even the best goalie in the New York area right now.
Well, let's not let the first sentence get us down. Here's the next one:
Martin Brodeur, now in his 20th season with the New Jersey Devils, has played so well for so long that even hockey people have tended to take him a little for granted.
G/O Media may get a commission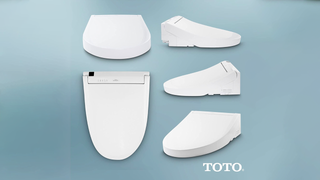 44% off
Toto Washlet Electronic Bidet Toilet Seat
Brodeur won the Vezina Trophy, given to the league's best goaltender, in 2007 and 2008. He was a finalist for the trophy in 2006 and 2010. But he hasn't led the league in goals-against average since 1996-97, and he's never led it in save percentage. Are the Devils the hockey people taking Brodeur for granted? Not really: They gave him a two-year deal in June.
Maybe the third sentence will be better.
He's hardly an unknown, but he would be more fussed over and wondered at if he didn't play in Newark and if his position were not the lowly, unglamorous one of goalie.
"More fussed over"? Hmm. A Star Ledger headline: "Martin Brodeur doesn't rule out 2014 Olympics appearance for Canada." A Wall Street Journal headline, from a month prior: "Olympics at 41? Brodeur's Ready." That's two New York-area newspapers concerned with the Canadian Olympic status, in 2014, of a New Jersey-based player. And the lowly position of goalie, right. Goalies placed at No. 5 and No. 7 on the 2012 list of best-selling jerseys. One of those goalies, funny enough, might even be described as glamorous.