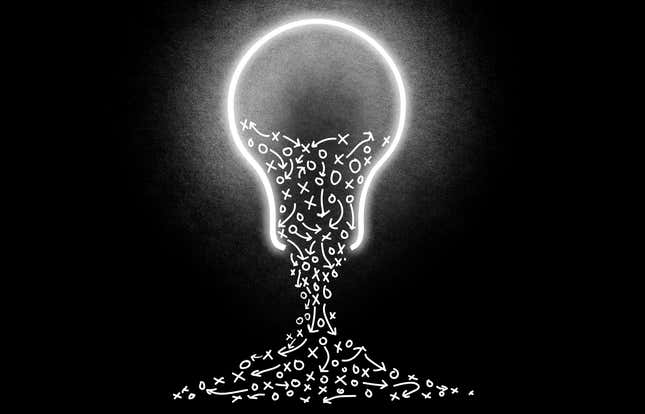 Stanford University in the springtime is immaculate. There are no clouds in the sky and none of the aerated haze of the East Bay or the fog of San Francisco. Off to the west, the Santa Cruz Mountains gently form the outer boundary of Palo Alto. As I got lost looking for the Stanford Graduate School of Business's Sports Innovation Conference, I noticed that every superfluous lawn next to a dorm building seemed to be perfectly mown. Nothing is out of place, and everything is perfect.

Aaron Rodgers should go full Joe Namath | Comedian Bert Kreischer
GSBSIC, which has been going for four years now, is the West Coast's answer to MIT's Sloan Sports Analytics Conference, which kicks off its 11th annual conference today and has evolved into the closest thing the sports industry has to a trade show. GSBSIC isn't trying to be Sloan, which made its name as the place where people show off fancy analytics-based models and discuss the actual wining and losing of games; its stated purpose is to "bring together thought leaders, alumni, and MBA students to have a conversation about the future of sports." As an MBA said when welcoming the conference's bagel-scarfing attendees, the aim is to offer "unparalleled content" and "increase innovation."
This content that I witnessed was as much about business, and the business of business, as it was about on-the-field sports. In this sense, it fit in perfectly at Stanford, the Silicon Valley crucible where Big Ideas meant to Make The World A Better Place form, find their wings, and are sacrificed at the altar of capital. Most of the attendees were unnervingly dapper team employees and MBA students in business casual. The Sacramento Kings sent their analytics team, and several Golden State Warriors employees attended. There was almost no media presence.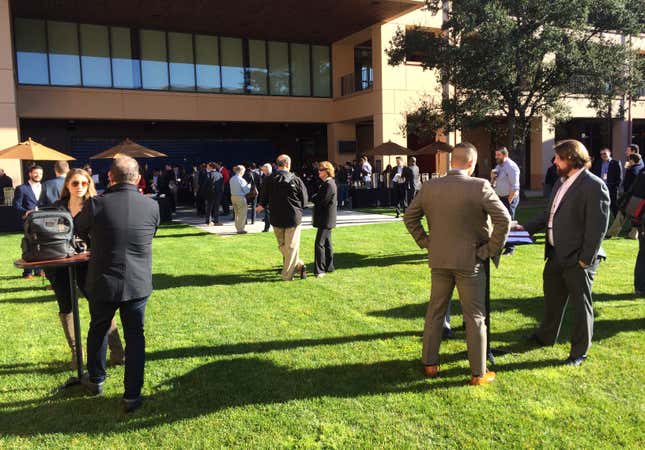 A majority of speakers over the short life of the GSBSIC have, naturally, had Stanford ties—including alums Condoleezza Rice and San Francisco 49ers president Paraag Marathe—and many have come back to speak at multiple events. Former Philadelphia 76ers GM Sam Hinkie was therefore a natural fit as opening keynote speaker: He's spoken at GSBSIC before, is currently living in the Valley (where he's been a guest speaker at a few GSB courses), and, of course, has a penchant for the Big Idea.

Hinkie was joined on stage by ESPN's Henry Abbott and spoke at length, in his disarming, Kenny Powers-ish drawl, about data. Hinkie didn't seem to want to speak much about the specifics of his time in Philadelphia—he denies ever saying "Trust The Process"—and seemed to feel at home among the aspiring thought leaders of the Stanford Graduate School of Business. When discussing machine learning and artificial intelligence at the end of his hour-long keynote, he said, "I'm bullish on that space."
Abbott asked Hinkie about books and he made a joke about how he was glad there was no media members around before speaking about his admiration for Robert Caro's writing and Elon Musk's "interesting search for truth." The best NBA-specific nugget Hinkie dropped was an anecdote about leaving the Houston Rockets after accepting the Philly job. The entire time he was packing up his office and saying his goodbyes, he was watched by either GM Daryl Morey or the team's general counsel.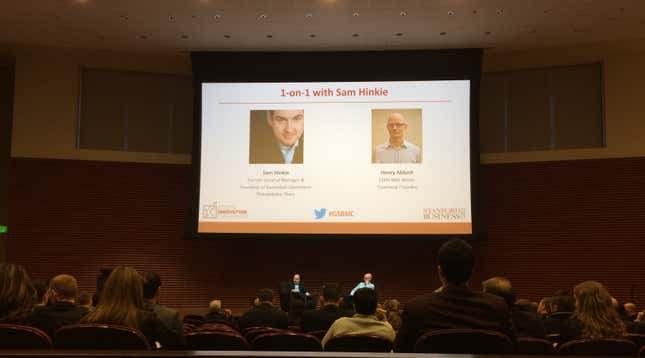 A Kings fan asked Hinkie what he thought about the DeMarcus Cousins trade and whether he would please take over for Vlade Divac as the team's GM. Hinkie laughed off the idea and expressed some sympathy for the Kings, who have rightly been universally mocked for their dumb trade, saying that they probably acted "pretty rationally." In all, Hinkie didn't exactly sound like someone who was itching to come back into the NBA. He said he liked Stanford and enjoyed "teaching" at the GSB, and that he still keeps in touch with his old Philadelphia colleagues through a private Slack group that he pays for.

None of this amounted to much, and that was perhaps the point. Conferences like this aren't really about learning, but about networking. Hinkie is a perfect sort of speaker for the GSBSIC because he has real experience working at the helm of a front office and also speaks the language of Silicon Valley gurus, making for soothing sounds that don't much put anyone out. Point him at a problem and he may not solve it, but he'll articulate where innovation needs to happen—and insist that it must. Whatever this innovation is or should be is left nebulous, because the point isn't to come up with solutions but to vaguely wave at the notion that the future is uncertain and change is necessary for a while before everyone gets back to exchanging numbers and email addresses.
In this sense it was a fine keynote, setting the stage for the day. A panel called "Future of Sports Media" told me that the future of sports media was off of televisions, away from cable bundles, and maybe on VR, if a number of factors break right. I learned about the differences between cord-cutters, cord-shavers, and cord-nevers, and also that "business model innovation" is as foundational as anything in the future of sports media. If there were key takeaways from the panel, it was that the future of sports media will not look like the present of sports media, and that whoever writes that future stands to be very rich.
The most informative hour I spent was at the "Women In Sports" panel, led by a former Stanford water polo player, Carmelo Anthony's brand manager, an agent with the Wasserman Group, a Stanford director of football ops, and the president of the Brooklyn Nets. Everyone had stories about having to overcome institutional sexism, and of all the panels I attended, this was the one that seemed the most practical, concerned with educating people rather than veering straight for techno-futurism.
I would have liked to scope out the "Innovating Soccer" panel, highlighted by Real Madrid legend Raúl, but it was at the same time as "Women In Sports."All I managed to catch was La Liga's director of technology admitting that they stopped listing tracking stats of players who ran less than their peers after they complained. Raúl joked that since there were no journalists in the room he felt comfortable revealing that "Fat Ronaldo" used to run less than half the distance he did during games at Madrid and that everyone would make fun of him for it.
After this there was a fancy boxed lunch—networking! (I didn't attempt to hide my affiliation and I even told organizers that I was coming. Nobody seemed to want press there, but nobody expected any, either. Innovation is, apparently, not for public consumption.) There was also an "Innovation Showcase," which I spent watching a rep for the Oakland A's play a VR football game and accidentally chuck the remote while throwing a pass. Then it was time for Ted Leonsis to bring us home. The venerable owner of the Washington Wizards and Washington Capitals wanted to talk about sports less than Hinkie did; he's the sort of long-winded talker who can spin a question about the Wizards' arena into a 10-minute yarn about regionalism and what defines a supercity. He referred to the Wizards as "my Wizards," and was generally interested in talking about business as business. This was fine, because he didn't have a whole lot to say about sports other than the fact that sports are very important, and also because more than anything, Leonsis wanted to talk about video games.
There was, I have to admit, an odd sort of thrill in hearing a 60-year-old NBA owner casually ask the room, "Anyone here play Dota?" Like basically everyone else present, Leonsis wanted to laud Stanford and Silicon Valley for their commitment to innovating, and he compared working in the tech or games industries to working in Hollywood in the 1970s or on Madison Avenue in the 1960s. He didn't offer much in the way of specifics about much of anything, but did predict that esports would soon be the N0. 1 sport in America.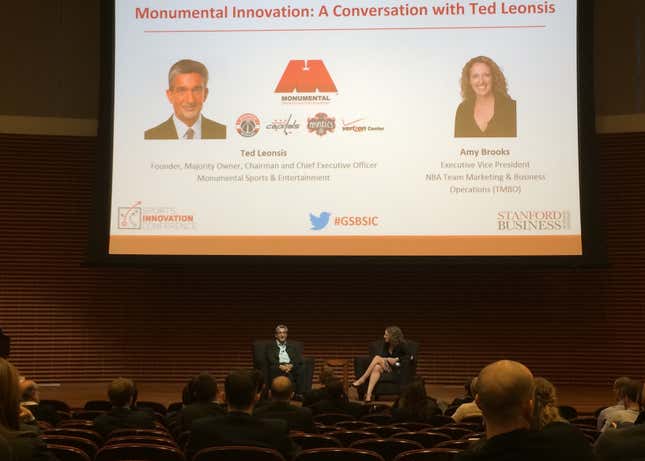 In a way, he was a fitting closer, as Hinkie was a fitting opener. The GSBSIC is exactly what it bills itself as, a conference about the business of sports and the changes that are coming down the pipe for the business of sports and the many innovations that will need to take place for the bright new future to arrive. Everyone in attendance was bright and excited to be part of the innovations to come, whatever they might be. After Leonsis finished, the auditorium full of people shuffled off to a reception at a campus sports bar. People removed ties and swilled Corona Lights as the United States Women's National Team played Germany on a large TV. I chatted with a rep from an advanced football-stats startup while all around me, everyone happily ignored the game.