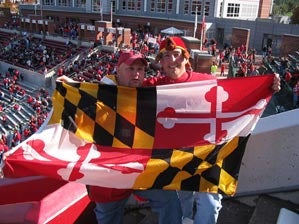 Maryland might not have been particularly competitive in its loss to West Virginia last night, but that's only if look at it as an on-the-field endeavor. Off the field, the Terrapins fans were kicking some ass.
Or, well, knocking some West Virginia dudes to the ground, anyway.
Wearing West Virginia gold, weaving his way through hostile Terrapin football territory, he nearly made it to safety - almost. Tackled from behind, he got up and saw a scene played out dozens of times last night: Terps fans standing, cheering and ... barbecuing?

The roughest tackle last night didn't involve Terps defensive players Erin Henderson or Dave Philistin. No, the big moment came when junior American studies major Thomas Agbonyitor took down a West Virginia fan walking through Lot U4, delighting Terps fans tailgating in the area. "I saw this fan standing around all cocky," Agbonyitor said. "So I did my best Shawne Merriman impression and took him out; everyone cheered. I hate when opposing fans come to our stadium and act like that."
It's not quite squishing a man's testicles, but it'll do the job. But wait: We sure that wasn't Van Pelt?
Terps Fans Show Intensity Against Rivals [Diamondback Online]