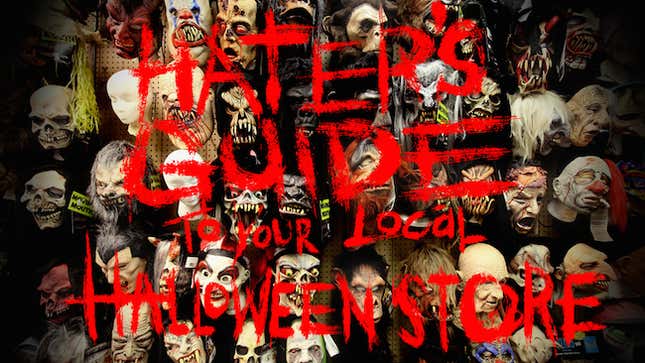 Every year, when October rolls around, some enterprising fellow in my area rents out an abandoned Dollar Tree and turns it into a pop-up Halloween Megastore, resplendent with costumes and decorations and fitting rooms that almost certainly now house the Ebola virus. Almost everything in these stores costs $30 or more; you will not find a prefab hot dog costume that costs $5, which is what a prefab hot dog costume ought to cost. There's a big markup for looking like a hot dog.
How running an NFL team is like running a restaurant | Chef Emeril Lagasse
There are certain people who can whip up an ingenious Halloween costume without resorting to going to one of these stores. You get extra brownie points in America for a homemade costume, even though conceiving and executing such a costume is AGONY. It may be easier for women, since 80 percent of any woman's wardrobe consists of shit she can't stand to wear anymore and will gladly cut to ribbons for the sake of dressing up as a land shark. She can drape a salmon towel over her head and wrap a black belt around her waist and be "sushi," and her fellow partygoers can yelp OMG THAT'S SO CLEVER, and voila, she can successfully navigate Halloween without dropping any additional money, except for the $75 spent on hot glue guns and sewing machines and bags of loose sequins.
But I am not one of these handy people. I don't have the time to think of a goddamn costume, and I definitely don't have the skill to make one, either for myself or for my children. (Children always wanna be boring shit like dogs and vampires anyway.) Going to one of these stores is an acknowledgement of failure and imagination. But it's my only option. So I took my kids to the local Halloweenkakke joint, and here is what I found ....
BLOOD CLOWN ($130)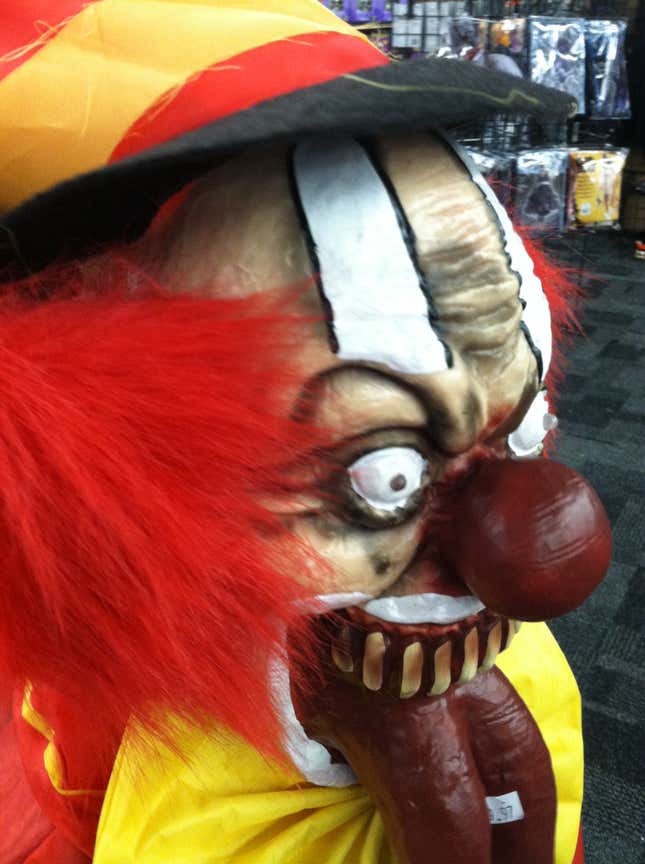 We'll start with this clown statue, which was stationed in the middle of the store and had a motion sensor that went off if you came within five feet of it. Once triggered, the clown let out a bloodcurdling scream and shrieked, CAN SOMEONE HELP WASH THIS BLOOD OFF MY COSTUME?!, apparently because this clown just killed and sexually assaulted a child. Seriously, clown, chill the fuck out. I don't need a life-sized replica of this. My two-year-old tried to knock it over, with good reason. That clown is a dick.
LIFE-SIZE ANIMATED EXORCIST DOLL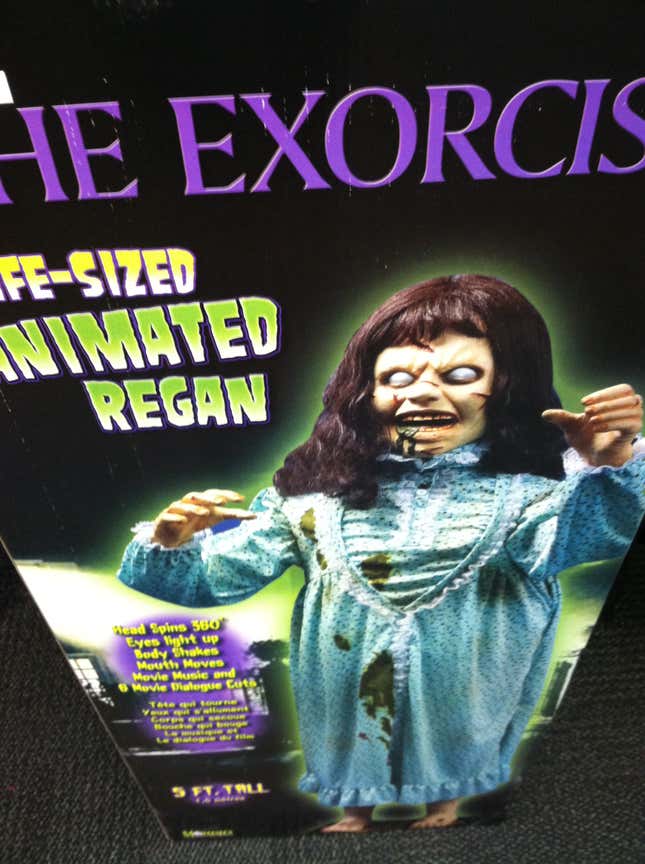 Its head spins around. Its mouth moves. It lights up. But does it throw up on you? IT DOES NOT. Does it jack off with a crucifix? IT DOES NOT. Does it tell you that your mother sucks cocks in hell? TO BE DETERMINED. Anyway, if you buy this and you buy the demon clown above, then you have crossed the Halloween Rubicon from a Fun Halloween to an outright Menacing Children and Neighbors Halloween. Like, there's no need to be this scary. Put some phony cobwebs* on your bushes and call it a day. You don't have to turn your front porch into the set of Hostel. You're weirding everyone out.
*Fake cobwebs are the cheapest Halloween decoration of all, and they SUCK. You just paid three bucks for a bag of cotton. We have it outside, and it doesn't look like a giant spiderweb. It looks like we took a bunch of wet cotton balls and threw them on the bushes. It's like we've already TP'ed ourselves.
SLUTTY SUPERGIRL OUTFIT ($75)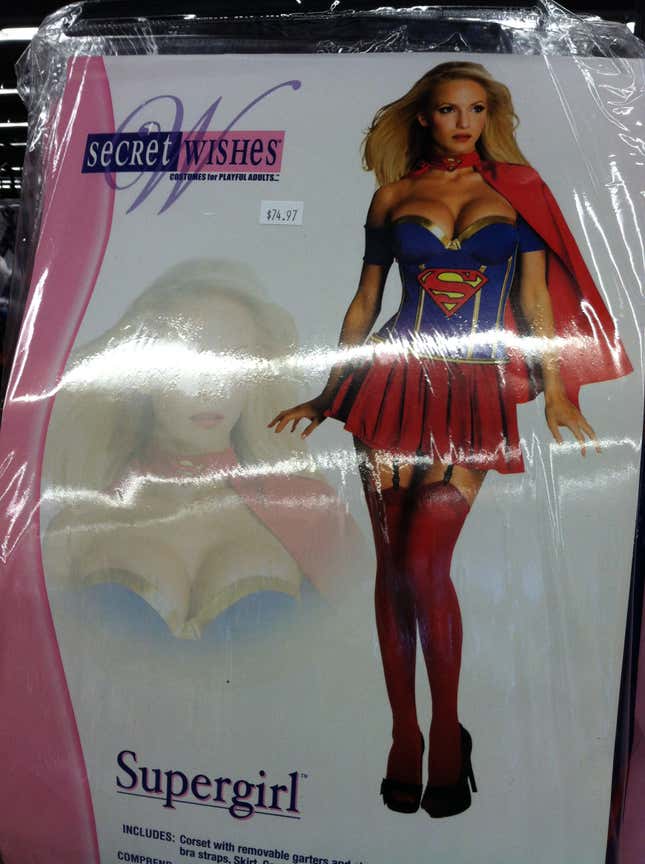 Don't get me wrong, I love slutty outfits. I'll go to war for slutty outfits. But Slutty Supergirl is probably way down on my slutty-outfit priority list, behind nurse and Slave Leia and park ranger (I decline to explain). It's a really specific fetish to be like, "Girl, you know what would be hot? If you were Superman, but not a man. SAVE ME AND THEN WE'LL SCREW." I'm surprised Kevin Smith hasn't already purchased every last one of these. Those high heels would appear to be a significant impediment to fighting crime.
WONDER WOMAN TANK DRESS ($22)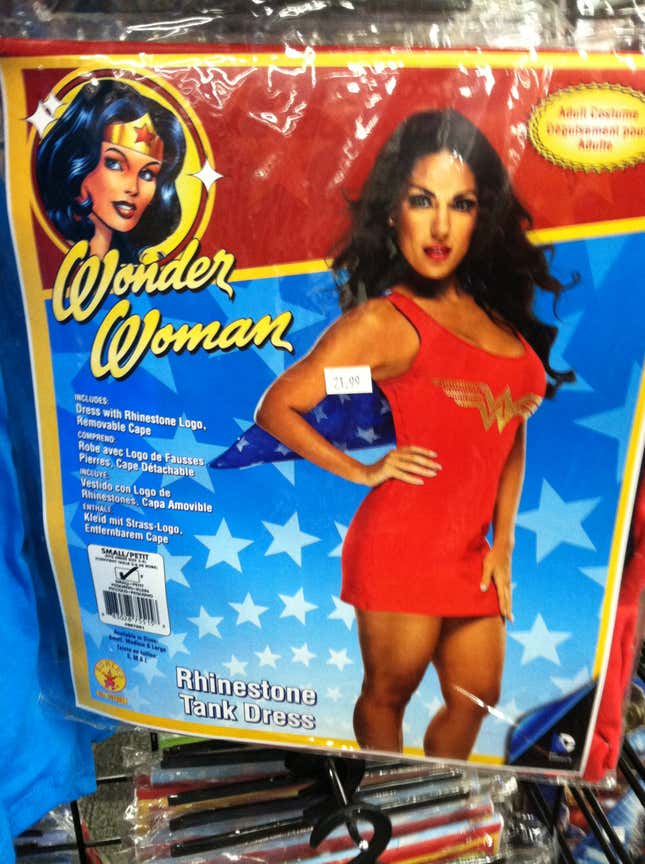 You can also double as a Washington Capitals puck bunny in this outfit, which I doubt ever appeared in the original Wonder Woman comics. They're not staying true to the essence of Diana of Themyscira, and I have problems with that.
HIPPIE ($16)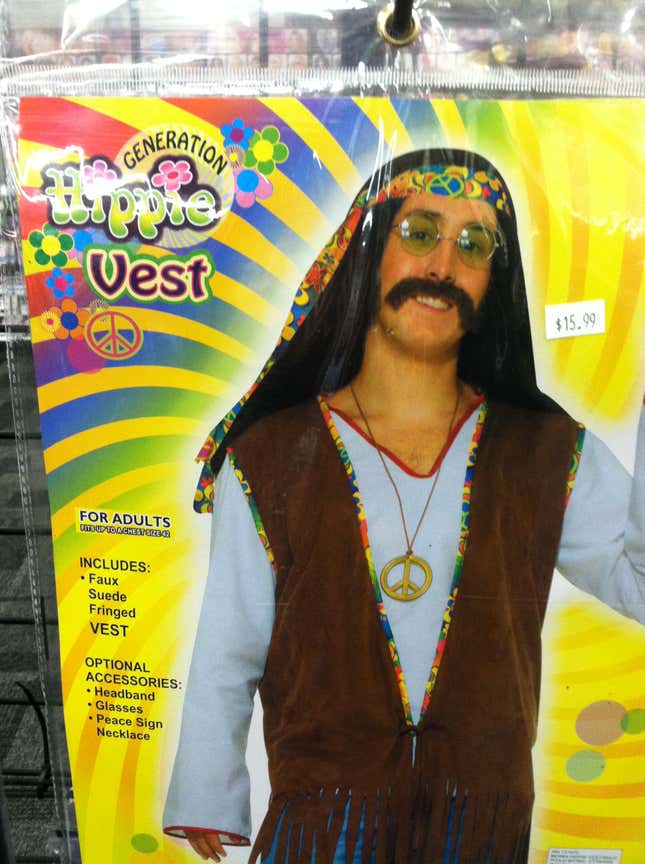 This was one of the cheaper costumes they had, and you can tell. It's right up there with NERD and REDNECK in the "half-assed costumes that are just costumey enough to be considered costumes" genre. Please note: mustache not included! And no free copy of FREEDOM ROCK.
CRIMPED BEARD ($7)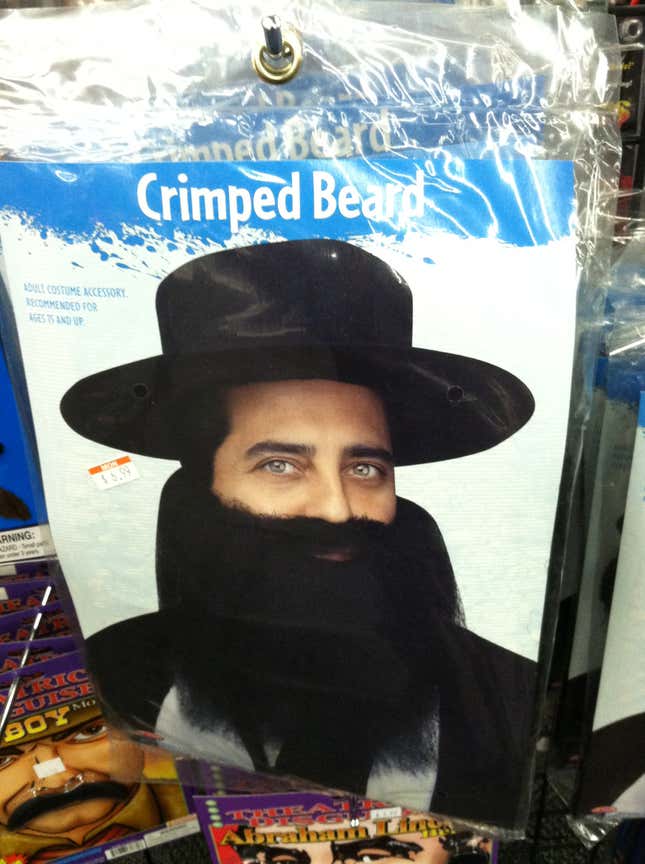 "What are gonna be for Halloween, Mike?"
"A Jew! I'm gonna dress up in Jewface and be a Jew!"
"Oh! Okay … " [runs to nearest ADL chapter].
SUPERMAN VINYL WIG ($10)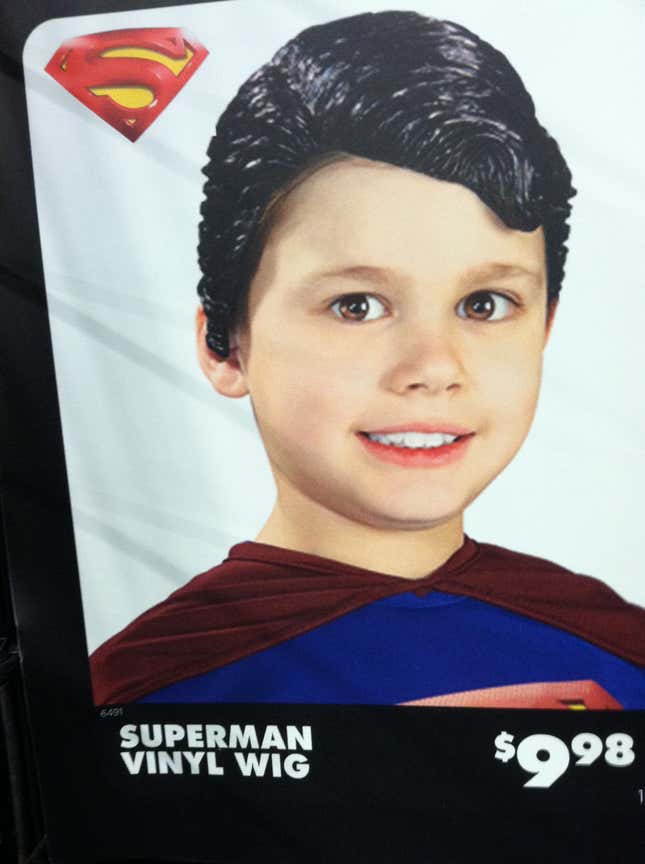 I know this is for children (NOTE: Never give a child a costume that includes some sort of head decoration, because they hate having things on their heads and will rip the decoration off before you've even had a chance to take a photo.), but I still think this wig is secretly meant to be paired with the Slutty Supergirl costume above. "Honey, just try the wig for a second. Just a second! I just wanna see … OH MY GOD COME TO ME NOW."
SLUTTY GIANT CRAYON ($25)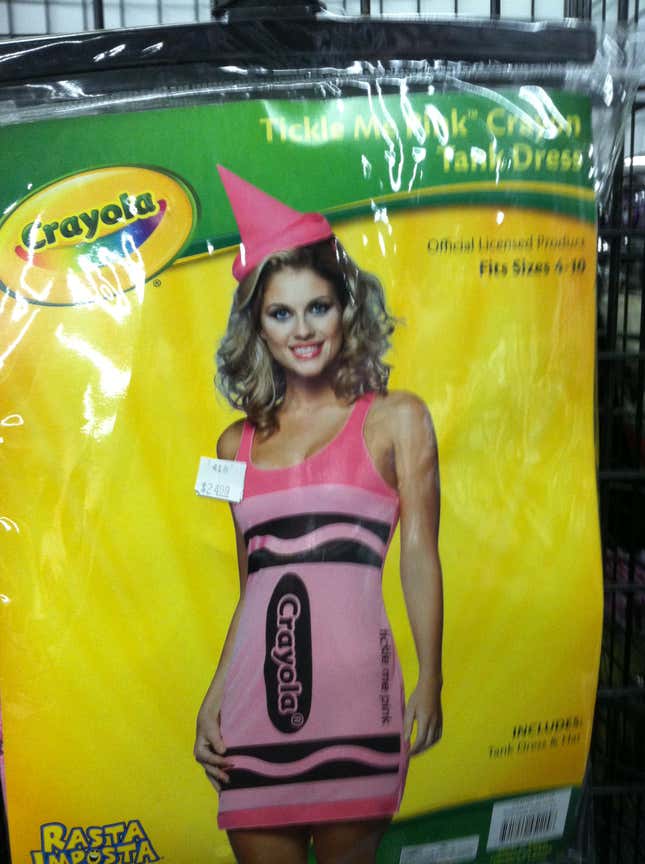 "Oh, god, you know what would be even hotter than Superman? If you were a giant crayon, and you had a stupid Crayon-tip hat. God, that would make me gush sperm all over the house. WRITE ON ME. WRITE ON MY NAKED BODY YOU GIANT CRAYON."
BLOOD-STAINED MINIATURE SCYTHE ($4)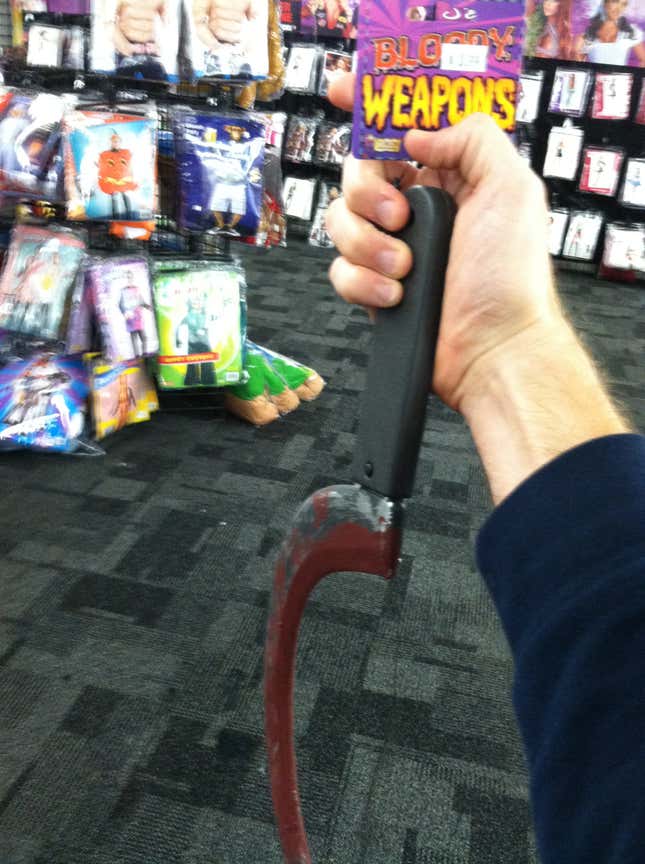 When I was in eighth grade, I once dressed up as a "Stockbroker who had to pay alimony" (the idea was mine), and I wore a blood-stained dress shirt and walked around with a plastic axe covered in fake blood. Eighth grade me apparently felt like killing your ex-wife was HILARIOUS. My mom got wind of it and sat me down for a very long chat.
ANYWAY, accessories did not come pre-bloodied back then, much to my regret. Do not use fake blood on clothing or accessories. In fact, do not use fake blood at all, because fake blood is the fucking worst. Also, avoid accessories in general. They look bawse until you gotta carry around a little plastic pumpkin filled with candy. That tends to diminish the sense of danger, and you're left without a free hand. You gotta tuck that axe under your arm to reach for a Reese's cup, and it's a whole pain in the ass.
EVIL HARLEQUIN DEMON CLOWN WITH MATCHING SCEPTER ($43)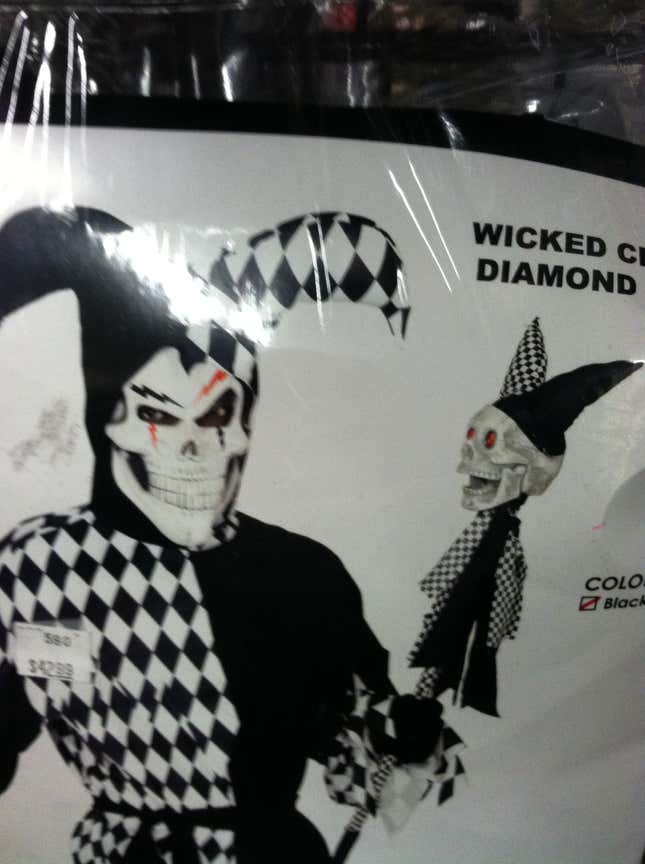 Worst ventriloquist act ever.
PAPA SMURF HEAD MASK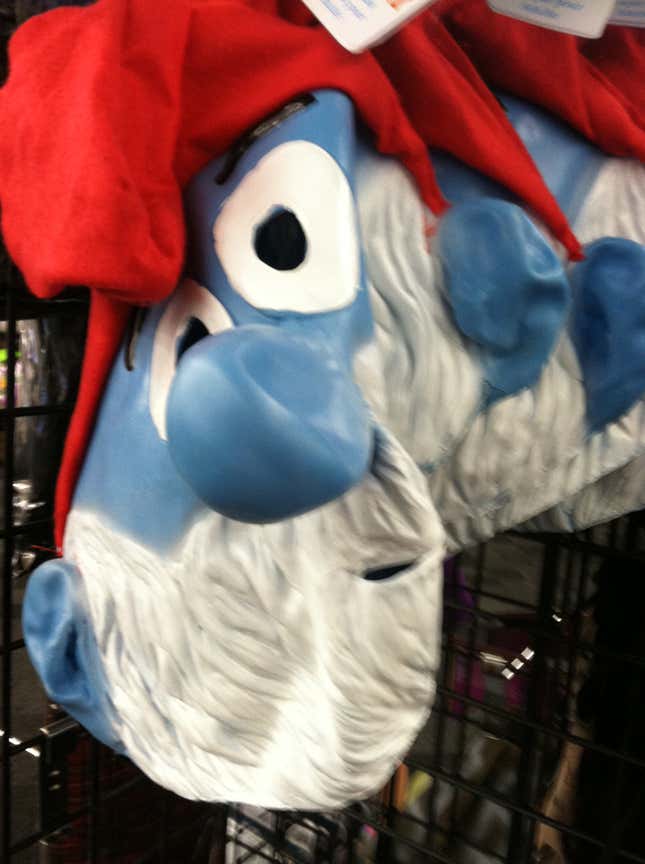 Papa Smurf is 50 times scarier when his skull has been removed and his head is but a bare blue flap. By the way, never buy a rubber mask like this. You'll never be able to keep it on for longer than two minutes. After two minutes, your head will get athlete's foot.
ADULT PAC-MAN COSTUME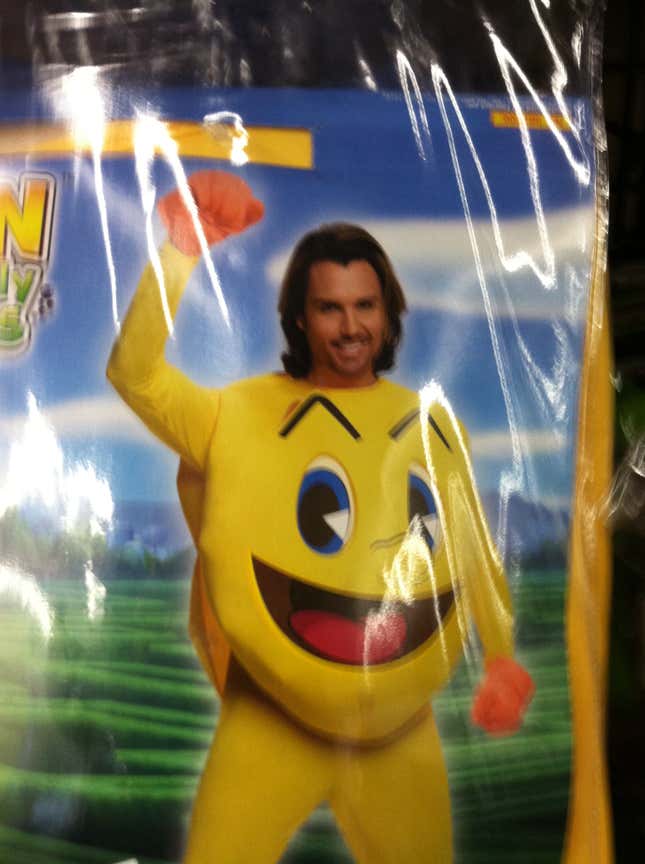 You ain't hooking it with Slutty Crayon rocking this get-up. Look at this poor bastard. It's like Ralphie in the bunny suit at the end of A Christmas Story. I just feel bad for the guy. "Halloween costume package model" is on the lowest end of non-porn modeling. You get paid in crimped beards.
SKULL-SHAPED SHOT-CHILLER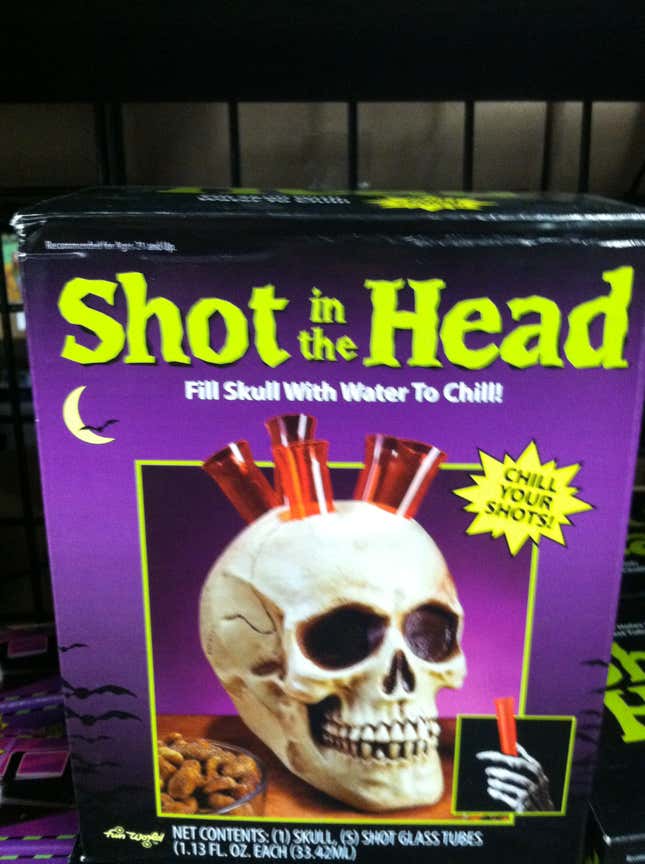 "Fill skull with water to chill!" No ice? Unless that skull contains some kind of radiation-spill chemical (which it probably does), it's not chilling jack shit.
RED WOMAN HANGER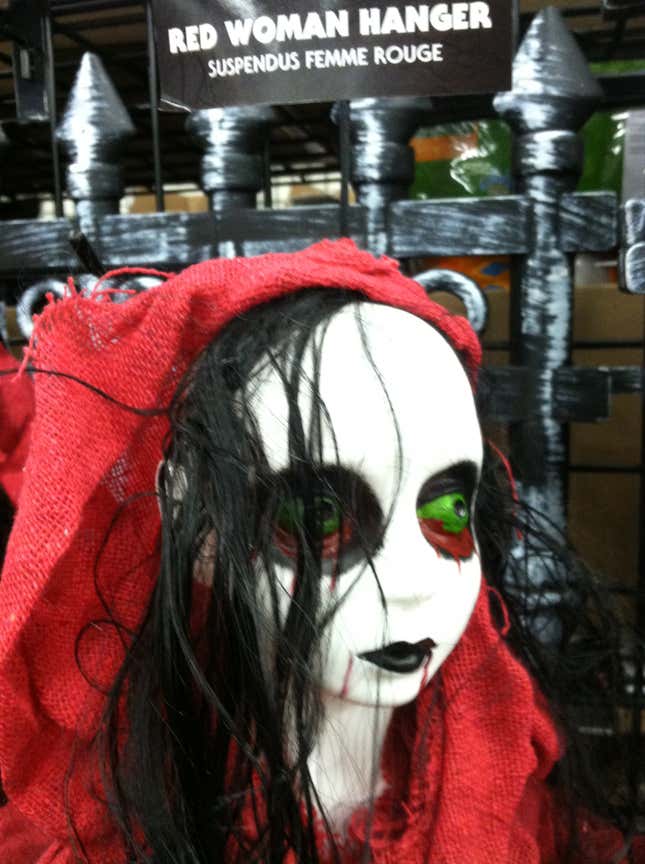 I swear I knew this girl in high school. Again, this is a decoration for people who take Halloween too far. This is the kind of shit Rob Zombie has lying around in the dining room, which is amusing if you're an occasional visitor, but weird if you're the guy living in the joint year-round. Don't be the guy living in the novelty house.
ZOMBIE LAWN JOCKEY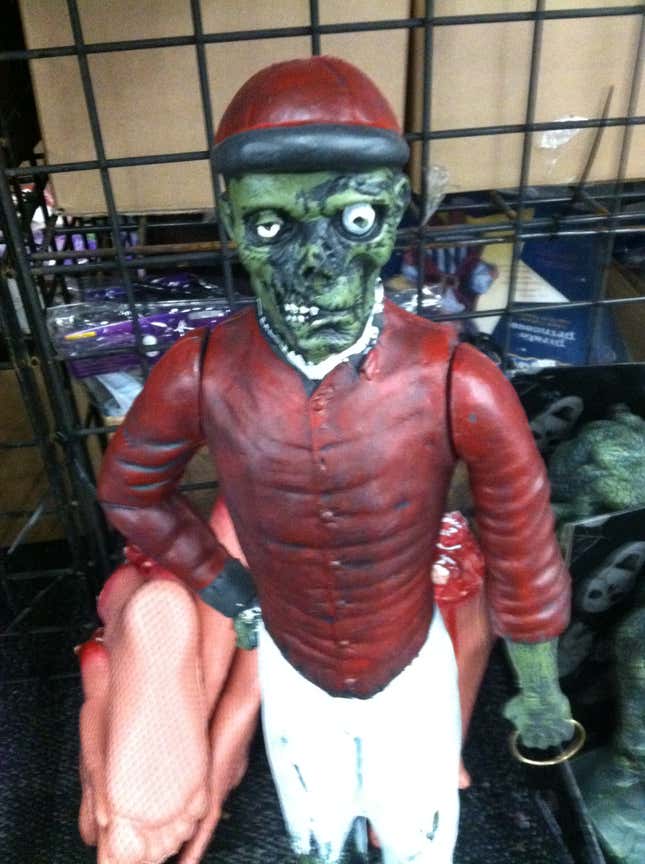 This is racist. I'm just saying: If the lawn jockey was meant to be a black dude before he became one of the infected, that is way RAYCESS. Don't try to pass off your antique collection of zombie Sambo dolls as a cute little hobby.
SKULL FUNNEL ($13)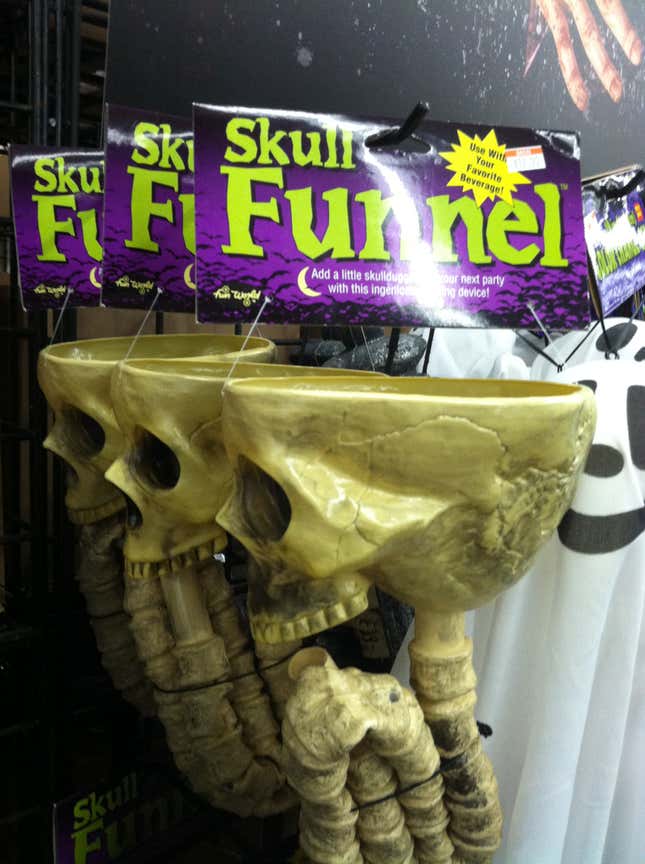 Thirteen bucks! For a piece of plastic that will probably give your child BPA poisoning simply from secondhand particle inhalation. This stupid funnel costs more than the case of beer I'm funneling! EXTORTION. "Use with your favorite beverage!" You know what, skull funnel people? I think I'll save the Pappy for an actual glass. Your funnel will be reserved for my LEAST favorite alcoholic beverage, because drinking out of a funnel means flavor is not even close to being the priority. Making the funnel tube a human spine is a nice touch, though. Mmmm … spinal fluid.
ZOMBIE MAN IN PLAID SHIRT WITH, LIKE, HORNS GROWING OUT OF HIS EYES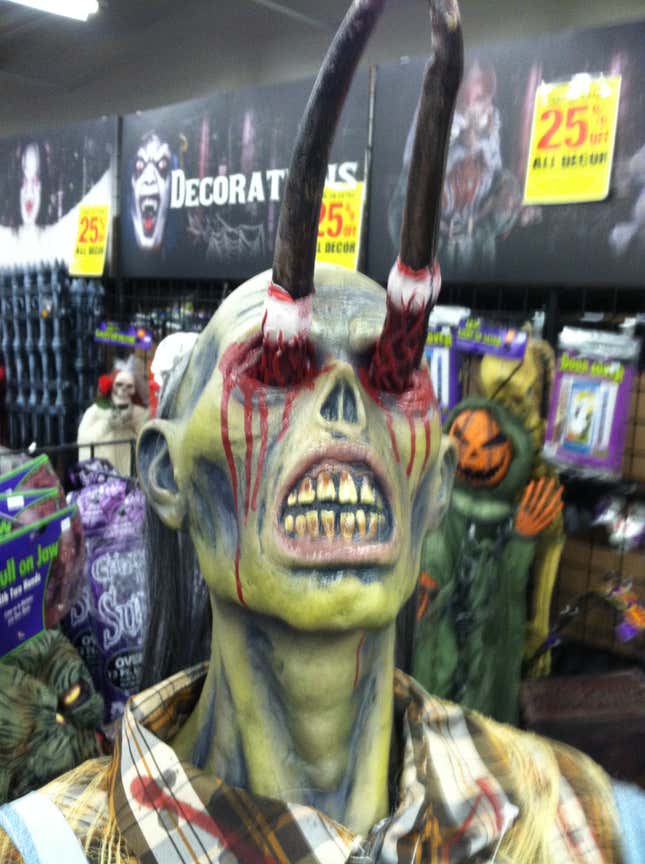 My daughter demanded we get this thing. I said no. You're playing a different a kind of game at Halloween with this on your lawn. My son is dressing up as a puppy. We don't need a puppy AND a farmer demon with impaled eyes. Those are a poor match.
DELUXE JOHN CENA ($28, on sale!)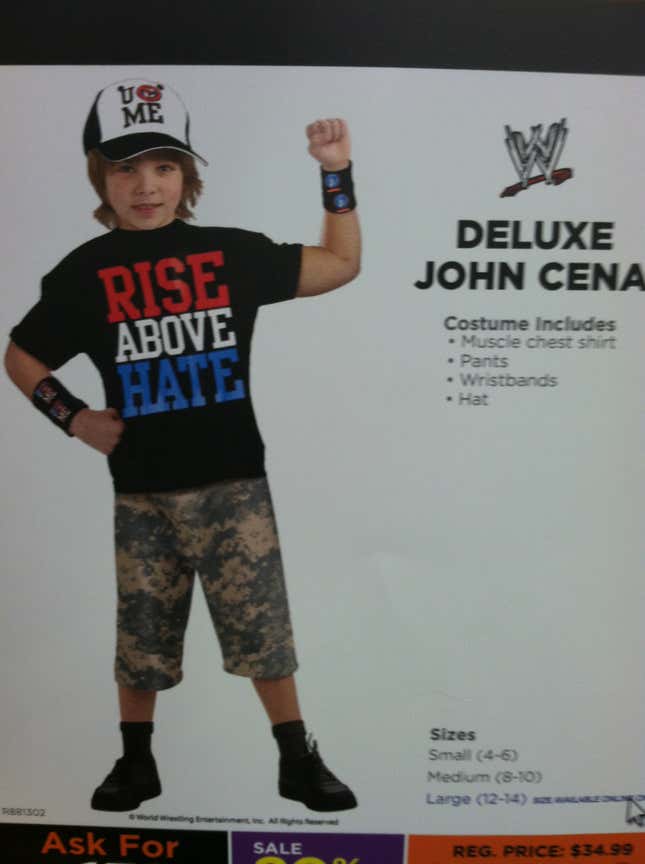 Something tells me that any child who wants to be John Cena for Halloween already has the hat, wristbands, T-shirt, and camo pants necessary. This is not a costume. These are just clothes. They're not even deluxe clothes. You're paying $28 for fucking regular-ass clothes. You should at least get a free mock title belt to go with it. John Cena is a dipshit.
BACON STRIP ($20)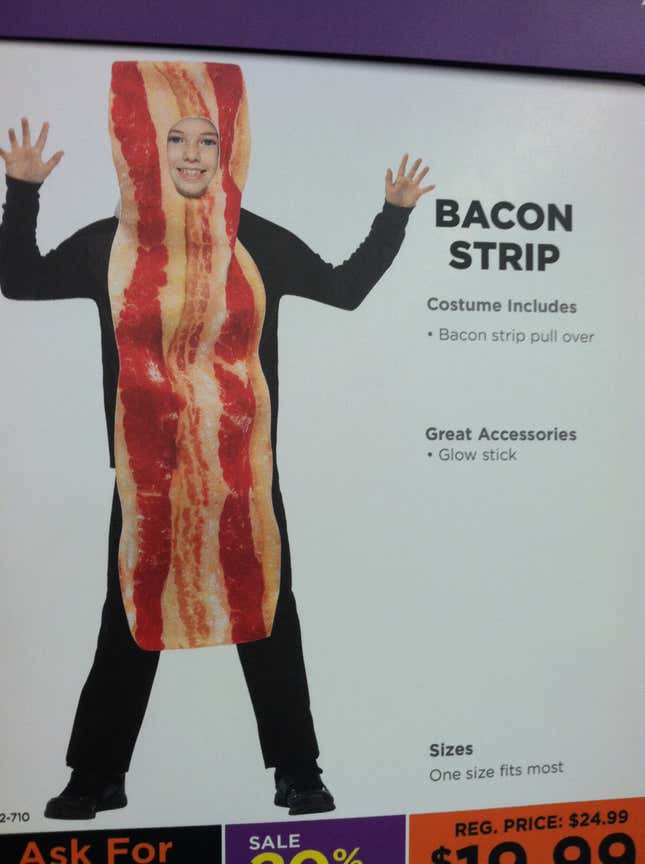 Includes bacon. "Everyone! Come eat my child!" I like that they suggest accessories without including them. "Hey, try buying a glowstick as well, so that your little piece of bacon doesn't end up on the windshield of a Volvo."
ROTTEN TEETH ($7)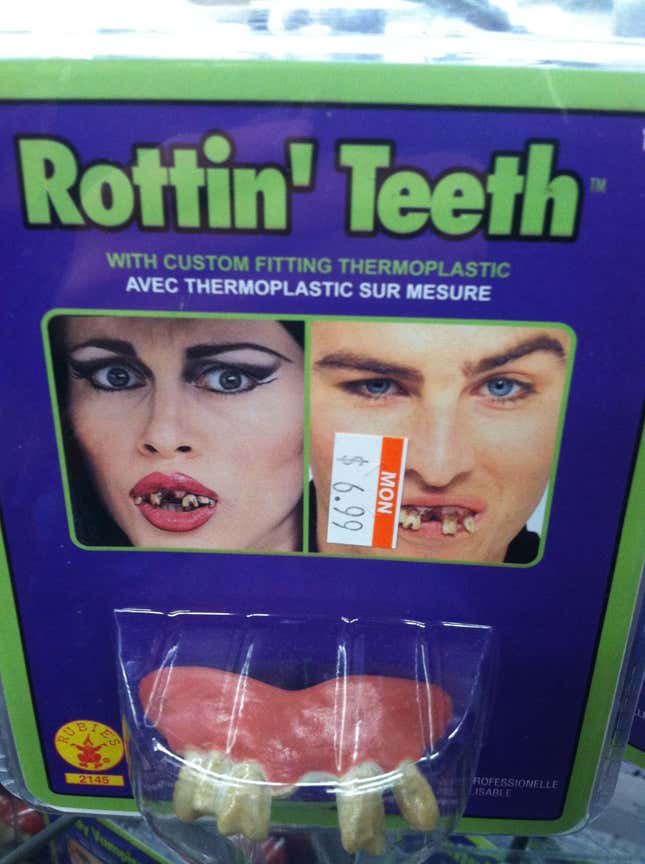 I don't know why you'd pay $7 to have people cross the street to avoid you. Halloween is for looking scary, but not so scary that other people won't fuck you. If you're throwing down for rotten teeth, you've gone too far. No one's gonna be THAT impressed with your commitment to hideousness.
GIGGLES THE CLOWN OUTFIT ($14)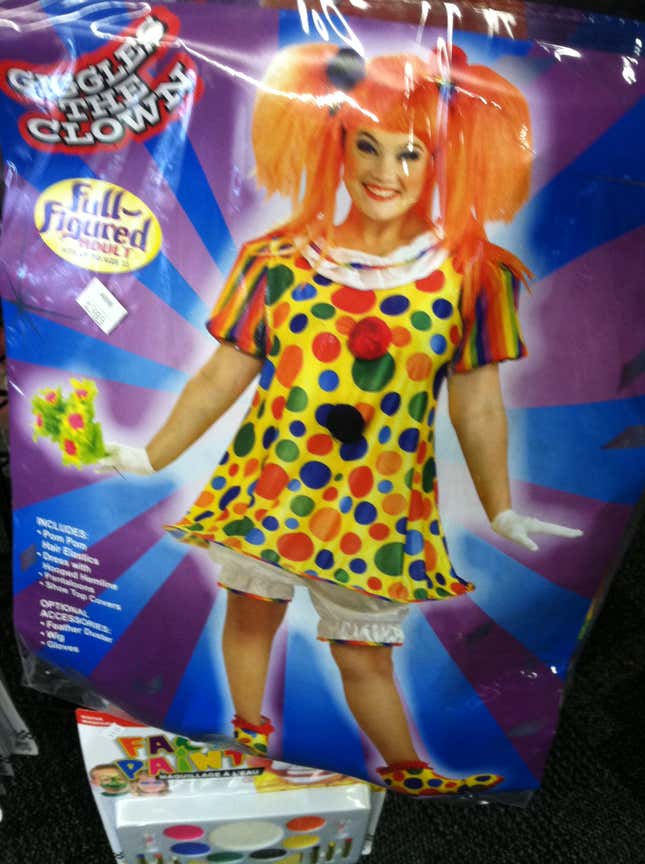 Nope. Buy this and you may as well rock the rotten teeth. You can be the gum-diseased blood clown. My two-year-old will knock you over.
BAG O' ROACHES ($5)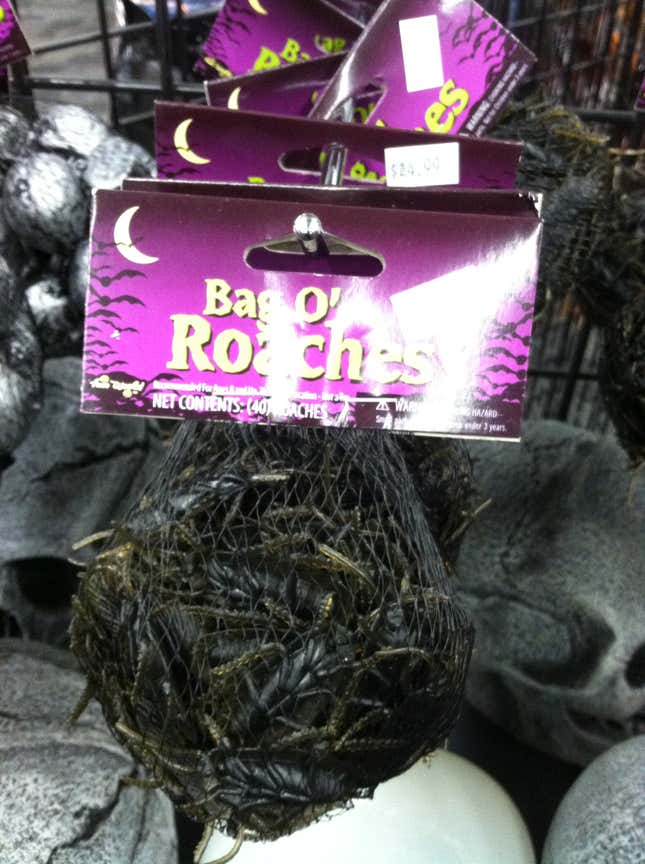 And there you have it. A $5 bag of roaches. It's opportunistic capitalism at its finest. I'm gonna buy this bag o' roaches and put them in your salad. LOL YOU SHOULD SEE THE LOOK ON YOUR FACE. Fake roaches are what Halloween is all about.
---
Drew Magary writes for Deadspin. He's also a correspondent for GQ. Follow him on Twitter @drewmagary and email him atdrew@deadspin.com. You can also order Drew's book, Someone Could Get Hurt, through his homepage.
Lead image by Jim Cooke (photos by Getty); all other pics by the author.
The Concourse is Deadspin's home for culture/food/whatever coverage. Follow us on Twitter.