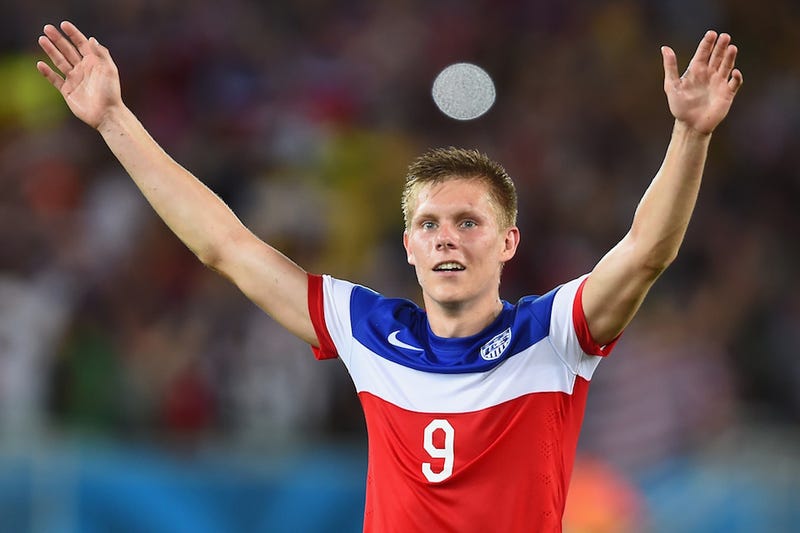 Predicting what Jürgen Klinsmann wants to do with his formation or lineup is a dangerous game. Sometimes he turns Jermaine Jones into a wingback. Sometimes he starts Brad Davis. Sometimes he jettisons Landon Donovan before the first game of the World Cup Sendoff Series.
That latter decision drew heavy criticism from U.S. soccer fans and media alike. But it was another snub – one that went almost entirely unchallenged – that looms large as the Yanks prepare for today's fixture with Portugal.
The common refrain following Klinsmann's final roster cuts was that the German-American had gone all in for 2018, selecting young guns like DeAndre Yedlin and surprise hero John Anthony Brooks over more established options. But one selection ran counter to that theory. Lost in the fallout of the bombshell Donovan snub, Klinsmann had quietly included 32-year-old forward Chris Wondolowski while leaving 23-year-old Terrence Boyd at home.
At first blush, the decision seemed questionable. Boyd was coming off a blazing run of form with Austria's Rapid Vienna, having scored 20 goals in 38 appearances. It was enough to draw the attention of other European clubs, and earlier this month he was linked to Championship side Wigan.
What's more important, though, is Boyd's style of play. At 6'2 and 190 pounds, the German-American is big enough to wrangle with the hulking center backs who patrol World Cup pitches. As a tip of the spear striker at Rapid Vienna, he's accustomed to being a target forward, one tasked with relieving pressure by tracking and holding outlet passes while streaking teammates recover. By and large, this has been exactly what Klinsmann asked of the now injured Jozy Altidore.
As Altidore lay flat, grasping his hamstring in agony in the 21st minute on Monday night, an ESPN camera caught a fleeting glimpse of Klinsmann.
"Shit," he muttered. It was an honest expression as reality sank in. With Wondolowski and the sleek 23-year-old Aron Jóhannsson as the only other forwards on the bench, Klinsmann doesn't have another hold-up striker at his disposal.
This is problematic given the Yanks' next opponent. It's probably a safe bet that Klinsmann has always planned to revert back to his 4-2-3-1 formation with Cristiano Ronaldo gearing up to bomb down the American right flank today. There's a chance he even plans to man-mark the terrifying Portuguese winger, with Jones a potential candidate for the tall task.
But it's difficult to play bunker-and-counter soccer without a true target forward. For all the toughness and swagger that Clint Dempsey brings to the lineup, this has never been his game.
For now, it looks as though the nation will turn its lonely eyes to Jóhannsson who, like Boyd, is another 23-year-old dual national coming off a scoring spree in Europe. Fans who watched Jóhannsson's insertion into the Ghana game will no doubt have their reservations, however unfounded they may be.
Klinsmann is likely to deploy Jóhannsson as a withdrawn forward, tucked in tight along the left side underneath Dempsey, who finds himself as the new tip of the spear. The prospects of this lineup will have Klinsmann's critics salivating. What happens when a bunkered US squad tries a high long ball to relieve some pressure? Is Jóhannsson strong enough to fend off defenders with his back to the goal? Is Dempsey, with one functional nostril, up for the task for 90 minutes in the jungle?
The short answer to both of those questions is probably "No." The more positive response, though, is that neither of the two starting forwards has to be an apples-to-apples substitute for Jozy.
In Jóhannsson's case, this will make a world of difference from his quiet showing on Monday night. At his club in the Netherlands, AZ Alkmaar, the Mobile, AL native is allowed to roam the left wing near the 18 yard box. Once inside, he wreaks havoc. He dances over the ball with a silky, clever touch, firing shots at will. He goads defenders into penalty-yielding fouls.
Facing a nervy Portuguese backline that gave up four goals to Germany and lost two starters in the process, Jóhannsson is likely relishing the opportunity, should Klinsmann offer it to him. In any case, things are setting up nicely for another scenario where Jürgen is able to thumb his nose at those who question his roster choices, just as he did in the 87th minute on Monday night.
---
Beck Barnes (@Beck_Barnes) is a Memphis-based editor for Meister Media Worldwide by day and an online editor for Howler Magazine by night. He coaches the mighty U-10 Collierville Rovers on the weekends.
Screamer is Deadspin's soccer site. We're @ScreamerDS on Twitter. We'll be partnering with our friends at Howler Magazine throughout the World Cup. Follow them on Twitter, @whatahowler.
Photo Credit: Getty