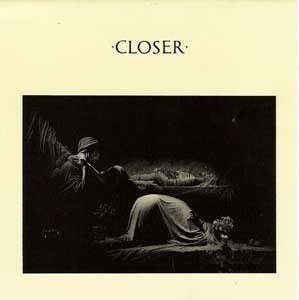 For the rest of 2007, the NHL Closer will be written by the fine folks at Melt Your Face Off. Enjoy.
It's the NHL Closer, get it? I know, I know, I'm a one trick pony. But let's examine the similarities between the December 26 schedule and Closer. First, there were 9 games last night and 9 tracks on Closer. Second, nothing says "awesome" like a group of 200 pound (124 kg) men hurtling toward each other at high speeds and a tortured, epileptic, philandering musician. Third, I love hockey and Joy Division more than Theo Fleury loves booze, coke and strippers.
This is the way, step inside...
I Know That I'll Lose Every Time (Especially When Hal Gill and Pavel Kubina Occupy Roster Spots): Mike Comrie tallied his second goal of the game with ten seconds left in overtime to lead the Islanders over the Maple Leafs 4-3. Two backup goaltenders, Andrew Raycroft and Wade Dubielewicz, played the majority of the game for the Maple Leafs and Islanders respectively. The former Calder trophy winner Raycroft performed very well despite not playing a game since November 24, stopping an easy Islander win at the end of the third period with two great saves. Dubielewicz played better though, subbing for an injured Rick DiPietro and stopping 22 of 23 shots.
When Savagery Turns All Good Reason: Jaromir Jagr snapped his goalless streak by scoring twice in the Rangers 4-2 defeat of the Hurricanes. However, we will remember this game for another reason: the Rangers desire to challenge the Flyers' title as king of the goons. Colton Orr received a five-minute interference penalty for a hit to the head on Matt Cullen. Later, Sean Avery, perhaps frustrated that someone scuffed his Yves St. Laurent high tops, received two misconduct penalties (one a game misconduct) when he attempted to punch Andrew Ladd while three officials stood in between the two. Colin Campbell, your move.
A Legacy so Far Removed, One Day Will Be Improved: The Blackhawks have won 4 straight games, the first time since March 31, 2002, with their 5-2 victory over the Predators. Nikolai Khabibulin showed his 2004 playoff form by stopping 30 shots including two breakaways. Robert Lang scored twice and Patrick Sharp added his league-leading 7th shorthanded goal. James Wisniewski thoroughly demolished the Kellie Pickler Vagina Tickler Jordin Tootoo at the end of the game, but then fell hard onto the ice, possibly injuring his MCL.
Foundations that Lasted the Ages, Then Ripped Apart at their Roots: The former Minnesota team, the Dallas Stars, scored eight times on the Minnesota Wild, a team known for its neutral-zone trap, a creation so vile and evil that Master Shake should eat it while hanging out with Brutus, Cassius, and Judas Iscariot in Satan's loins. Fourteen out of eighteen Stars registered a point during the game, including Brendan Morrow's 2 goals and an assist. Josh Harding, goaltender for the Wild, may be listening to The Idiot and watching Stroszek as we speak.