The Wall Street Journal reported yesterday that the U.S. Department of Justice is conducting a probe into how the FBI mismanaged its investigation into sexual abuse allegations made against former Michigan State and USA Gymnastics doctor Larry Nassar. Thiis comes after the FBI conducted its own internal review into how they handled the investigation. The findings of the FBI's own inquiry have not been made public.

According to the Journal's previous reporting, USA Gymnastics reported Nassar to the FBI in July 2015, nearly six weeks after Maggie Nichols reported being sexually abused by Nassar under the guise of medical treatment. Nichols would go onto be a member of the gold medal-winning team at the World Championships later that year.
If the six weeks that USA Gymnastics waited to report the allegations to law enforcement seems unconscionable—and it is!—then how do you describe the nine months it took for the FBI to formally open an investigation into Nassar? Because that's how long the FBI waited to really get going.
According to a New York Times story from earlier this year, the agents who were first contacted at the Indianapolis office were confused as to whether Nassar's techniques constituted "legitimate medical treatment."
Per the Journal:
"In particular, investigators are interested in the Indianapolis FBI office's 2015 dealings with the gymnasts, a person familiar with the matter said. Around September 2015, an agent in the field office spoke with former Olympian McKayla Maroney over the phone—rather than in person—to discuss her allegations of abuse by Nassar. That conversation didn't lead to an investigation."
G/O Media may get a commission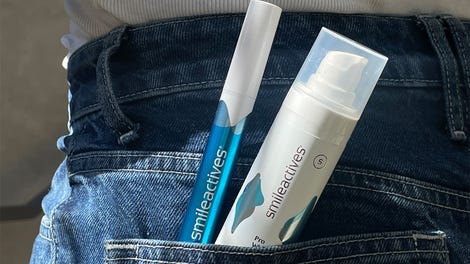 58% off
Whitening Powerhouse Pen & Gel Duo
The agents also failed to reach out to Nichols and Aly Raisman in 2015, though USA Gymnastics offered to help arrange interviews with them. 
To date, the only charges that federal prosecutors have brought against Nassar were related to his possession of child pornography. (They later added charges for destruction of evidence because Nassar had paid to have some of his hardware cleaned.) These were the first charges to which Nassar pleaded guilty. He is currently serving out a 60 year prison sentence for those crimes.

But let's not forget that it wasn't the FBI that found the child porn. It was MSU police who found the hard drives while executing a search warrant on Nassar's home and property. So the main charges that the feds brought against Nassar came about as a result of the work of the local cops, not their own investigation.
Local law enforcement in Michigan has had its share of failures in the Nassar case so it's not like they've been perfect, either. First, there was the 2004 Meridian Township investigation that started with a complaint from Brianne Randall (now Randall-Gay) and ended with Nassar showing the detectives a Power Point presentation claiming he had performed a legitimate treatment without bothering to consult an expert that wasn't the accused. Then there was the 2014 investigation prompted by Amanda Thomashow's complaint to university police about her so-called "treatment." Her complaint also didn't lead to charges against Nassar, and the investigation was closed in 2015.
But at least the local and state law enforcement managed to get things right the third time that someone came to them with allegations against Nassar. This time, it was Rachael Denhollander—who went to the MSU police in August 2016 to report the abuse she suffered as a Nassar patient back in 2000. Denhollander also went public with her account in an article in the Indianapolis Star, which prompted more women and girls to report their abuse to the police. So far, more than 400 women have said that Nassar sexually abused them.
The FBI's failure in the Nassar case has been under-reported, probably due to the secretive nature of the bureau. You can't get much of anything out of the FBI, especially with an ongoing case, unless the bureau wants to release it. Compare that to MSU, where basically every email that interim MSU president John Engler sends from his work account is subject to a FOIA request under state law and very likely to be published the following week by local media in Michigan.
The inability to get reliable information is probably what has allowed the FBI to avoid prolonged, sustained scrutiny while every other institution involved in the Nassar scandal has been consistently pilloried and attacked. It's hard to keep a story going when you have nothing new to report because of a lack of transparency. After all, you can't publish an article every week that basically says, "We still don't know why the FBI sat on its hands for so long."
Hopefully, the Department of Justice investigation will give us some answers as to how and why the FBI spectacularly fucked this one up.