If you were wondering what happened to your invite to Gilbert Arenas's 25th birthday party, it got lost in the mail and somehow ended up in the hands of Jamie Mottram of Mister Irrelevant, the FanHouse, and formerly of Sports Bloggers Live. His Arenas Express Card got him into the party, and he was good enough to take some pictures and get some video footage. Here's Gilbert with some advice for his guests:
"Everybody get drunk and make bad decisions." That's his advice? And I'm supposed to trust his shot selection?
Oh, and here's a shot of the Gilbert Arenas ice sculpture. I think this picture was taken later in the party, because it appears to have been pretty well melted. Either that, or Calvin Booth spent ten minutes humping it.
UPDATE: Wizznutzz has their own details on Gilbert's Party, and... you really don't want to miss these.
G/O Media may get a commission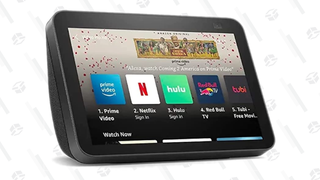 THE WHOLE TOWN IS GOING CRAZY ABOUT THE JOLLY SWAGMAN'S BIRTHDAY PARTY!!! [The Wizznutzz]
Exclusive Arenas Express Soiree Incites!! [The Wizznutzz]
Gilbert Arenas Wants His Guests Drunk [NBA FanHouse]
More Guerilla Media from Arenas's Big 2-5 [NBA FanHouse]