Byron Scott gave an interview last week following the Lakers' first preseason game; it went largely ignored, because preseason is stupid and no one cares. But with the Lakers looking like one of the more conspicuous disasters going so far—without any plans of tanking, bear in mind—let's take a quick look at just how well the Lakers have turned their terrible plans into terrible basketball.
Here's Scott in the LA Times a week ago:
Though D'Antoni liked his team's high volume of three-point attempts (24.8 a game at a 38.1% clip), Scott was happy the Lakers had only 10 attempts (making five) on Monday in their preseason opener against the Denver Nuggets.

"Our game plan is really to get to that basket," said Scott after practice Tuesday. "I like the fact that we only shot 10 threes. If we shoot between 10 and 15, I think that's a good mixture of getting to that basket and shooting threes.

"I don't want us to be coming down, forcing up a bunch of threes. I really want us to attack the basket."
First of all, that's nuts. Last year, only the Grizzlies took fewer than 15 threes a game (14 per game) and that's only because a) the Grizzlies have Zach Randolph and Marc Gasol and play a post-heavy style that results in the slowest pace in the league, and b) no one on the Grizzlies could throw a basketball into a black hole from 24 feet, let alone an NBA-regulation hoop.
At this point, the only real argument about the efficacy of the three is at the other extreme, where the concern is more about whether or not anyone actually wants to watch James Harden shoot 28 of them a game. In the real world, the top five offenses last year were, in order, the Clippers, Heat, Mavericks, Rockets, and Blazers. They shot 24, 22.3, 22.9, 26.6, and 25.3 threes per game, respectively, all in the top half of the league. The only team in the top 10 in three point attempts to have a losing record was the Timberwolves, but Minnesota had a weird fucking season last year.
G/O Media may get a commission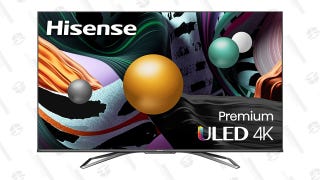 Save $350
Hisense ULED 65" Android 4K HDR Smart TV
But in three games this preseason, the Lakers have taken a total of 24 threes, by far the fewest in the league (including several teams who have played two games instead of three). You probably shouldn't expect the team to shoot eight threes per game in the regular season, but that number is absurd—Steph Curry shot 7.9 of them per game on his own last year. Just look at these shot charts!
So the Lakers aren't so much "getting to the rim" as they are "missing a ton of midrange jumpers and never getting free throws." Put another way:
The other hitch in the gameplan is just as baffling. In the Lakers' first pre-season game, they out-fouled the Nuggets 34-27, and had half as many free throws (44 to 22). LA won the game, but afterward, Scott said this:
"The aggressiveness is one thing I want us to keep our mind on," said Scott.

"I think for the first three or four preseason games, teams are going to average shooting 37 free throws against us — because that's how I want us to play," he continued. "Once we get that established, the referees around the league will know that we're going to play a physical brand of basketball and some of those things will go away."
Basketball has not worked like this for, literally, 10 years. Last season, Chicago, San Antonio, and Charlotte ranked 2nd, 4th, and 6th in defensive efficiency, and 4th, 3rd, and 1st in fewest fouls committed. The other top defensive teams—Indiana, Golden State, OKC (1st, 3rd, 5th)—drift a little further down in fouling; Indiana is in the middle of the pack, and the Thunder and Warriors are both in the bottom third. Thing is, those three teams start Roy Hibbert, Andrew Bogut, and Serge Ibaka—mistake-erasing rim protectors that embolden perimeter defenders to take chances. The Lakers will start Jordan Hill at center this year.
So, this will be fun. The Lakers are trying to be good with Carlos Boozer and Steve Nash at the top of the depth chart, their best player returning to play after two serious injuries, and their coach, who is a whinnying ass even under calmer skies and will absolutely pull some back in my day we won with elbows and grit shit before the year's out, has come up with a gameplan so outdated it makes his decaying roster seem fresh by comparison. Kobe's gonna shit his dick.