Excerpted from Unfinished Business, a chronicle of the 1990-91 Boston Celtics season, now available as an e-book. The author's annotations appear throughout the story.
November
November 8 was officially celebrated as "Cheers Day" in Boston. The cast of the long-running sitcom, which is set in a Boston bar, had been honored with a ceremony at City Hall Plaza, and most of them were coming to the Friday night game against the Bulls at Boston Garden. On the morning of the game, Bebe Neuwirth, who plays Lilith, and a dozen or so other assorted producers, writers, technicians, family members, and friends gathered at the Garden for the NBA ritual known as the morning shootaround. If the Cheers group had come to experience the Garden's spartan ambience, they weren't disappointed. The place was freezing and it smelled like sour beer. Out on the court, Kevin Gamble blew on his hands as he shot free throws and Ed Pinckney wore a gray sweatshirt zippered up past his neck. The night before, Dave Gavitt had encountered George Wendt, the roundish character actor who plays the beer-drinking Norm, at a health club, but didn't realize it.
"This guy was real nice to me, talking and everything as we rode the stationary bike," said Gavitt, the team's senior executive vice president, "but I had no idea who he was until I went home that evening, switched on the news, and watched him getting the key to the city. All I knew was that the guy made me feel pretty good." (Physically, Gavitt is somewhat of a smaller version of Wendt.)
"Wait a minute, you never watched Cheers, Dave?" someone asked him. "Christ, the show's been on for nine years."
G/O Media may get a commission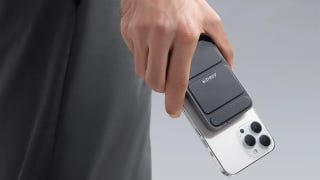 15% off
15% off Anker Top Ten Products
Take charge
Treat yourself to a portable power bank, a magnetic wireless battery for iPhones, or even a solar generator. There is a reason these are in the top ten. For instance, the Anker 747 Power Bank is a 4-in-1 charger utilizing USB-A and USB-C to be capable of charging up to four devices at once. Great to take with you when traveling and in need of keeping your phone, laptop, and even Nintendo Switch powered on.
"Think I've seen it twice," said Gavitt. "I basically have the TV for news and sports." This Auerbach hire was no lollygagger, that much was certain.
As they walked onto the court, most of the players paused for a few seconds and nodded at Lilith, looking no doubt for Rebecca and Sam Malone, but the Cheers people were waiting for Larry Bird. One could hear whispers of "Larry" and "Bird" and "When's he coming?" Finally, Bird walked out, cast a look neither right nor left, grabbed a ball from the rack, twirled it behind his back, and dribbled onto the court, altogether underwhelmed by the Hollywood invasion. Kevin McHale came out a few minutes later, though, and the response was entirely different. He engaged Neuwirth in animated conversation, waved at various others, signed autographs for the kids. McHale had appeared as himself on one of the show's more memorable episodes a couple months earlier, demonstrating an on-camera ease that can't be taught. He even contributed an original line (caustic, of course) about the Pistons' Bill Laimbeer and suggested that Woody Harrelson, who portrays a hick bartender from the Indiana farm country, refer to Bird as "a dufus." McHale pooh-poohed a future acting career—"About all I could play is monsters, Lon Chaney types with long arms," he said—but he was obviously smitten with his taste of Hollywood.
---
On a blustery cold Tuesday evening two days before Thanksgiving, Reggie Lewis and Brian Shaw, along with their agent, Jerome Stanley, stood behind a table in a large room at Roxbury Community College tossing around turkeys. They wore gloves to handle the three hundred frozen birds that were to be handed out to needy Boston families. "I don't think Chris Ford would like it if Reggie and Brian showed up tomorrow night [for the Celtics' home game against Houston] with 'turkey elbow,' " joked Willie Maye, sports director at WILD, the Boston area's best-known black radio station. "You guys better take it easy." Lewis had wanted to do something for the black community but didn't want to make a big deal about it, so he and Stanley put together the turkey idea, announcing it only on Maye's program and downplaying the fact that any Celtics were involved. Helping out, besides Maye, were Lewis's fiancee, Donna Harris, and a few other friends. Donna actually had the toughest job—checking public assistance cards and turning away anyone who didn't have one. And some didn't go very quietly. When Stanley and the players arrived at about six-thirty, a half hour before the designated pickup time, the line wound all the way around the building and into the street. A policeman told Shaw that families had begun gathering about four o'clock.
"Mister, listen to me, Mister," a young mother with several children in tow said to Lewis. "I got five kids. Can I have two turkeys?"
Before Reggie could answer, Stanley came over. What are agents for if not to handle the delicate politics of turkey distribution?
"I'm sorry, ma'am, but we have to limit it to one per family," said Stanley.
"But how can I feed five children and myself with one turkey?"
"I don't know, ma'am, but there's a lot of people out there and we can only give you one turkey."
She threw the turkey into a bag and left in a huff.
"Sir, sir, you're doing this all wrong," said another woman to Stanley.
"Now, how is that, ma'am?" said Stanley.
"Outside you've got people cutting in line," she said. "I barely made it in here. Gotta be more organized."
"I'm sorry, ma'am, but we're doing the best we can," said Stanley, smiling, nodding his head, patient but firm, just like when he told Dave Gavitt that, yes, Reggie Lewis needed more money.
It was a portrait of frustration all the way around. Some families never made it into the room and went home empty-handed. Others found one turkey insufficient. And there was Lewis, who only wanted to help, being told that he was "doing this all wrong." It was the flip side of what most athletes experience in their carefully orchestrated public appearances at autograph signings, award ceremonies, and banquets. Incredibly, most of the Roxbury pilgrims didn't even recognize Lewis or Shaw, or, at least, paid them no mind if they did. They had come for the turkeys, not for the gravy of meeting a Celtic or cadging an autograph. That was fine with Lewis, for if there was one Celtic who was used to the shadows, it was Reggie Lewis.
He grew up in the hardscrabble, predominantly black section of East Baltimore, one of four children of Irvin and Inez Lewis. His parents separated when Reggie was young and he saw his father sporadically. He was saved, he said, by the neighborhood recreation sports programs. He was a decent switch-hitting first baseman and a speedy wide receiver motivated by fear. "I remember catching a ball in the middle of the field and going all the way just because I was so scared of being tackled," said Lewis. At the same time, he would fight if he had to. "Kids tried to take your money, so what could you do?" he said. "I remember I had one fight that seemed to go on forever, me and this guy rolling under parked cars, because nobody would ever break up a fight. We finally just gave it up ourselves."
At Dunbar High School, Lewis was a member of the nation's best scholastic basketball team—and arguably one of the best of all time—but never got the headlines. Even in his senior year, he came off the bench as the sixth man, while other players like Muggsy Bogues, Reggie Williams, David Wingate, and Gary Graham got more attention. His coach, Bob Wade, who later moved on to the University of Maryland where he got in trouble with the NCAA for recruiting violations, used to tell him he had "the ugliest jump shot in the history of basketball." Lewis took such joshing quietly, but it hurt inside and he never cared much for Wade's coaching. Reggie vastly preferred the summer-league games at Madison Square Park, which they called "The Dome" (it had a roof), Lewis and Wingate playing for the Cecil Kirk Rec Center, Muggsy and Williams in the uniform of Lafayette Red. To this day, the men he most respects are Calvin Dodson, Anthony Lewis, and Vernon Francis, the unknown rec-league coaches to whom he looked up to as father figures. When it came time to choose colleges, Muggsy, the team leader, went to Wake Forest and the high-profile Atlantic Coast Conference, Williams and Wingate went to the high-profile Big East program at Georgetown, Graham went to the high-profile program at UNLV. Reggie Lewis went to the low-profile program at Northeastern University.
Much to everyone's surprise, including his own, Lewis was an instant star at Northeastern. He took to the city of Boston, and Boston took to him, at least to the limited degree that it noticed Northeastern's basketball program. "I made a great adjustment to college right away," said Lewis. "Maybe it had to do with being away and, at last, being the main guy. I mean, in one year I went from not starting for my high school team to people talking about me going hardship in the NBA draft." When Lewis ended his four-year career as the NCAA's ninth all-time leading scorer, the university retired his number (35). Still, Lewis was surprised when the Celtics made him the twenty-third pick of the 1987 draft. He would bump into Dennis Johnson at a neighborhood pizzeria (Johnson was that rare Celtic who lived inside the city limits), and Celtics scout Rick Weitzman would talk to him after Northeastern games from time to time, but Lewis had no idea that Auerbach even knew he existed. At the press conference after he had been selected, Lewis was again overshadowed … by the ghost of Lenny Bias, who had stood where Lewis was standing just one year earlier. "How do you plan to celebrate?" someone asked him.
Lewis considered himself pretty much a Bostonian now that he had spent most of his time there since 1983. He said he never sensed any racial animosity and had certainly never experienced anything like what rookie Dee Brown went through in Wellesley. That's why some Celtics officials were worried when Stanley suddenly materialized in Lewis's universe. They feared that Stanley would feed Lewis with negative ideas and turn him against the Celtics and the city. Lewis said that was nonsense. "Anything I felt about being black, I felt inside me, and Jerome had nothing to do with it," said Lewis. He remembered being chased by a group of white youths when he walked through a white section of Baltimore on his way home from the rec center; thereafter, he changed his route. The only college course he remembered with fondness was one called "The Sociology of Prejudice," in which he and a white coed wrote a script for a skit that paralleled Guess Who's Coming to Dinner? "Her family wanted to serve me greens and fried chicken and a bunch of other stuff that I really didn't like that much," said Lewis. "Writing it and acting it out taught me a lot."
When Lewis decided to give out free turkeys in Roxbury he was not making a grand statement about prejudice in Boston. But he was remembering the times that he had gone hungry, when his mother couldn't quite feed four children with the salary she earned at a paper-cup factory, and he definitely was making a statement about integrating the Celtics and the black community. But it was difficult for him because he sincerely does not like the limelight.
And so, he stood behind a table in a pair of gloves giving away turkeys until the supply ran out. The Celtics' organization didn't know he was there, most of the media outlets didn't know he was there.
"I don't know what else I could've done," he said. "Buy more turkeys next year, I guess."
February
Though they were in enemy territory, the Celtics were obviously more prepared for the Lakers than they had been without Bird two weeks earlier in Boston Garden. McHale was again out of action, but Bird took such an obvious joy in playing the Lakers that the feeling seemed to be contagious. Everyone was up. Steve Bulpett, a beat reporter for the Boston Herald, recalled a sublime moment a few years earlier when Bird, dressing alone in the Forum locker room, suddenly sang, almost to himself, "We're playin' the Lakers, we're playin' the Lakers." Though his rivalry with Magic Johnson had lost some of its appeal to the fans, Bird seemed to appreciate it, or, at least, enjoy it, more than ever. Early in his career, the competition with Magic and the Lakers had been so intense that Bird was never really able to step back and objectively consider what their joint effect had been on the game. He tired of the subject quickly, just as, say, Chris Evert and Martina Navratilova never enjoyed talking about each other while they were the two best players in the world. But time had provided perspective, and when he was asked about Magic before the Lakers game, he warmed to the subject.
"I've never seen nobody as good as him," said Bird, ungrammatically but sincerely. "And there'll probably be nobody down the road as good as him. There's other guys who will come along who can score and rebound. But there probably won't be anybody who can control a game like he does.
"It's amazing when you think back to the years when it was always us and them in the Finals. We kind of took it for granted. I don't think it's that way anymore. I think we appreciate what we had. The Finals is what we're working for. It would be a big accomplishment for us, no matter who we got in against. But it'd be sort of nice to get to play the Lakers agin. That'd be fun, me and Magic agin."
Bird and Magic sensed that they were the only two members of a very, very special NBA club—those players who had won championships and MVP awards throughout the eighties and were still active and productive. Julius Erving was gone, Kareem Abdul-Jabbar was gone, and Michael Jordan still hadn't won the big one. Membership in that club mandated praise of the other member. It was part of the ritual. Their mutual admiration society was not phony in any way, because Bird and Magic could still play the game, but it was not without its nostalgic element, either. The best player in the NBA was clearly Jordan, not Magic, but Bird would not admit it. Magic was his choice, he said. And why not? Together they had forged an identity for themselves and for the NBA that bound them together for eternity. Bird and Magic, Magic and Bird. A few weeks before the second Celtics-Lakers game, Sports Illustrated had been working on a story about the NBA stars who would be playing for the United States in the 1992 Olympics. Magic would not consent to pose for the cover photo unless Bird was also on the team. Informed that Bird had said he had no interest in playing in the Olympics, Magic still insisted on a few dozen rounds of phone calls to determine that Bird would not be offended if he, Magic, appeared in the photo. Bird couldn't have cared less—and Magic probably knew that—but club ties were strong, the ritual inviolate.
The story of the Celtics-Lakers game on February 15 was not Bird or Magic, however. It was Robert Parish. Written on the blackboard in the Lakers' locker room before the game was the Celtics' starting lineup with "Parish" spelled as "Parrish." ("Pinckney" was spelled as "Pickney," too.) "Some things never change, do they?" said Chief when a reporter stopped by to tell him. He didn't seem angry or upset—he had seen his name spelled with two r's about a thousand times over the years—but inside he was indeed unusually fired up for the game. The Lakers' Vlade Divac had been quoted a couple days earlier as saying the game against the Celtics was "an exhibition," and he made a few other comments suggesting that the Celtics did not present the stiffest of opposition. Jon Jennings, an assistant coach, made sure that the team, Parish in particular, was aware of the story. Such motivational gimmicks were usually pooh-poohed by Bird, McHale, and the other veterans, but they were, in fact, quite common in the NBA. Teams in need of firing up often turned the most innocent comments into fierce challenges, altering the context and scope of mildly negative articles so drastically that, by game day, no one had any idea what was actually said but they knew it was real bad. Then, too, Divac, was a great target. He was young, unproven, foreign, and he had his own commercial to boot. Parish had a terse response when Jennings told him about Divac.
"Well, fuck Vlade Divac," said the Chief.
And then he went out and did it. Parish scored an incredible 21 points in the first period, forcing Lakers coach Mike Dunleavy to remove Divac halfway through the period and install backup Mychal Thompson, who fared no better. Considering Parish's age and disinclination to carry the scoring load, the performance defied belief. It was like Bird scoring, say, 35 in one period, or McHale getting 30. It did, in fact, take something out of Parish for the next two periods, but he returned with a vengeance in the fourth, grabbing key rebounds and shutting down Divac, who, besides a spectacular reverse dunk off a fast-break pass from Magic, had just an average game. "Vlade got his reverse dunk," said McHale after the game, "and Robert got 29." Bird had his troubles with James Worthy, an underrated defensive player, and took at least a half-dozen of the worst shots known to man, off-balance lefthanders, leaning half-hooks from eighteen feet, trash that even Bird couldn't convert into points. Yet with 4:56 left, he came down on the left wing, stopped at least a foot and a half behind the three-point line, and launched a high rainbow set shot that swished. It gave the Celtics a 10-point lead and, in typical fashion, the L.A. crowd began to file out.
"They're flying out of here like it's the Al-Rasheed Hotel and air raid sirens are going off," said Don Greenberg who covers the Lakers for the Orange County Register.
Actually, the star of the 98–85 victory was Lewis, who had 26 points and zero turnovers, but after the game all he could talk about was Bird. "How about that three-pointer Lahr-ree took?" said Lewis, using his rather strange pronunciation of Bird's first name. "Like all great ball players, he always does something. No matter how bad he's been shooting, he does something." Inside, perhaps, Lewis wondered if he could be that type of player someday. Bird was not, in the strictest sense, a "pure shooter," a term that described more of a standstill, practice-time shooter. Former Indiana University great Steve Alford was a pure shooter, for example, but only a marginal NBA player. To be a "great shooter" in the NBA was kind of like being a "great putter" on the PGA tour; it was less a compliment than a veiled critique, a description of a player who didn't do the difficult things, like scoring off offensive rebounds or hitting a 230-yard two iron into the wind. To Lewis, Bird was respected not because of his shooting ability but because of his cojones, his insistence on taking the big shot and making it when the game was on the line.
Working the room after the game were a number of Hollywood types, Kevin Costner foremost among them. With a slew of Academy Award nominations for Dances With Wolves, Costner was absolutely the brightest star in the Hollywood sky at the time, yet one sensed his shyness when he went over to introduce himself to Bird. They shook hands and talked for only a moment before Bird got up to leave.
"Hey, Kevin!" McHale shouted to Costner.
"Oh, hi, Kevin," Costner said, making his way to McHale's corner.
"Saw Dances, man," said McHale. "It was great."
"I appreciate that," said Costner.
"I've never seen a better cinemagraphic depiction of South Dakota," said McHale.
The conversation continued in that vein for ten minutes, by which time Bird was sitting impatiently on the bus, ready to return to the hotel and a postgame meal in the coffee shop.
"Let's get this going," Bird said. "If we lost, we'd a been outta here a half hour ago." He got to his feet and looked out the window. "Sheet, even Joe Kleine's out there, looking for stars. Joe Kleine!"
McHale climbed on the bus just as coach Chris Ford was saying good-bye to Sister Filomena Conte, his fifth-grade teacher back at St. Michael's, who was now living in L.A.
"That's your old teacher, Doc?" said McHale. He ran to a window and began banging on it. "Whoa, Sister, hey," McHale yelled. "You should hear all the cussin' Chris does on the bench. You'd be ashamed of him now."
The good sister continued walking. Perhaps she had heard about McHale.
"I guess you were really impressed with that movie," Glenn Ordway, the Celtics' respected radio commentator, said to McHale as the bus headed back to the hotel.
"What movie?" said McHale.
"Costner's movie, Dances With Wolves," said Ordway.
"Oh, that," said McHale. "Tell you the truth, I didn't see it."
---
It was a bad day for the autograph hounds outside of the Jewish Community Center gymnasium in Phoenix. Most of them were adults and Bird was feeling frisky.
"Excuse me, but don't you have a job?" he said to one, who tagged along, demanding that he sign after Bird first refused.
"You know, the Marines are looking for a few good men," he said to another, "maybe yer one of 'em."
He finally made it onto the bus and flopped down on his seat. Obnoxious autograph-seekers have become an increasing problem in sports, particularly to athletes like Bird, whose signature is valuable on the open market. It had become nearly impossible for Bird to distinguish the young fan who sincerely wanted his autograph from the money-hungry trader, who just wanted to collect as many "Larry Birds" as possible. When Brad Lohaus was with the team, he would sign many of Bird's autographs because Bird would insist, "No, I'm telling you, he's Larry Bird." Bird had an excellent memory for faces, too, and would often surprise a traveling autograph-seeker with a refusal. "I jist signed for you in Denver," he'd say, and the hound would stare at him wide-eyed. His favorite off-the-court moment of the trip had occurred while he was talking with the Golden Girls in Denver. A group of autograph pros whom Bird had already turned down enlisted the help of a female guest to get Bird's autograph. It was a common practice, and Bird had detected it. So when the woman asked him to sign, he did so but convinced her to go out a side exit and keep the card for herself. Lately, Bird had taken to signing the name of "Pete Rose" on his cards from time to time. "But Doc made me stop when I signed it on the team photos," he said.
Bird hated the hypocrisy of the whole autograph game.
"These guys, most of 'em, will say, 'Hey, Larry, you're the greatest,' and when I don't sign three of 'em, they'll turn around and say, "Motherfucker. Asshole. Piece of shit. Hey, what an asshole Larry Bird is.' I hate it when somebody comes up to me when we're out of town and I sign for him, and then he says, 'You know, we're gonna' kick your ass tonight.' Why does he say 'we'? I always ask the guy, 'How many baskets did you score?' "
When the Celtics arrived back at the hotel, a contingent of Michael Smith, Ed Pinckney, Dave Popson, and Stojko Vrankovic left for a nearby arcade for a round of miniature golf and various other time-killing recreations. Joe Kleine, who was waiting to go for ribs with Bird, watched the group with amusement.
"McHale and I figured out why Michael is so good at games," said Kleine. "Miniature golf, shooting games, video games, things like that. See, Mormons had to spend all their dates in places like arcades and amusement parks because they were afraid to be alone with their girlfriends in case things got, you know, out of hand. That's why they're always real good in that stuff. Anyway, that's our theory, and we're sticking with it."
Later that afternoon, Bird sat—or "set," as he would put it—in the lobby of the Westcourt Hotel in Phoenix, enjoying the day off, enjoying being Larry Bird, enjoying being the sine qua non of a potential championship team, something he had not been in a few years. He adjusted himself repeatedly on a couch, trying to find a comfortable position. His back felt relatively good on the court, particularly after a few minutes of action had warmed it up, but in his private moments, at home or in a hotel room, he constantly had to change positions, lying on the floor for a few minutes, then standing, then sitting, then leaning against a wall. He had stopped going to the movies on the road because he couldn't sit comfortably and didn't want to keep getting up. By the stop in Phoenix, it seemed as if Bird had turned a corner with his back problems. No longer could he hope that they would work themselves out. He had been through a month of hell, and there was no guarantee it was over yet. When the word "surgery" was mentioned, he didn't pooh-pooh it, as he used to. He knew it was a definite possibility, both to continue playing and to have a productive life after basketball.
"There were a couple days there I wanted to quit 'cause it hurt so bad," Bird admitted. "The pain was gone on down my right leg, and I said, 'The hell with it. Ain't worth it.' I was settin' there at home, jest thinkin' and thinkin', 'Why are you doin' it?' But, then, I also started thinkin', 'Look, yer prolly gonna have this thing the rest of yer life, in some form, anyway.' " Bird used to joke that he wanted to be the fattest man driving out of Boston when he stopped playing, but like many athletes near the end of their careers, he had had a change of heart. Injuries and wear and tear had made him feel more like a normal human being, a mortal, and he didn't particularly enjoy it. He liked his body when it was in tune and humming, and he wanted to keep that feeling in civilian life.
"I think I wanna be active," said Bird. "What I might do, though, is git in shape, git outta shape, then git in shape again. I won't do it like I used to, though. It's gittin' tougher. Three years ago I could lose fifteen pounds like nuthin'. Now? I don't know if I could." He had put on a few pounds when he was out of action, but he wasn't sure how many. "I was so bored, I'd set around the house, drive my wife crazy, and eat and eat. In two and a half weeks I was off I ate ten gallons of ice cream and seven weddin' cakes. Why them? I ate weddin' cakes 'cause you knew they was gonna be good. I mean, who would fuck up a weddin' cake?" That was Bird philosophy at its most crystalline.
The conversation turned to his future. "Never thought about coachin', and I'm not sure I'd be patient enough for it. The one thing I know I'll do is go on a fishing tour for a year. Maybe play some golf, but that's it. Let my body heal up and figger out what I wanna do with the rest of my life." He smiled. "I already know that, though. I'd like to fish every day. I'd never git tired of it. Why would I have to do anythin' else? I bin playin' basketball for twenty-some years, and that hasn't changed. It could be the same with fishin'. Exactly the same." Bird's only other summer activity besides fishing and golf was home repair. The preceding summer he had built fences, helped on a tennis court addition, laid brick, did some concrete work and some roofing. "I couldn't lay everythin' out, but I could do jest about all the work," he said. "I enjoyed it. I don' live for it, like I live for fishin', but I like it."
His reverie led him to a familiar subject—the respect he had for Parish and the departed Dennis Johnson. He began talking about them with emotion that was, for Bird, close to outright passion. "Ever'body knew when we needed a basket D.J. passed me the ball and I came off a pick set by Robert, who sets the best pick in the world. I don' know how he does it. Now I don' come off those picks as much because that's not our offense. But if it wasn't for Robert, I wouldn't have scored half the points I have. Does he resent me? I'm sure pret-a-near ever'body has a lil resentment toward me. Jesus Christ, they're out there working their asses off and all you hear is, 'Larry Bird's in town' or 'Larry Bird and the Celtics are here.' I never talked about it with 'em, but what kin I do about it? I'm not gonna quit playin' as hard as I kin because I git publicity." He smiled widely. "Robert and I are talking about playing in Europe together. That'd be pretty neat, I think. Be a change, make a little money, have some fun." Imagine Larry Bird in Europe, a man of simple tastes, searching for a thick steak, a baseball game on the tube, teammates who moved without the ball. But he seemed serious.
Spring
Half the males in Boston did a credible impression of Johnny Most at the mike, but few realized how downright surrealistic life with Johnny had been for his broadcast partners and the team. There was the time during Bill Fitch's tenure as head coach, for example, that the Celtics were taking on Milwaukee in a preseason doubleheader at Madison Square Garden in New York. In the pregame show Most continually asked Fitch questions about the Knicks, while Fitch tried gently to guide the conversation to the Bucks, that night's opponent. Finally, during a commercial break, Fitch said: "Johnny, we're not playing New York." Most took an angry puff on his cigarette and said: "Well, what the fuck are we DOING in New York then?"
The great "Johnny wedding invite" story was legendary. As Most prepared for his third marriage in the spring of 1989, he mistakenly sent the invitation intended for his boss at WEEI to another "Mike Wheeler. " As the days wore on, and the station GM wondered why he hadn't received an invite to Most's wedding, the putative Mike Wheeler believed that he and his family had somehow won a contest and an invitation to Johnny Most's wedding. He immediately RSVPed for him and three members of his family.
Finally, days before the wedding, GM Wheeler said to Most: "Uh, Johnny, how come I haven't been invited to your wedding? Are you mad at me or something?"
"What the hell you talkin' about?" said Most. "There's four of you coming, right?"
When the mess was finally straightened out, Most had to call up the "other" Mike Wheeler and "un-invite" him. The man was crushed.
Ordway had always walked a fine line as Most's partner, never quite sure when to cut in and correct Johnny for the sake of accuracy, and when to remain silent, let a tangent run its course, and try to patch up the damage later. Usually he chose the latter course. During a game in Indiana several years ago, Most repeatedly berated the Pacers for not playing Clark Kellogg, who was broadcasting the game for the home team just a few chairs away from Most. He had retired the previous season. During another pregame show, Most hammered away at how important it was for the Celts to control Jamaal Wilkes, though the Lakers had released the jump-shooting forward weeks earlier. Saddest of all was the night a few seasons ago when Most, after catching a glimpse of a number 6 flashing across the lane, temporarily spaced out and started going on and on about the play of Bill Russell. This "Russell," however, was Michael Holton, a reserve guard for the Trail Blazers.
Bird's dealings with Most were particularly comical. During a tirade one evening, Most screamed at Ordway, "I'M THE SHOW! I'M THE SHOW!" When Bird heard about it, he said to Most: "No, Johnny, you're wrong. I'M the show!" One of Bird's favorite little tricks was to slide Most's omnipresent pack of cigarettes a few feet down the scorer's table when he checked back into a game, leaving Most to fume and fuss, sometimes into a live mike. Bird's finest moment occurred several years ago in the Westcourt Hotel in Phoenix when Most was forced to occupy a nonsmoking room. Bird knew, as everyone else did, that Most would light up as soon as he got in the room, so Bird waited a few minutes, then rang him up.
"Uh, sir," he said, disguising his Hoosier twang. "We know that you're smoking in there."
"Who the hell is this?" hollered Most. "How do you know what I'm doing?"
"It's the front desk sir," said Bird. "Look above you at that red light. It's a hidden camera. You have to put out your cigarette."
"What?" hollered Most. "That's an invasion of privacy!"
He never realized the identity of his caller, nor that the red light above his head was the smoke alarm.
---
The Boston-Chicago game was played with postseason intensity from the first minute. Reggie Lewis was determined that Jordan was not going to embarrass him like he did in their first meeting in Boston Garden in November, and he relentlessly pursued the Bulls superstar, tugging at him, pushing him, anything just to contain him. Jordan finished the first half with only 7 points. McHale returned to loud cheers at the beginning of the second period, replacing Bird, who, as had become his custom, spread out a towel in front of the Celtics bench and stretched out to ease the tightness in his back. McHale immediately blocked a shot by Scottie Pippen, then drew a foul at the other end. Each time he got the ball in the low post, Derek Smith hollered at Chicago's Horace Grant, "Seatbelt, Horace! Seatbelt, baby!" Translation: "Kevin's gonna take you for a ride."
With 10:29 left in the game, the Celtics led 91–80 and the Garden was louder than it had been since that nearly flawless performance against Phoenix some twelve weeks earlier. The lead reached 96–82 when a McHale shot bounced on the rim six times before finally going in; as it did, he raised his arms to the sky. But Jordan finally broke out of the prison Lewis had built around him and brought the Bulls back to a 108–107 lead with just over two minutes left. At that point, the Celtics missed a shot and Jordan went up to grab a rebound between three of the greatest rebounders ever—Bird, McHale, and Parish—then had the presence of mind to call time-out before he was tied up. The Bulls scored again to go up by 110–107, but Lewis hit an unlikely three-point bomb with nineteen seconds left to tie the game. He had been 0-for-l 1 in three-point attempts to that point, and, indeed, some observers believed that his weakness as a long-range shooter would keep him from being an All-Star. The ensuing sidecourt throw-in by the Bulls resembled a game of Pac-Man, with Jordan scurrying around the court, trying desperately to elude various and sundry Celtics and receive the inbounds pass from Bill Cartwright. Lewis pulled and tugged and bumped him until, finally, Cartwright threw the ball away. Chicago coach Phil Jackson complained in vain for a foul, as he should have. And the referees kept the whistles silent, as they should have. Unless Jordan were out-and-out wrestled to the floor, experienced NBA officials do not call a personal in such game-deciding situations. At the other end, Bird missed a three-point attempt and the game went into overtime.
The situation looked grim for the Celtics when both McHale and Parish fouled out in OT. (Both college basketball and the NBA should grant players an additional foul in overtime games—it's only logical.) Three of McHale's six personals were offensive fouls called by veteran referee Mike Mathis as McHale battled for position near the basket. Mathis is one of the league's most highly respected officials, but the Celtics firmly believe that he has it in for McHale, and his calls on that afternoon seemed to reflect it. (Other teams believed McHale was one of the most protected players in the league.) But the Celtics hung on and the score was 118–118 when Jordan got the ball near the sideline by the Celtics' bench and threw in a twenty-five-footer as he fell into Chris Ford's lap. Immediately, Mathis signaled that it had come after the buzzer, a decision verified by TV replay. And so it was on to a second overtime.
"I have to take a leak so bad," said Jennings to Casey, "we might have to concede it."
"You guys outta paper yet?" Ford asked press row with a smile.
There was tension, but it was positive tension, tension that evolved naturally out of the battle, tension that inspired, instead of paralyzed. Certainly it inspired Bird. He hit two step-back jump shots, then got Grant up in the air, drew the foul, and bounced in a jumper for a three-point play. "Don't send a boy to do a man's job," Pippen teased Grant later. Key baskets by Shaw and Brown helped the Celtics hold on to the lead that Bird gave them, but Lewis missed 4 of 6 free throws down the stretch that would've clinched the victory. "Why the heck don't you make one, Reg, so we can git the hell outta here?" Bird said to Lewis at one point. But Jordan, with Lewis all over him, missed two three-point shots that would've tied the game and the Celtics walked away with a 135–132 victory that was either invigorating or enervating, no one was sure which.
Bird's stat line was astounding for a thirty-four-year-old man with a bad back. He played fifty-two minutes, one more than Jordan, one fewer than Lewis, and scored 34 points. They came on 36 shots, leading someone to quip that his shoulder probably hurt him more than his back. But he grabbed 15 rebounds, had 8 assists, and time after time made the clutch shots. "Damn," said Grant after the game, "I thought he was old and lame."
---
Jack McCallum's most recent sports book is Dream Team: How Michael, Magic, Larry, Charles, and the Greatest Team of All Time Conquered the World and Changed the Game of Basketball Forever. A longtime staffer at Sports Illustrated, he is also the author of The Prostate Monologues: What Every Man Can Learn from My Humbling, Confusing, and Sometimes Comical Battle With Prostate Cancer. Find more of his stuff on his website.
Photos via AP and Getty.