We're proud to report that we did not watch the Grammys last night, if just because Nirvana isn't eligible for nominations anymore. But we're told that Mariah Carey was a large part of the process; she might have even sang or something.
But a reader from Portland brought up something that actually kind of freaked us out a bit: The eerie similarities between Mariah Carey's career and that of former New York Knicks luminary Larry Johnson.
We know, we know, this is a little Simmons of us, but we still found it amusing. Check out our readers breakdown of the two after the jump.
U2 Overshadows Mariah Carey At The Grammys [New York Times]
—————————————————————————
Have you ever noticed the strange parallel career arcs between Mariah Carey's and Larry Johnson's? Seriously.
G/O Media may get a commission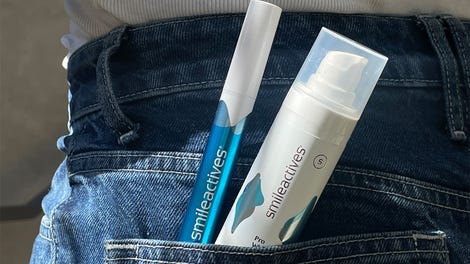 58% off
Whitening Powerhouse Pen & Gel Duo
They both jumped on to the national scene in 1990 as 20-year-old phenoms — Carey with her self-titled debut album ("Vision of Love", etc.) and Johnson as a juco transfer who led the Runnin' Rebels to an NCAA title. Their careers were in the "white-hot" phase for the next eight or so years. Then they began to slide at the same time. After some physical breakdowns (LJ's back, Mariah's head), the wheels came off, whereupon they both completely stuck it to their employers on the way out the door.
That's the thing that first made me notice the connection: Within three months of each other in 2001-2002, both LJ and Carey received virtually the same eye-popping payoff — $29 million — to NOT ever work for their employers again. (Despite repeated efforts, I have thus far failed to negotiate a similar severance package from my employer.)
Another way to look at it is that EMI basically paid Carey $50 million to record one album for them, "Glitter", which totally flopped.
(Yes, the comparison breaks down when you note that Carey has had a big comeback, and LJ is, well, I guess he's just out there paying child support.)
The other connection between these two people, of course, is that I despise them both.