Inspired by the saga of "Wrestling Superstar Virgil," we continue with readers' encounters with the titans of the squared circle. If you've had your own run-in with wrestlers past or present, e-mail us, subject line "Virgilbag."
Bradley:
I grew up in the pinebelts of West Alabama. Incredible deer hunting. My dad is an attorney and is friends with a prominent Jackson, Mississippi attorney. My dad invites the Jackson attorney and two of his buddies over to do a weekend of deer hunting on our property. The two other guys happen to be Eddie Payton (former Minnesota Viking, current Jackson St. men's golf coach and brother of Walter) and Virgil's boss, the Million Dollar Man Ted Dibiase.

Ted happens to live outside of Jackson and is a big hunter. I come down from college at Tuscaloosa and bring in-tow several of my degenerate frat buddies. We all meet Eddie and the Million Dollar Man on Friday and they are awesome. They're religious and don't drink but they laugh at our shenanigans. (Eddie's son is there and doing all kinds of gymnastics tumbles, flips and shit). Ted tells great stories about Andre the Giant drinking entire kegs at bars. They go to bed early Friday night for an early morning Saturday hunt and, of course, me and my buddies stay up quite late doing all kinds of drinking and other things...In the morning, while we're all still crosseyed from the night, Ted and Eddie come busting into our cabin and Ted screams in his wrestling voice, "Can't kill the deer if you drink all the beer! Ahahahaha!"

Later that day, a wild boar chased Ted and he was scared shitless. We grilled steaks that night and Ted would spontaneously bust out, "Everybody's got a price for the Million Dollar Man! Ahahahaha!" On Sunday before they left we snapped this pic of him putting me in a sleeper hold. Great guy.
Rodney:
A buddy (Gary) and I used to be police officers in Oklahoma. We were both big wrestling fans and we had a chance to work security at a WCW house show, in Tulsa, in the late 90s. No pay of course but we got in free and got to see the action. Gary gets us in and we meet the building security guy. When we get there to check in, the security guy realizes we are real cops (not in uniform though). This apparently makes an impression on him and he decides to put us by the wrestler's dressing room area.

They give us our yellow security shirts and we get posted. I am actually on the door guarding the wrestler's backstage area. This spot was a curtained off section of one of the interior hallways and it led to the main arena. Goldberg had either just become champion or was on the rise and he was making his big return to Tulsa where he grew up. I got to stand by the door and keep people from walking in or asking to see Goldberg since they "were buddies from high school" or whatever.

It was interesting watching all the big names of the day walk around. Guys that were fighting each other that night were just sitting together at tables, eating pizza, playing cards, etc. I still remember seeing Chris Benoit walk around. He was not tall at all but was ripped/no body fat (we know why of course). The Giant, Big Show, whatever you want to call him was there and was the only jerk out of the group that I dealt with. Arn Anderson was there as a road manager and I got a picture with him. He did not seem too enthused to be in Tulsa or standing next to yellow shirt security guy or both.

At the beginning of the show, the old WCW road manager, security guy Doug Dillinger, waved at me to get out of the room so I wouldn't hear the "top secret" script briefing. All 170 lbs of me of course left while he gave his speech. The show started and I got back in a position to watch the back room again. As each match ended, those guys left and did not hang around so the room emptied out.

The big match of the night was Goldberg vs. The Giant/Big Show. Giant went out first and it was literally just me and Goldberg in the back. I had talked to him briefly at the door when some of his real old friends came by earlier. I had bothered Arn Anderson for a pic earlier so I figured why not again with Goldberg. My buddy Gary was there and I prepared my approach. Goldberg was getting his pump on with one of those rubber band floor to bicep things. Like a total Mark, I walked up and said "Bill (first name of course..), I know you're busy but I'm a big fan and would love a quick picture with you." He was cool as could be and said "no problem." Gary got the pic and Goldberg went to his match.
G/O Media may get a commission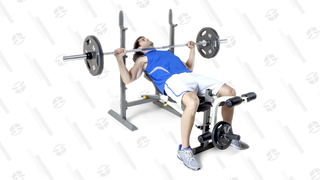 10% Off
Marcy Folding Weight Bench
During the match, he charged The Giant in the corner, who moved out of the way. Goldberg's brakes were not working that night and he hit the corner post with his forehead (for real). They did a quick pin and Goldberg came back to the dressing room with blood pouring out of his forehead. He probably still has that scar. He had it for awhile.

The remaining WCW staff came back with him and he got some medical attention and left with a big bandage for his Tulsa homecoming. I left with some good memories and a great pic of me and Goldberg. Two great Okies, ha!
Jonathan:
It was the year 2001 or 2002 and I was getting gas in Seymour, IN on my way back to college at Butler University. in Indianapolis. I had been home for the weekend because like all poor college kids the lure of free food, leftovers, and Mom's laundry service was just too great to pass up. The only other vehicle getting gas at that time was a 15-passenger van filled with the largest humans I had ever laid eyes on.

Turns out it was Mark Henry and several other wrestlers. They were driving from their last show in Louisville, KY to their next event. When I went in to pay Mark Henry looked at me and winked as he was leaving the counter. The lady at the counter calmly said "$112.00 please".

"Woah, hold on lady, I only got 20 dollars in gas, right there on pump 4". After watching the van of wrestlers peel out of the parking lot she came to realize what had happened—they had told her I was with them and would be paying.

Miffed and confused, she told me to have a good night and to never cheer for those "gas stealin' rasslers" again.
J.W.:
My dad and I have connected on few things over the years. One was wrestling. He especially took a liking toward the one of a kind dirty old man pervert bit of Jerry Lawler. Years later after we had stopped watching wrestling, I decided on a nostalgia gift for his Christmas gift: A signed Jerry Lawler photo. I order the photo on Lawler's site, but it doesn't arrive in time for Christmas, I keep telling my dad, "Just you wait, this is the best Christmas gift ever." Weeks later it still hasn't arrived, I finally send a very polite email noting that I don't want to disturb him, but hoping he can find time to sign it.

5 days later the envelope finally arrives, I immediately hand it over to my dad beaming with pride. He opens it and says, "Thanks" and then "why would you have him sign it to you?"

Jerry had personalized the autograph without me asking. The picture now sits in my dad's bill box, unframed and crumbled at the edges. Merry Christmas.
Kirk:
I grew up in a small town in Indiana, directly across the river from Louisville. And in the mid 80's, there was nothing bigger than Tuesday night at the Louisville Gardens, this was the night that CWA out of Memphis made their weekly trek to our area. This was back in the kayfabe era, and wrestlers kept their distance from each other to keep up appearances. So a lot of times, wrestlers would stay on our side of the river.

One Tuesday night, I happen to walk into a convenience store with my older brother. I'm maybe 13 at the time. As we walk back to the cooler to get a coke, we walk past the magazine rack, and there in the flesh, is the King, Jerry Lawler reading a wrestling mag. Needless to say, I'm pretty geeked.

I tell my brother, "that's Jerry Lawler", he said, no shot, he's too short. But after watching him every Saturday for the past 5 years, I know what the king looks like.

So I walk up and say "hi king" or something stupid like that. Looks me dead in the eye and says "I'm not Jerry Lawler". In a straight out of the movies double take, I shoot back, "dude, you're Jerry Lawler", "no I'm not", came the reply.

I walk back to my brother, who has moved in for a closer look at this time, and confirms that, it is indeed, the king. On the way up to the register to pay for our drinks, I take one more stab at it and tell the king goodbye, and I'll be watching him Saturday morning on tv....and once again, "kid, I'm not Jerry Lawler."

Now I didn't hear a cock crow after his third denial, so I don't think it was a biblical thing, but I still have no idea what his line of thinking was that night.
Pride:
It was around 1988, I was in school at Florida State University, working the door at a Studebakers night club. It was a Wednesday night, Ladies Night (chicks drank free frozen drinks all night). The line was wrapping around the building and people kept trying to get to the front, really busting my balls. I feel a tap on my shoulder and "Hey man, I gotta wait in this line?" Without turning around, I motion and say, "back of the line, everyone waits."

A moment later I glance at the guy and his group walking to the back of the line. It was the Nature Boy Ric Flair. I tried to gain my composure, but that wasn't happening. I ran over to him like a schoolgirl, told him what a ginormous fan I was, and walked him and his group right in the bar.

What the Nature Boy did next was unbelievable...he whipped out a wad of cash and peeled off a c-note and gave it to me. Then he proceeded throughout the night, to tip everyone a that waited on him, poured him a drink, or deejayed a song he wanted to hear a c-note. Probably tipped over a grand that night.
Kyle:
Growing up, I was always a huge fan of wrestling, but I was only allowed to watch WCW initially because I convinced my mom that it was much cleaner than WWF (as opposed to watching no wrestling at all - so I ended up missing a large part of the Attitude Era unfortunately). With that being said, I was immersed with all storylines pertaining to some incarnation of the nWo, especially the Wolfpac. As storylines progressed and the Invasion took place (and I started growing up), my interest in wrestling waned.

Roughly seven years later (during my college years),I was with a friend at Warped Tour in Orlando watching some crappy emo band whine away. In my peripheral vision I notice a very large man standing nearby and point him out to my friend. His first thought was, "That dude looks like Mickey Rourke." I take a second glance and shake my head in disbelief. "I think that's Kevin Nash. What the heck is he doing here?" It turns out that I hear later that his son was interested in the band.
Being the fanboy I was, I inched my way towards him to see if I could verify his identity. He had a huge red and black tattoo sleeve that wasn't there in his days of flinging toothpicks with Scott Hall (and I didn't remember it from his TNA days either). I finally just approached him and so elegantly said, "Hey, are you Kevin Nash?" Our exchange was brief to say the least, as I could tell he didn't want to be recognized (and selfishly, I didn't care). "Yeah."

"Can I take a picture with you real quick?"
"Make it quick."

My inner 12-year-old immediately flashed a hokey nWo Wolfpac handsign, my friend snapped a pic, and we were both on our way. At least one of us looked happy to be there.
Steve:
Before my current job I worked as a news reporter at a local paper. I used that gig to get free access to the local indie wrestling events. There was a local promoter here in Indiana that put on a legends show two years in a row. The first year was a success with relatively no problems. The second year the guy's head (and ego) must have inflated. He promoted the show with the likes of Jerry "The King" Lawler and others who didn't show (or were never going to show).

The highlight for me came when the promoter didn't have enough money to pay the wrestlers and was forced to lock himself in a room in the back. So I was standing back there with a group of pissed-off wrestlers who were waiting to get paid or kick his ass. One or the other. Tommy "Wildfire" Rich went to his truck and got his gun – he had driven up from Tennessee and was raging mad.

Anyway, finally the co-promoter's mother-in-law used her own money to pay everyone except Rich – don't know why you wouldn't pay the guy with a gun first. The promoter bailed and left his wife to deal with the mess as the cops showed up. It was the last show he ever put on – mainly because the venue seized his ring because he didn't pay them either.

Bonus: One of the guys who no-showed but had actually been contracted to be there? Virgil.
James:
I was at my school's fall festival in October 1998. Me and my friends were wandering around playing horrible carnival games to gain tickets while hitting on girls (8th grade is an awkward time). When we go inside to redeem our tickets we see none other than Glacier standing around talking to a group of people. Being the obsessed WCW fans that we were we approach him and awkwardly wait until the group disperses. I manage to squeak out "Are you Glacier?" He says that he is and his nephew goes to our school so that's why he is here. After a few minutes of discussing his previous matches we ask him to show us the Cryonic Kick. He says that he is still recovering from his knee injury and can't right now. We are all very bummed but cheer up when he offers us an autograph. He says to me "What do you want me to sign?" Being the awkward 8th grader that I am I respond "My wifebeater" which I was wearing under my t-shirt because I thought it made me look like a badass. It did not. He obliged and signed it

To James,
Be Cool!
Glacier

That wifebeater is still hanging up in my room in my parents' house today.
Guy:
In the spring of 1994, my wife and I traveled to Florida to visit some of the theme parks and enjoy what we assumed would be one our last kid-free vacations before the birth of our first child later that year. One of the parks was visited was Typhoon Lagoon, a water park that is part of the Disney behemoth. I thought it would be a nice stop on our trip because I was never much for thrill rides and my wife, in her pregnant state, couldn't do them, either. So the perfect solution seemed to be floating around the park's lazy river.

During one of our trips on the fake river, I noticed a group of people were setting up lights, cameras and those foil-covered reflectors on a distant bridge. As we got closer, I saw the unmistakable figure of Hulk Hogan, who was Terry Hulk Hogan in those days, star of the low-budget, Disney vehicle called "Thunder in Paradise." (Think "Knight Rider" with a boat.) The show was notorious for saving money by filming in Disney parks, and it appeared that's what it was doing on this particular day.

When we were drifting within 20 feet of the bridge, I said to my wife, "Hey, that's Hulk Hogan." (I demonstrated an obvious lack of decorum in leaving out the "Terry.") She didn't seem overly impressed. Women. Undeterred, when we got less than 10 feet from the bridge, I yelled out, "Hey, Hulkster."

Now, there are a couple of ways a celebrity can respond to a 30-year-old man acting like a gushing teenager. The most common is to ignore the fan. A nicer route is to wave or say a polite, "Hello." But Mr. Terry Hulk Hogan took it to another glorious level. He looked down at me — slathered in SPF 50 on my little rubber innertube – and decided to give me four-star fist pump (out of a five possible stars) and he yelled down, "Heya, brother!"

It was a beautiful, special moment. Maybe my wife didn't understand the importance of that too-brief encounter, but me and Terry Hulk Hogan did.
Mike:
My current job has me travel some odd weekends here and there. Gets me out of the office for a day or two, so I don't mind. This work trip, I made sure to book a flight back on Saturday night, because the next day I had tickets to Survivor Series '09 on Sunday. My co-worker, was going to the show with me, and we are both 28, and big fans since the late 90s. As we are boarding our flight from Tampa to BWI, he taps me on the leg and blurts out 'HOLY SHIT THAT WAS IRS.' I had a few cocktails at the airport, and was reading a magazine, so I wasn't completely sure what he meant. Anyways, as the flight goes on, I use the bathroom, and I made eye contact with this man, and it finally hit me that it was IRS from Money Inc. He was reading a book so I didn't bother him.
As luck has it, we ended up standing next to each other, waiting for our bags at BWI. I go up to talk to him, but I don't really have anything to say. I ask where the Million Dollar Man is, like a 9 year old and he mumbles something about him doing his own thing. Chit chat for a little, he is a road agent for WWE now and was on his way to Survivor Series too and I ask for a pic with him. I think he was pumped that we recognized him. Posted said pic to Facebook, and I think most of the comments revolved around how the hell I still recognized him.
Andy:
From 1993 through 2000 I worked at the Tampa Tribune as a reporter. For the first couple years, I served as the business reporter in a suburban county about an hour north of Tampa. It was a lame beat that mostly involved writing about supermarket openings and the like. One day I was covering a county zoning meeting because some redneck wanted to open up a paintball facility in a rural area; this passed as relatively interesting news for my beat. I sat through the meeting, listening to the would-be entrepreneur's pitch, then the predictable complaints from residents worried about noise and traffic. This was the kind of story I could write in my sleep, so I was getting bored, but then a familiar-looking guy accompanied by a hot blonde approached the public comments microphone.

"I'm Mike Rotunda and this is my wife, Stephanie," the man said, proceeding to run through the same kinds of complaints as his predecessors. As a big wrestling fam, this made things more interesting — and required more follow-up "reporting." Afterward, I introduced myself to Mr. and Mrs. Rotunda (he wasn't wearing the usual suit he donned as either Irwin R. Shyster or V.K. Wallstreet) and asked a few questions about the paint ball facility before veering into more important questions, such as "Why don't you use the airplane spin any more?" (Answer: It hurt his knees). Rotunda was quite friendly and I made sure to get a phone number in case I had follow-up questions.

Rotunda actually called me periodically, especially when his wife — the sister of wrestling star Barry Windham (and daughter of Blackjack Mulligan) — opened up a coffee shop in town. I made sure to write about that groundbreaking story, even stopping by the store for a personal interview with her, always mindful of the fact that her husband could do me extreme physical harm.
Rob:
We were in Las Vegas for a Bachelor Party during March Madness 1st round weekend 2 years ago. Like all people we headed to a popular strip club called the "Spearmint Rhino" based on free passes we were able to score. There are 8 of us and it's not a very long line so we're waiting about 5-10 min. While waiting I lock on to a man working the ropes and he looks oh so familiar. All of us in the group had been huge wrestling fans in their youth, I knew I wasn't alone noticing this. I tap my buddy on the shoulder and ask doesn't that look like Disco Inferno?" He says, "Yes! That's spot on!" So we start to tell the others in our group and now all is in agreement that yes this guy is a dead ringer. Finally we are let in by this lookalike and can't believe how he resembles Disco.

We head in to the club and it is packed. Anyone knows that 1st round weekend in Vegas is nuts and everything is jacked up in price. We're there for about an hour and get sick of $16 Bud Lights and decide to move this party elsewhere. So we're heading out and our lookalike friend pulls the rope back to let us out. Finally my buddy just stops and asks, "I don't know if you get this a lot, but you look just like a wrestler we know called the Disco Inferno?" The guy just gets the biggest smile on his face and says, "That's me, I'm Disco!" He was so excited someone actually recognized him! He gave us a short "Disco Fever" dance and talked to us for a few min mostly about where we should go while in Vegas. Finally instead of getting us a cab, he scored us a limo taking us to our next stop. We all shook hands and thanked him and he said "Come back anytime, I'll take care of you."
John:
There was a minor league baseball team in the south suburbs of Chicago that I often went to the summer of 2010. They were less than Single-A, an Independent team so they did whatever they could to get people to the games. A few friends and I are there on a Thursday night for dollar beers and hotdogs.
After an inning or two, my friend and I (who both were huge wrestling fans in the 90s) spotted what looked like former manager extraordinaire Jimmy Hart. It turns out there was a local wrestling show going on the next night and indeed Jimmy Hart was at the game to drum up some interest. He was wearing his usual suit jacket and yes, he had the megaphone with him too. He was being led around by some handlers but was stopping to talk to people and take pictures. He had finally come down near our seats and my friend and I decided to talk to him. The Mouth was extremely nice and talked with us a bit. When I asked for a picture, he not only gave me his megaphone, but he INSISTED I hold it. After taking the pic and shaking his hand, we went back to our seats. The one thing I will always remember about Jimmy Hart: he had the softest hands I have ever felt.
David:
Back in high school, when Raw came to my hometown of Louisville, my dad told me about an interesting run-in with someone he thought had to be a wrestler at Kroger. My dad was behind a massive, bleached-blonde, Samoan-looking guy in the checkout line and despite it being only 2 p.m., this guy was obviously wasted (Drunk? Stoned? He couldn't tell). According to Pops, the behemoth had something like 40-50 32 oz. gatorades in his cart, but still thought he would go through the "10-items-or-less self-checkout lane." So he tries to scan the eleventh gatorade and the machine predictably says, "Error: You have exceeded the item limit." To no one in particular, the big fella starts slurring, "What the fuck, man? Fuckin' thing broke?" and starts banging on the side of the machine like he's playing pinball. My dad nervously approaches him and tells him, "I think you've gotta go through the regular checkout line." Big Guy's having none of it, exclaims "Nah man, fuck that," pays for just the ten gatorades, leaves his change in the dispenser and his cart in the aisle. I pulled up a picture of him on the internet to be sure, and sure enough, my dad confirmed it was none other than electrolyte-enthusiast Rikishi Fatu.
We close, as always, with a Virgil story. Matt:
A few years back, my dad took my little brothers and I down to the annual comic book convention in Philly. We used to go all the time when I was little and I always remembered being intrigued by the cool costumes people wore to them so I figured my little brothers would also enjoy it too.

At these things, you can tell who they expect to be the biggest draws and the further down the row you go, the less popular the "special guests" are; all while the crowds thin out. It got to the point where it was eventually just my family and a couple of drifters from the nearby nacho stand walking around. To the right of us was Virgil. I vaguely remembered the name from my youth but my dad reassured my I knew who he was. My dad was all about just saying "hello" to these people, getting a handshake and snapping a picture of them and this one was no different. "Hey, how's Ted doing!?" "Oh he's great. Would you like a signed picture?" At this point, my dad glances at the board that has all the prices on it. I'll never forget his reply and the face he made that was just so full of such disinterest. "Nah, I'm good, we're going to get some cheesesteaks instead." Oh, and then he snapped a picture right after saying that.