We'll probably never know exactly why NYPD officers felt it necessary to arrest Hawks guard Thabo Sefolosha outside of 1 Oak early Wednesday morning—the cops claim that they arrested Sefolosha after telling him six times to leave the scene of Pacers forward Chris Copeland's stabbing—but we do know that Sefolosha was roughed up by a gaggle of cops, and that they held him for hours without treating a broken tibia that he suffered during the scuffle. It's those facts that the NBPA is concerned about.
From ESPN:
"The players' union is concerned about the circumstances of Thabo Sefolosha and Pero Antic's arrest and is doing its own investigation of the situation," NBPA spokeswoman Tara Greco said. "The union was fully engaged in supporting all three players in court and in the precinct this week, and will continue to stay engaged as each situation evolves."

The police are facing new questions about their tactics during the incident, as Sefolosha suffered a season-ending broken fibula, which went untreated overnight and into Wednesday as Sefolosha languished in custody.
According to sources cited in ESPN's report, union representatives went to Manhattan's 10th precinct to ask some questions, as well they should. Breaking a guy's leg and then denying him treatment—the cops knew Sefolosha was hurt, too, because he was wearing a makeshift splint during his perp walk—is not a good look. And if there was ever a union head well-suited to tangle with the NYPD, it's Michele Roberts, a former public defender who's been banging war drums for her players ever since getting the job.
G/O Media may get a commission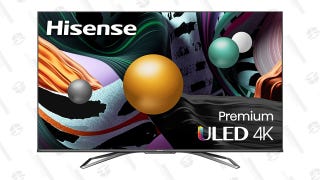 Save $350
Hisense ULED 65" Android 4K HDR Smart TV
[ESPN]