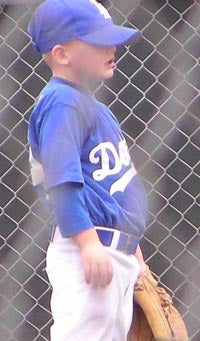 As we come to terms with the fact that Barry Bonds is now the all-time home run leader — and no one is coming to terms with it better than The Dugout — we look to the future. Specifically, we look to the time that Alex Rodriguez breaks the record himself.
Bugs & Cranks is being awfully specific about the whole matter: They're scouting pitchers who might give up A-Rod's 800th homer.
#4 Abelando Famosa: At age 12, Famosa has yet to play any organized baseball in Cuba, but he is unhittable in his local barrio just outside of Havana. No one can touch his splitter, not to mention his splicer, stickler, spitball - or especially the pitch he claims to have invented, which he calls the sling-a-ling-shot. In 10 years, Fidel Castro will be dead, opening the borders to sports agents looking to poach the country's best talent. We project Famosa has the stuff to get him into the Hall of Fame. Unfortunately, with a name like Abelando Famosa, we feel he also will be a Casanova with the ladies, staying out too late at Manhattan nightclubs and arriving to the ballpark groggy. He'll leave his unhittable sling-a-ling-shot pitch up in the zone, and A-Rod will knock the cover off it.
We think the most likely scenario, however, is their No. 1 choice: Roger Clemens.
Projecting Who Will Give Up A-Rod's 800th Home Run [Bugs And Cranks]
Life Goes On, And So Do We [The Dugout]