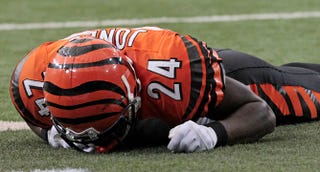 I guess being a 147-time offender in the NFL actually does have its perks. Adam Pac-Man Jones told the Cincinnati media that Commissioner Roger Goodell has called on him to speak to this year's group of incoming rookies on how they can avoid screwing up whatever promising career they hold in front of them. We're not yet completely sure what Jones' presentation, PowerPoint or otherwise, will entail, but allow us to speculate a bit on what bits of wisdom the Bengals cornerback might offer:
• How to avoid having to plead guilty to charges of drunken disorderly conduct.
• How to not run over pedestrians on the sidewalk.
• How to stay in the NFL and not sign on with the Winnipeg Blue Bombers.
• How to never get accused of punching women in strip clubs.
• How to avoid fighting people on otherwise friendly reality show competitions.
• How to elude a prestigious nomination into Deadspin's Hall of Fame.
• How to dodge a year-long suspension from the NFL.
• How to stop your $1.5 million home from going into foreclosure.
• How to avoid joining a second-tier wrestling league in order to stay relevant.
• How to not get associated with triple shootings at Vegas strip clubs.
These kids stand to learn a lot from Jones, actually. Let's hope they pay attention.