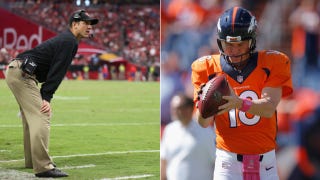 Here's a simple question: In between the very little football played in an NFL game, who gets shown on TV the most? Usually, it's the coach and quarterback—but the Wall Street Journal went through two games for every team this year and ticked off which coaches and quarterbacks get the most screentime.
The very top of the list looks like you'd expect. Jim Harbaugh and Bill Belichick are on top for coaches, Peyton Manning and Tom Brady on top for quarterbacks. Then there's Teddy Bridgewater, who at -186 DYAR is the third-worst quarterback in the league this year, in third—showing it's just as likely you end up on TV for being harassed by defensive linemen and being a "good kid" and for having let your star defensive lineman go in the offseason before losing your star running back to an ongoing child abuse case. (For what it's worth, Brady is 16th in DYAR at 176, and is likely up there because of muscle memory and bad performance against expectations.)
And to answer the obvious questions, the WSJ's Geoff Foster sent us a note:
Jerry Jones was shown about 7 times a game.

There was one Browns game where Manziel was shown 14 times (more than Hoyer), the other it was just 4 times (less than Hoyer).
The full list is below; you can read the rest of the Journal's analysis here.
[WSJ]