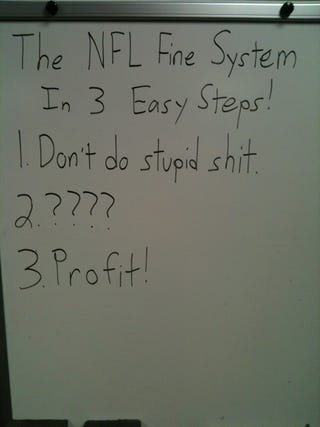 Apparently, the National Football League distributed its "list of fineable offenses" to players and others today. Tweeted Vikings kicker Chris Kluwe, "Some scallywag decided to condense the list down," a comment accompanied by photography.
Anyway, some scallywag sounds about right. And, some scallywag's commentary was apparently inspired by an episode of South Park, the one in which gnomes stole undergarments from little boys in an profit scheme that lacked logical substance but was not without a tangible goal.
If you're interested in some sleuth work, you could start by comparing the scallywag's penmanship with that of whomever wrote up Kluwe's jersey-number transfer contract with Donovan McNabb last month.
Chris Kluwe [Lockerz]
South Park Underpants Gnomes Profit plan [You Tube]