It's easy to hate on the NFL Draft. First off, it's run by the National Football League. It's also a draft, a weird process that limits the earning power and freedom of movement of young men. Also, while my friend may watch the draft every year, I think the actual action—name is called, player walks up, wait around, repeat for three days—is incredibly boring.
It's also been incredibly inconvenient to Philadelphians: The Benjamin Franklin Parkway, the location of the draft, has had and will have partial closures for about a month for a three-day event. (To be fair, the city also shut down the Parkway for a visit last year from Pope Francis, the leader of an organization with a higher body count than the NFL.) Until relatively recently, the Parkway was for the most part used for non-ticketed events open to anyone. Now there's a beer-sponsored music festival closing down the parkway every Labor Day weekend. The decision to hold the draft in Philadelphia was a top-down decision made to maximize the NFL's profits.
"When the Parkway is temporarily transformed into a space for mass consumption and away from its public space and transportation functions, it turns citizens into consumers," Kevin Rossi wrote at PlanPhilly. "With so much at stake for the NFL, city, and sponsors—not to mention players and teams—securing the area is a critical step to ensure order and, of course, seamless consumption."
And yet. When I walked into that giant ad for the NFL yesterday, I waited in a long line. It was hot and I was wearing too many clothes. I figured it would be awful.

And it wasn't? I mean, it's ridiculous—there's a five-minute line to get into a store where the NFL tries to sell you expensive draft t-shirts, leftover Super Bowl merchandise and a $3,500 football helmet signed by Tom Brady. Beer and water are expensive. But people really enjoyed it. I enjoyed it.
G/O Media may get a commission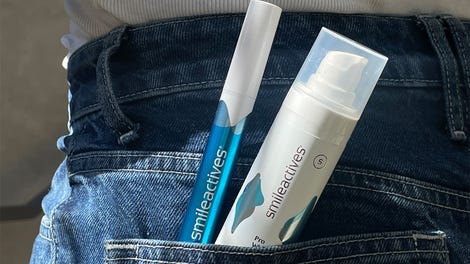 58% off
Whitening Powerhouse Pen & Gel Duo
I didn't want to wait in a long line to see the Lombardi Trophy or run fake NFL combine drills or take a photo with a giant Eagles helmet. (The shortest line I saw was a truck with free soup.) But lots of people sure didn't mind waiting in line for that kind of stuff! If I had been with my football-loving friends, I wouldn't have minded waiting in line for this kind of stuff, either.
The NFL says nearly 100,000 fans were on the Parkway throughout the day; Philadelphia police estimated 70,000.
Then came the actual draft. It was a big party, one which even—especially?—fans of crappy teams could enjoy. Fans joked around and did the "E-A-G-L-E-S" chant between picks. Lines for beer were long (food was OK). Everyone I talked to who attended had a few minor complaints—and said they had a great time. Ron Adams, the man who watches every minute of the draft, emailed me with a list of complaints afterward that ended with: "The draft ended up being awesome as hell."
It was a music festival, minus the music.
NFL beat reporters were in agreement that this was the most exciting draft they'd ever been to. "Wildest, most raucous atmosphere in draft history," Adam Schefter tweeted. "Philadelphia bringing it." Yahoo! Sports' Dan Wetzel wrote a mash note to the draft.
When Haason Reddick, a native of Camden, N.J., across the river who went from walk-on to star at Temple, was picked by Arizona, he was floored by the hometown reaction.

"The uproar from the crowd, I didn't know it was going to be that loud," Reddick said. "It's unbelievable."

And when Goodell, flanked by a local high school football team, announced the Eagles had selected Derek Barnett of Tennessee, the crowd stretching deep into the horizons erupted in cheers and groans and joy and debate. It was your typical draft party, just exponentially larger.

"Philadelphia is raising the bar," Goodell said.
To make things even better for Eagles fans, Cowboys owner Jerry Jones said he was "envious" of the crowd in Philadelphia.
The event will not bring the ludicrous $80 million in economic impact the NFL claims. But the first-ever outdoor, party-atmosphere NFL draft went about as well as it could have. Philadelphia could host it every year. Just maybe hold it down at the sports complex next time? The NFL could always just build another fake Art Museum down there.