By now, we are all familiar with the Athletics' necrophilia. It's been a fun few months for the team and the city, despite dropping the opening game of the series to Detroit last night. In many ways they embody the spirit of Bernie. No one expects much from a corpse and no one really expected much from the Athletics. Look who showed us! So, as they continue their run, the Athletics will try to even things up beginning shortly after noon today and really capitalize on that new-fangled home field advantage. Tuesday, game three will be in Oakland, where the team is not selling all the seats they have available.
A's management said Friday that it does not plan to sell 20,878 of O.co Coliseum's 55,945 seats next week for the A's division showdown with the Detroit Tigers. Those seats account for about 37 percent of the Coliseum's baseball seating capacity, and A's management has sealed them off with tarps since 2006 due to low attendance.
That policy has made sense since then because they A's have not been a great draw. Why look at embarrassingly empty seats when you can look at Oakland Athletics-themed garbage bags instead? The A's are claiming that the decision to continue the policy during the playoffs was one to preserve the "intimacy" that has cropped up during this spectacular run. They don't want to ruin it by "spreading fans out over more seats." This is utter bullshit since the A's have admitted that they will open the tarp-covered seats if the Athletics make it to the World Series.
The decision to tarp the upper deck was made shortly after Lew Wolff bought the team. Wolff has made it clear he wants no part of Oakland and daydreams of moving the club to San Jose. They have a proposal for a stadium project submitted to commissioner Bud Selig, but they remain in limbo.
"Look, we need a decision, and we need it sooner rather than later," Wolff said. "It can't lap over another year. I don't think it will. I don't have any date, but not having any decision is worse than having a 'no' because you can't move on to Plan B. And you're going to ask me what is Plan B, and I'm going to tell you I don't have one.

"All we want to do is have a great-looking ballpark in the Bay Area and have a terrific competition with the Giants. It seems like a very simple thing to us, but you could write a Ph.D. thesis on it."
G/O Media may get a commission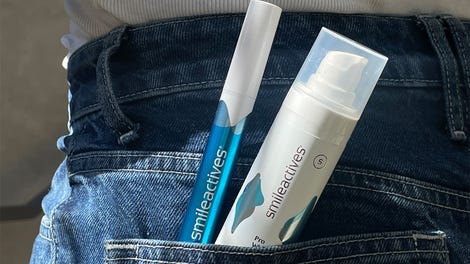 58% off
Whitening Powerhouse Pen & Gel Duo
The decision to keep the seats covered (and empty) then, seems less geared toward the Oakland "fan experience" and more about forcing the issue. The idea being: if they can't sell out the ballpark even for a playoff game, then there is no hope in Oakland. But, the Athletics are not even giving their fans a chance to not show up and help them out of town, for fear of losing leverage.
Longtime sports marketer Paul Siri of Redwood City, a former executive with IMG, said he'd never seen an owner say "no" to the chance to sell more tickets, hot dogs, beer, T-shirts and other merchandise at a high-profile game that's sure to sell out.
...
"Looking at this from his point of view, this is the worst thing that could happen," Siri said. "His team wins, media exposure increases, the stadium sells out, and suddenly he loses his leverage to move. It kills his argument. ... I don't blame the fans for being upset."
So while Weekend at Bernie's has been the prominent film in Oakland, really the Athletics have been the Major League team of baseball.
A's refuse to remove tarp [San Francisco Chronicle]