Track and field's international governing body announced this morning that women who compete internationally in events from 400 meters to the mile will have to maintain natural testosterone levels below a certain limit in order to be eligible to compete. (Those with more testosterone will be required to take hormonal birth control pills.)

Jokic? Embiid? The NBA MVP is obvious... right? | Keep it a Buck(et)
This is the most recent development in a decade-long campaign to keep South African middle-distance runner Caster Semenya from winning more races. It's at least as dumb as the moves that came before it; the only question is whether the pseudo-legal court system that oversees international sports will permit this version of the rule.
The policy change is aimed at drawing a clear line between men and women in athletic competition, and Semenya's biological makeup would put her on the other side of line from where she's spent her entire life—something the IAAF has been trying to do for nine years. Its latest attempt reads as follows:
The IAAF this week issued new Eligibility Regulations for Female Classification (Athlete with Differences of Sexual Development) for events from 400m to the mile, including 400m, hurdles races, 800m, 1500m, one mile races and combined events over the same distances ('Restricted Events').

The new Regulations require any athlete who has a Difference of Sexual Development (DSD) that means her levels of circulating testosterone (in serum) are five (5) nmol/L or above and who is androgen-sensitive to meet the following criteria to be eligible to compete in Restricted Events in an International Competition (or set a World Record in a Restricted Event at competition that is not an International Competition):

(a) she must be recognised at law either as female or as intersex (or equivalent);

(b) she must reduce her blood testosterone level to below five (5) nmol/L for a continuous period of at least six months (e.g., by use of hormonal contraceptives); and

(c) thereafter she must maintain her blood testosterone level below five (5) nmol/L continuously (ie: whether she is in competition or out of competition) for so long as she wishes to remain eligible.
G/O Media may get a commission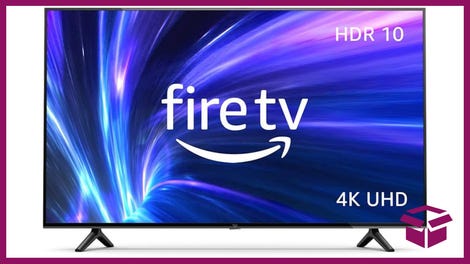 42% Off
Amazon Fire TV 50" 4K Smart TV
The regulations announced today are far stricter and more narrowly targeted at Semenya than ever before. Instead of the previous 10nmol/L limit, it's five; Sports scientist Ross Tucker estimates that Semenya will go from running 1:55 to 2:01 or 2:03, marks that will knock her off the global stage. And in a breathtakingly gross attempt to chase Semenya and two other women—neither of whom have credibly been reported to be hyperandrogenic, but whose performance curves fit pretty neatly with the rules on testosterone limits—out of the sport, the regulations don't apply to all of track and field, just the 400 meters through the mile.
---
The first decision on Semenya came in 2009, after the then-18-year-old crushed the field in Berlin to win her first 800-meter world championship. Pierre Weiss—then the general secretary of the IAAF, now best known for having warned Russia that its athletes were doping so aggressively they might die—told reporters that "It is clear that she is a woman, but maybe not 100 percent." Her dominant performance and lack of traditional feminine appearance led to months of invasive and unscientific sex testing. After six months of this, she was cleared to return, widely rumored but never confirmed to have agreed to take drugs that suppressed her body's natural production of testosterone.

Semenya, quite reasonably, has never discussed her personal medical details. When she was cleared to compete again in March 2010, she said "I have been subjected to unwarranted and invasive scrutiny of the most intimate and private details of my being. Some of the occurrences leading up to and immediately following the Berlin World Championships have infringed on not only my rights as an athlete but also my fundamental and human rights." Semenya wasn't exactly ruined over the next couple years, though she certainly wasn't in top form, either. In early 2011, the IAAF formalized a policy that they had been quietly subjecting Semenya to for more than a year: In order to be eligible to compete, women would have to have less than 10 nanomoles of testosterone per liter of blood, more or less the lower bound of normal for men. (The typical upper bound for women is around 3 nmol/L.)

She continued to be one of the best middle distance runners in the world while this rule was in place, though nowhere near her 2009 standard. She ran 1:55.45 in the 800 in 2009. Her annual bests in the years after the testosterone limit was enacted went 1:56, 1:57, 1:58, 2:02, 1:59. At the 2011 worlds and 2012 Olympics, she finished second behind now-convicted Russian doper Mariya Savinova, who once implied Semenya was not a woman—"Just look at her"—after losing to her.
Semenya's performances got worse as the apparent hormone suppression continued. After the back-to-back top-two global finishes, she failed to make worlds in 2013, ran 2:02 in 2014—not even a world-class time—and didn't make the world final in 2015, the last year of the IAAF's testosterone limits until now.
---
The testosterone regulations created legal cover for horrible actions, as previous athletic sex-testing regimes have done. The New York Times and the Journal of Clinical Endocrinology & Metabolism reported that:
At the London Olympics, four female athletes, all 18 to 21 years old and from rural areas of developing countries, were flagged for high levels of natural testosterone. Each of them subsequently had surgery to remove internal testes, which produce testosterone, as well as procedures that were not required for resuming competition: feminizing vaginoplasty, estrogen replacement therapy and a reduction in the size of the clitoris.

In 2014, Indian sprinter Dutee Chand was flagged for surpassing the new testosterone limit. Rather than change her body to fit the rules, she challenged the policy. Chand was nowhere near on Semenya's level athletically—she's not in the 600 fastest 100-meter runners of all time, while only six women have ever run the 800 faster than Semenya. But her testosterone levels were similar, making for the beginnings of a compelling case. As bioethicist Katrina Karkazis testified on Chand's behalf at the Court of Arbitration for Sport (CAS): "If you believe this is jet fuel, then what's going on?"
Testosterone is among the major reasons that men and women compete in separate categories in sports. Synthetic testosterone is a universally banned substance and the cornerstone of any effective doping program. Just because Chand was a mediocre sprinter with high testosterone levels does not mean that testosterone is not crucial to athletic performance. But nor will shooting up hormones turn a beer-league masher into Barry Bonds.
Rather than ruling that Chand had the right to compete against women because she's a woman—obviously the right decision on one level, but leaving the definition of a woman up to the Court of Arbitration for Sport is a colossally bad idea—the 2015 ruling mandated that the IAAF suspend its testosterone regulations for at least two years while it marshaled more evidence for them.

Specifically, it ruled that while testosterone was a factor in athletic performance, it alone did not make up the difference between men and women. The best men in the world run roughly 10 percent faster than the best women, depending on the event. (the women's world record in the 800 meters is 12 percent slower than the men's.) IAAF data at Chand's hearing showed that high-testosterone women like Semenya outperformed their counterparts with lower levels by 3 percent. If the IAAF was going to force women like Semenya and Chand to suppress their natural hormone production, it was going to need better stats to back up its case.
While neither Semenya nor the IAAF have ever confirmed that she was forced to lower her testosterone from 2010 to 2015, the second the 10 nmol/L limit was lifted, she snapped back to her pre-2010 performance levels. She ran 1:55 and won a world title pre-regulations in 2009; she ran 1:55 and won Olympic gold and another world title post-testosterone regulations in 2016 and 2017. In between, she never broke 1:56.
---
After CAS challenged the IAAF to come up with real science to back up its discriminatory policies, the federation commissioned a study eventually published in the British Journal of Sports Medicine. That study found that high-testosterone women had a significant advantage in five events: the 400 (2.73%), the 400 hurdles (2.78%), the 800 (1.78%), the hammer throw (4.53%), and the pole vault (2.94%). But in a brazen admission that the new rules are really just about getting Semenya off the track, the testosterone limits won't apply to the hammer and pole vault—the two events where naturally occurring testosterone was supposedly shown to matter most.

Studies on elite athlete populations are far from definitive. These are tiny groups performing at two track meets with a million other factors involved. But it's a good bet that naturally occurring testosterone makes athletes perform better, just as having a high VO2 max, or a slim build, or a tough brain might. It's impossible to regulate all the physical traits that improve athletic performance, and it's impossible to justify implementing an arbitrary testosterone limit in some events and not others, especially when leaving out the two events where it provides the most benefit.
Karkazis, the bioethicist, argues that smarming over sports' bright gender line is "the mantle under which all kinds of discriminatory and sexist ideas enter." Or as Deadspin's Diana Moskovitz has written,
One tactic, used by SI among others, is warning that this could be the end of women's sports, as if this and not underfunding, sexual violence, and harassment were what kept women out of sports. Reporters will harp that this is about maintaining women as a protected class, ignoring that the legal term protected class means a group you cannot discriminate against—making this the bizarre act of asking if Semenya is too manly to be a woman, in which case she would receive the bizarro right to be discriminated against.

Many world-class 800-meter women competitors support testosterone limits, and a few even express it publicly. British Olympian Lynsey Sharp, who wrote her undergraduate thesis on hyperandrogenism in sports, said before the 2016 Olympic final that "Everyone can see it's two separate races," while American Olympian Brenda Martinez said that summer that "They also should force [Semenya] to keep her hormone levels down." There are smart people, and Malcolm Gladwell, who believe Semenya should not be able to compete without limiting her testosterone.
But the decade-in-the-making legal standard announced today boils down to Caster Semenya can't run because she has the characteristics of Caster Semenya. In other words, she's too good, so she must be stopped. Semenya's level of dominance isn't unprecedented in sports; Katie Ledecky, for example, wins races by a far greater margin and occasionally turns in times that would be competitive for elite men. Semenya's best times would not make her a male star on the NCAA Division III level.
The IAAF found something about her, and arbitrarily decided that was the difference between a woman and a man. She's black and "breathtakingly butch" and from rural Africa, so instead of marketing her like Ledecky, her sport decided to spend nine years digging into her biology in an effort to find something, anything, to justify getting her off the track. None of those attempts have stuck yet, although this looks like it has the best shot. And no athlete in history has a more credible claim that the people who run her sport are simply out to get her.