Welcome to our college football conference previews, in which we will tell you what you need to know about various conferences, with an emphasis on watchability. First up is the Pac-12.
The Pac-12 has been making moves, man. It's poached two of the game's better head coaches in Gary Andersen and Chris Petersen, it has Oregon—which has been a top-10 team for something like seven years now—and it produced Andrew Luck, also known as the future of the NFL. Now, after years of scheming and swiping coaches, the Pac-12 has sneakily become one of college football's best and most watchable conferences.
How Good Is The Pac-12, Actually?
Very. The Pac-12 South is just as competitive as the SEC West, top-to-almost-bottom (Washington State and Colorado missed the boat and are still ACC-Coastal bad). The conference as a whole has eight teams that had at least eight wins last season, which tied them with the SEC for the most in college football. USC finished fourth in the South and was still the No. 20 team in the nation. That's some good-ass football being played out West.
How did the conference get so good? The answer has a lot to do with the fact that the state of California trails only Texas and Florida in total number of five-star recruits produced. But unlike Texas and Florida, California is an entire continent away from the heart of college football's primary fan base and the other Power Five conferences. So instead of trying to convince an 18-year old kid to cross the country, the Pac-12 has the ability to woo California's best recruits by convincing them that they can stay close to home and still get to play at the highest tier. It's a great setup, and now that 10 of the 12 teams in the conference are bowl-capabale teams, we'll probably see even more California recruits choosing to stay put.
Geography isn't the only thing bringing top-level talent into the Pac-12. Along with owning the coast, the conference also boasts a pretty stellar lineup of head coaches in Mark Helfrich, Gary Andersen, Jim Mora, Rich Rodriguez, Chris Petersen, Mike Leach, and Kyle Whittingham headlining the group. It's almost impossible to find a reason not to dedicate your Saturdays to watching Pace-12 games and nothing else. Almost.
G/O Media may get a commission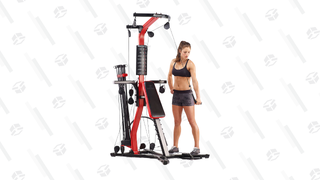 31% Off
Bowflex PR3000 Home Gym
The rub, of course, is that Pac-12 games air on West Coast time, and man, that sucks. I know, it seems like a small thing, but if you want to watch the conference's best games, you're going to run into some roadblocks. I'm all for strapping in from 1-8 p.m. to watch games on a Saturday, but when you're starting games after 9:00 p.m., I'm out. And I'm young and strong; if you think moms and dads are doing anything but sleeping at 10:00 p.m. on a Saturday night, you're out of your mind.

Take UCLA's schedule, for example. Three games start at 10:30 p.m. EDT, one starts at 9:00 p.m., and one starts at 3:30 p.m. I count four games I'm not going to watch, even though the Bruins are going to be fun as hell this year. According to the New York Times, nine out of the 10 top college football markets are located in cities that run on EDT or CDT, which means a lot of fans are going to be missing out on some very good games.
The Teams That Are Good
Picking the best teams in the Pac-12 this year is actually going to be tough now that Marcus Mariota and Brett Hundley—the two best quarterbacks in the conference last year—have moved on to the NFL. Oregon is still the obvious frontrunner, but their perch atop the conference is much more precarious than it's been in recent years, and this could be the year the Ducks are knocked down a peg by a team not named Stanford.
Oregon is still going to beat some ass, though. They return Royce Freeman, a stud sophomore running back who is going to score more touchdowns this season than years I've lived, receiver Bralon Addison, who missed 2014 with a torn ACL after being second on the team in with 890 receiving yards in 2013, and about a million other options for whoever ends up replacing Mariota. They have the most depth at the skill positions of any team in the nation, and Freeman really is going to be fun as shit to watch this year, especially if he can keep doing things like this:
If Jeff Lockie or graduate transfer Vernon Adams can step in and be decent, then the Ducks are going to be just fine.
UCLA is coming for Oregon's spot, though. The Bruins are set up to be very dangerous thanks to the fact that they return their entire offensive line, five of their top-six receivers from a year ago, stud running back Paul Perkins, as well as linebacker/running back/Superman Myles Jack. Jack's been built up a lot in the past two years, but the man is worthy of the praise—he can do anything he wants on either side of the field, and it's truly mesmerizing.
As with Oregon, the only problem is that they don't have a proven quarterback anymore. Hundley was all sorts of good for the Bruins in his three years under offensive coordinator Noel Mazzone, the same dude that made Phillip Rivers god-like at N.C. State. UCLA's two options under center will be Jerry Neuheisel and Josh Rosen, both of whom, all things considered, should be fine. Like Oregon's situation, they don't have to be great for the team to flourish, but it wouldn't hurt.
Now for the great quarterbacks leading possibly-good teams. First up is North Division runner-ups Stanford. The Cardinal return Kevin Hogan at quarterback, who, admittedly, is nothing NFL GMs are geeking out over, but he's tossed 48 touchdowns and just 21 interceptions in his three years at the helm. Returning as a redshirt senior, Hogan will pair up with receivers Devon Cajuste and Austin Hooper, and should bring Stanford back up after last year's disappointing 8-5 season. The Cardinal can be a 10-win team this year, and depending on how Oregon performs, could challenge the Ducks for the division. But the North is just a two-pony race and won't really make for any exciting matchups outside of Oregon-Stanford. The South is where things get interesting.
USC—once The Program in college football—has another excellent SoCal bro at quarterback in Cody Kessler, and should rise as another challenger for the top spot in the South. Brody tore up Notre Dame to the tune of a school-record six touchdowns and finished the season having completed 70 percent of his passes. Dude is the real deal, and is pretty underrated as far as USC quarterbacks go. Gotta be careful with that bunch, I know, but this bro can wing it:
This year may be a bit more difficult on Kessler, as he lost his top receivers and running back, but none of those guys were once-in-a-lifetime talents. The Trojans have the necessary depth at the skill positions—running back Justin Davis and receivers JuJu Smith and Darreus Rogers, to name a few—to replace Nelson Agholor and give Kessler what he needs to thrive again. Obviously, a ton depends on how lucky each of these teams are in regards to injuries and whether or not the former role players can develop into stars, but the Trojans should be good enough to challenge UCLA for the division crown.
Which brings us to the teams that actually had a shot at that crown last year—Arizona and Arizona State. These are the two programs the get the least national love of the Pac-12's top teams, but they deserve a lot more.
The Wildcats won the South last season by staving off the rival Sun Devils in the final game of the regular season, but got trounced by Oregon 51-13 in the Pac-12 title game before losing to Boise State in the Fiesta Bowl. But, lest we forget, Arizona was also the only team not named Ohio State to beat the Ducks, as it topped then-No. 2 Oregon 31-24—in Eugene, no less—in the teams' Oct. 2 matchup. The Wildcats' most important returning player is running back Nick Wilson, who ran for 1,375 yards and 16 touchdowns last season as a freshman. Although they have to fill a few holes left by graduated seniors on the offensive line, Wilson will still tear the field up, and the Wildcats may challenge USC and UCLA for a chance at a second-straight division title.
The Sun Devils came within a touchdown of winning the division, but managed to have more success in the postseason, stealing a win against Duke in the Sun Bowl on a last-minute interception and finishing No. 12 in the final poll. Arizona State wasn't supposed to be as good as it was last year, so with a good year in the books and a strong returning cast, the Sun Devils are going to be fun to watch this year, even without Jaleen Strong snagging Hail Marys all over USC.
The Mehh Teams Maybe Not Worth Watching
In the years leading up to their move to the Pac-12, neither Gary Andersen or Chris Petersen had teams that would qualify as "meh" teams. But here we are.
Oregon State scooped Andersen from Wisconsin this past offseason, but despite their ability to woo a great coach, the Beavers are still, for now, a 6-win team in an unforgiving conference. Washington has three guys who could start at quarterback—which is to say they have three unproven guys, one of whom will have the misfortune of getting torn up by superior teams. Don't watch 'em.
Utah hasn't faired quite as well in the jump from Mountain West to Power Five as TCU, but the Utes are still coming off a 9-4 season. They did lose to Washington State last year, though, which is not a thing any ranked team should be doing. They made up for it the next week by winning at UCLA, but if Utah wants to move into the watchable category, it's going to have to get its shit together and beat the teams it's supposed to beat this year. We can revisit this as the season progresses, but I say pass on the Utes for now.
Do you want to know what crazy feels like? Start following Cal. In the past 15 years, the Golden Bears have had two 1-win seasons, two 10-win seasons, and a whole bunch of seasons that ranged anywhere from three to eight wins. There is no such thing as momentum in Berkeley, rather it seems to be a pit of rabid emotions, where the slightest movement can send you from a bowl win to shitting on the 50-yard line for 12 straight games. There is little sense to be made of Cal; they should be okay this year, but who knows. Here's a key: if you watch N.C. State, Liverpool, or any Cleveland team and enjoy it, you'll love Cal.
The Teams That Are Very Bad
Washington State sucked butthole last year. How much butthole, you ask? They went 3-9 and ran for—and I'm not shitting you—478 yards in the entire season. Albeit, they throw for something like 400-plus yards every game, but it really doesn't matter when your defense allows 38.6 points per game, which pits them at No. 117 in the nation. They suck.
You shouldn't watch them for the obvious reason that it will be a complete waste of your time. At best, they'll win three conference games this year, and that's assuming a lot of good luck for the Cougars. Also, remember Mike Leach, the Texas Tech coach whose offense made this awesome Michael Crabtree moment possible?
You know, the guy who made a concussed player go sit in a shed? Anyways, the big guy runs the show in Pullman now! Fortunately for the world and his team, he is—as far as we know—not telling kids to go stand in closets and is just coaching a shitty football team. Save yourself, don't watch.
You know who is even worse than a 3-win Washington State team with a coach that stuffs blurry-visioned adolescents in equipment closets? Colorado. Specifically, a Colorado team that lost to Washington State and could improve this year with a 3-win campaign. Despite sucking eggs from start to finish, the Buffalos still managed to show promise last season in a three-point loss to UCLA and a four-point loss to Utah. Although the Buffalos have been improving, they'll crash-and-burn in the Pac-12 this year. If only the ACC Coastal had an opening…
And yes—they still run with Ralphie the Buffalo before games. That's cool.
A Pac-12 Game Worth Watching
Nov. 28: UCLA at USC
It's going to be the last game of the regular season, and if at least one of the teams lives up to the hype, it'll be a great spoiler game to tune in to and cheer against the team with everything on the line. November football is awesome because barring any crazy injuries, teams are playing their best football. This is potentially a top-15 matchup for a division title, so even if the game starts at 9 p.m., it's at least worth leaving on while you fade in and out of sleep.
Photo: AP